Tokyo Metropolis (Special Wards) [
東京都 (特別区)

]
Tokyo is the capital and the largest city in Japan.
In Japanese, both vowels "o" in the word of "Tokyo" is pronounced long as "Tôkyô".
There are the Japanese government and its main agencies in Tokyo, and many companies are based in Tokyo.
And many media and information are also concentrated in Tokyo.
So, Tokyo is literally the political, economic and cultural center in Japan.
Until the 16th century, Edo (江戸, the former name of Tokyo) had been one of local city in eastern Japan.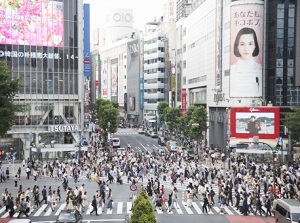 Pedestrian scramble near Shibuya station
In 1603, Tokugawa Ieyasu, the Shogun, established a government in Edo, then Edo had became the center of goverment in Japan since that.
But the capital of Japan had been Kyoto where the Emperor lived.
Edo had developed rapidly, then the population exceeded one million in the early 18th century.
It is said that Edo was the largest city in the world at that time.
In the period, sushi, kabuki, sumo, ukiyoe (Woodblock prints), etc. were created in Edo as the culture of common people.
And, Somei-Yoshino is the most popular kind of cherry tree.
It was also created by the gardeners in Somei village in Edo.
In 1868, new Meiji government was formed with the Emperor Meiji at its head.
At that time, "Edo" was changed to "Tokyo" meaning "eastern capital".
And, the Emperor moved to the Imperial Palace in Tokyo from Kyoto.
At last, Tokyo became the new capital of Japan.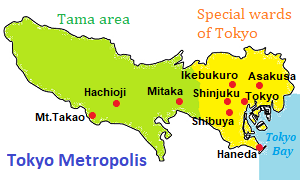 Now Tokyo Metropolis is one of the prefectures in Japan, and extends east and west.
The main area of Tokyo is located in its eastern part facing Tokyo Bay.
However, it is not called "Tokyo city" but Special wards of Tokyo.
When we talk about "Tokyo", it usually means this area.
The western area of Tokyo Metropolis is called Tama area.
I introduce the tourist attractions of Special wards of Tokyo in this page.
About Tama area, please see the following page.
The area of Special wards of Tokyo has 23 wards, and each ward is like a city as administrative function.
It is a nearly round area about 30 km in diameter.
The population of Tokyo Metropolis is about 13.8 million (over 10 percent of the population of Japan), and 9.3 million of them is in this narrow Special wards of Tokyo.
There is Tokyo Port in the southeast part of the area, and the waterfront area with new towns are formed around the port.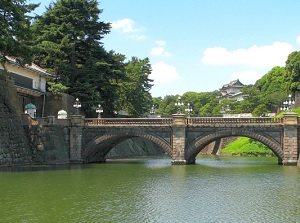 Nijubashi bridge to the entrance of Imperial Palace
After all, the center of Tokyo is Imperial Palace (皇居, "Kôkyo" in Japanese).
It is the primary residence of the Emperor of Japan.
The wide site is the former Edo Castle surrounded with moats and stone walls.
The urban structure of Tokyo is formed around the Imperial Palace.
On the east side, there are Tokyo station, Ginza, Nihonbashi, etc.
These are the towns for economic activity.
On the southwest side, there are National Diet Building and government office quarter.
There is a low hill to the southwest, and many embassies of various nations are dotted in Akasaka and Roppongi areas.
And the west side of the hill, there are Shibuya and Shinjuku.
The area including these towns is called Yamanote.
On the northeast side, there are the traditional districts for common people such as Akihabara, Ueno, Asakusa, etc.
The traditional towns are called Shitamachi in Japanese.
(It is sometimes translated as "downtown" in English, but the meaning is different.)
On the northwest side, there is educational districts with many schools and universities.
These are the rough structure of the central part of Tokyo.
By the way, Yamanote Line which is a loop railway of JR runs in the center of Tokyo.
The main tourist spots in Tokyo are inside and around Yamanote Line.
Because many lines of JR and subways run in the area, it is convenient to travel around Tokyo.
Transportation
From Narita Airport
It is a gateway from abroad to Tokyo, then it has many flights from various cities in the world.
To go to central Tokyo, there are some ways.
JR limited express "Narita Express"
About 1 hour to Tokyo station, about 1 hour and 20 minutes to Shinjuku, about 1 hour and 30 minutes to Yokohama.

JR rapid train
About 1 hour and 30 minutes to Tokyo station.

Keisei Railway limited express
Keisei Railway operates a few kinds of limited express to Nippori, Ueno, Asakusa, Ginza, etc.
It takes about 40 minutes to Ueno by the fastest train.

Express bus "Airport Limousine"
About 1 hour and 20-50 minutes to Tokyo station. It runs to other various destinations.
From Haneda Airport
It is the second international airport, and is developing as international airport.
It is also the main airport of domestic flights, and has many flights from various cities in Japan.
This airport is close to central Tokyo, so we can go to there within 30 minutes.
Tokyo Monorail
About 20-23 minutes to Hamamatsucho station of JR Yamanote Line.

Keikyu Railway Line
About 19 minutes to Shinagawa station by limited express.
Most trains go to Ginza and Asakusa directly.

Express bus "Airport Limousine"
About 1 hour to Tokyo station. It runs to other various destinations.
By Shinkansen
By Tokaido-Shinkansen, about 2 hours and 40 minutes from Shin-Osaka, 2 hours and 25 minutes from Kyoto, and 1 hours 45 minutes from Nagoya.
By Tohoku-Shinkansen, about 1 hours and 50 minutes from Sendai, 2 hours and 30 minutes from Morioka.
Transportation in central Tokyo
Main events in Special Wards of Tokyo
Kanda Festival (Several days around May 15th)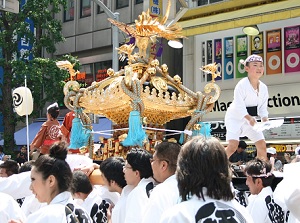 Kanda Festival is one of the greatest festivals in Tokyo, and is held around Kanda Myojin shrine near Akihabara area.
This festival has been held since the 17th century.
Many people carry a mikoshi (portable shrine) with spirited call.
It is said that over 200 mikoshi are carried in the festival, so the festival is really an exciting time.
It alternates between "Main Festival" (in odd year) and "Sub Festival" (in even year) every year.
Sanja Festival (For 3 days from the 3rd Friday in May)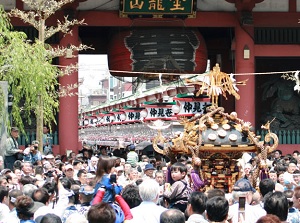 Sanja Festival is the annual festival of Asakusa Shrine.
It is said that the festival based on the myth was held in 1312 for the first time.
Every year, many people carry several dozen mikoshi, then there is an air of excitement around the shrine.
Recently, there is no end to the carriers who mount the mikoshi, then that has created an unusual situation that Asakusa Shrine has notified of forbidance of such acts in writing.
Hozuki Fair (July 9 - 10)
Hozuki Fair is the annual fair held in Sensoji temple in Asakusa.
"Hozuki" is one of solanaceous plants, and it produces some vermillion fruits in June or July.
It is called "Chinese lantern plant" in English.
(The fruits are not good to eat.)
In Japan, it is offered on the altar during the Obon (mid-August).
For this two days, many stalls selling hozuki are opened in the precincts, then over 600 thosand visitors come here from around the country.
Additionally, when you visit this temple in this period, it is said that you can have the benefit that you have visited here 46,000 times in compliance with the teachings of Buddhism.
Grand festivals of fireworks in Tokyo (From late July to mid-August)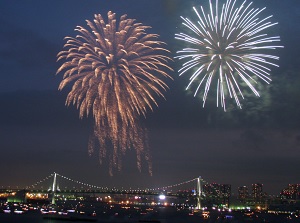 In summer, there are many fireworks displays in Tokyo.
The largest scale festival is Sumida River Fireworks Festival.
About 20 thousand fireworks are set off in the sky from 18:15 to 20:30.
It is held around Sumida River near Asakusa.
(The last Saturday in July)
Around Tokyo Bay Area, Tokyo Bay Grand Fireworks Festival is popular.
About 12 thousand fireworks are set off in the sky from 19:00 to 20:20.
Because it is held in the bay, we can see at various spots around the bay.
(The 2nd Saturday in August)
Tori-no-ichi (a few days in November)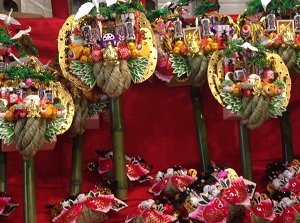 Tori-no-ichi is the fair held at various shrines in the same days.
"Tori" means "rooster" and is one of the 12-day cycle of animals which appear in the Chinese zodiac related to the Chinese calendar.
So there are two or three days of "tori" in November.
Most famous fair in Tokyo is held Chokokuji temple located about 1 km north of Sensoji temple in Asakusa.
Many stalls are opened in the precincts, and they sell lucky charm which is the bamboo rake with rice ear and replicas of gold coins and other talismans.
It has the meaning of raking a "good luck".
Hagoita Fair (December 17 - 19)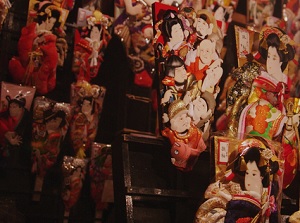 Photo by photolibrary
Hagoita Fair is the annual fair held in Sensoji temple in Asakusa.
It has been a tradition since the middle of 17th century.
"Hagoita" is the paddle for "Hanetsuki" which is a traditional Japanese girl's game like badminton.
It has a long and square shape, and is made of wood.
Children have already lost interest in Hanetsuki as a game.
But, hagoitas as an ornament are sold in this fair.
These are painted with lacquer or decorated with complex silk collages, with auspicious symbols or figures.
Local foods and products in Special Wards of Tokyo
Edomae-zushi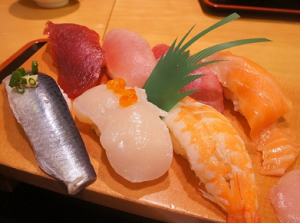 Sushi is one of most popular Japanese foods.
Particularly "Nigiri-zushi" (hand-shaped sushi) and "Norimaki" (sushi roll) originated in Tokyo.
"Edomae" means "the sea in front of Edo (old Tokyo)", so it means Tokyo Bay.
It is said that a cook in Ryogoku district served the sushi of these types using fresh fish from Tokyo Bay for the first time in the 1820s.
This new fast food became high favor with the people in Tokyo, then it had spread throughout the country.
Formally such sushi should be called "Edomae-zushi", but we commonly say "sushi".
Ningyo-yaki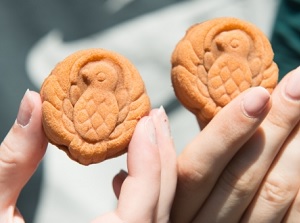 Ningyo-yaki is the popular Japanese cake made in Tokyo.
It was made first at Ningyo-cho near Nihonbashi in the late 19th century, so this name was given.
It is the cake filled with sweet bean jam ("an" in Japanese).
And it is made by baking in the small mold with the shape of gods or the symbols of Asakusa.
Recently we can find the Ninkyo-yaki of various shapes.
We can eat fresh-baked Ningyo-yaki around Sensoji temple in Asakusa.
And it is easy to buy it for a souvenir in Tokyo.
Monja-yaki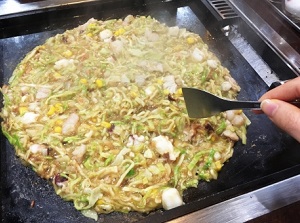 Monja-yaki is the original form of current "okonomiyaki" or "takoyaki".
It is known that monja-yaki was eaten in Edo in the early 19th century.
First, fry up chopped cabbage and other ingredients on a pan.
And gather them into a doughnut shape on the pan.
Then, pour the soup containing a little flour into the central space.
After the soup has thickened, mix them with a paddle and eat.
It is tasty to burn very slightly.
Tsukishima in the bay area is the most popular area, so there are many monja-yaki shops.
Fukagawa-don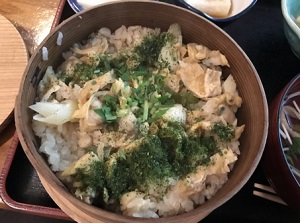 Fukagawa-don is one of the rice bowl dishes.
It is cooked by boiling clams with chopped negi (green onion) in miso soup and putting them on the rice in a bowl.
In previous times, many clams were caught at the mouth of Sumida River.
It is said that the fishermen in Fukagawa area created this in the middle of the 19th century.
Around Fukagawa area, there are many restaurants serving it.
Dojou-nabe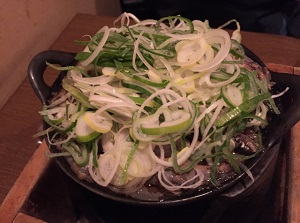 "Dojou" means "loach".
After stunning some live dojou in Sake, they are stewed in salty-sweet soup.
Before eating, chopped negi (green onion) are heaped on it.
There are some dojou restaurants around Sumida River.
"Komagata Dojou" near Asakusa is a historic restaurant established in 1801.
In addition, the dish that shaved burdock and beaten egg are added is called "Yanagawa-nabe" and it is also a local dish of Tokyo.