Koshin-etsu Region [
甲信越地方

]
Koshin-etsu Region is near the center part of Honshu Island in Japan.
The first "o" in "Koshin-etsu" is pronounced long, so it is read as "Kôshin-etsu" in Japanese.
Most parts of this area are mountainous, and a few major mountain ranges run from north to south.
They are the highest parts in Japan, and it is often calls Japanese Alps.
Many peaks have altitudes of over 2,000 meters, and 20 peaks of them are over 3,000 meters.
Especially, the mountain range on the west side of the region has several celebrated mountains and many climbers visit there.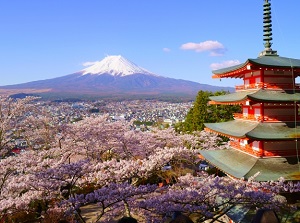 Mt.Fuji from close to Lake Kawaguchi (Yamanashi Pref.)
Apart from these mountains, there is well-known Mount Fuji (3,776 m) at the south edge of this region as an individual mountain.
Roughly speaking, Japanese Alps divides Japan into east and west.
Koshin-etsu region belongs to the east Japan side.
Because of the high mountain range on the west side, Koshin-etsu region has a strong tie with adjacent Kanto region including Tokyo.
So main railway lines and roads lead to Tokyo.
Many cities and towns are on the basins and highlands.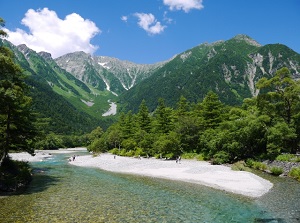 Kamikochi in Japanese Alps (Nagano Pref.)
It is cool and comfortable in many resort areas in summer.
And, in the northern area, much snow fall in winter and there are many ski resorts.
This region has three prefectures: Yamanashi, Nagano and Niigata.
Each prefecture has well-known agricultural products.
Grape and wine in Yamanashi Prefecture are famous.
Buckwheat noodle and apple in Nagano Prefecture are popular.
Rice and sake in Niigata Prefecture are very tasty.
Transportation in Koshin-etsu Region
Airline
A main airport is Niigata Airport.
It has some international flights and domestic flights.
The domestic flights are operated between Shin-Chitose (Sapporo), Narita (near Tokyo), Chubu (Nagoya), Itami (Osaka), Fukuoka and Okinawa airports.
It takes 25 minutes from central Niigata city by route bus.
There is another local airports in Koshin-etsu Region.
It is Shinshu-Matsumoto Airport, and is located near Matsumoto city.
It has the flights between Shin-Chitose (Sapporo) and Fukuoka only once or twice a day.
Railway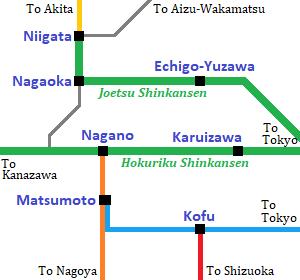 Main railway lines of JR in Koshin-etsu Region.
The colored lines are the route of main limited express. Thin grey lines are local trains.
Shinkansen train comes from Tokyo to Niigata area and Nagano area.
The trains are operated once or twice an hour.
By the fastest train, from Tokyo, about 1.5 hours to Niigata and Nagano.
By Limited expresses of JR lines, about 1.5 hours to Kofu, about 3 hours to Matsumoto from Tokyo.
And, from Nagoya, about 2 hours to Matsumoto, about 3 hours to Nagano.
Railway passes for travel around Tohoku Region
Express bus
Some bus companies operate express buses in Tohoku Region.
The following website introduces some booking sites of express buses.