Crowded time and period in Japan
Commuting time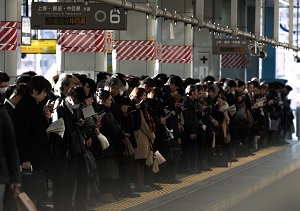 Commuters waiting for a train in the morning
When you travel around Japan, you must use public transportation such as train, subway, bus.
But, all transportation around big cities are very crowded during commuting hours.
If you want to travel in such time, you must be prepared for enduring the pressure of commuter's bodies for a long time in the train or bus.
In addition, if you must carry your large traveling suitcase, that is a worst situation.
You must keep your baggages not to disappear in the crowd.
But, most Japanese commuters keep the manner in such tremendous crowd.
They stand in a line at the station, wait for the passengers to get off the train, then get on the train in order.
They keep quiet in the train.
Needless to say, the transportations from the suburbs to the city are crowded in the morning, and the situation becomes reversed in the evening.
It is said that the degree of train congestion of Tokyo area is the worst in the world.
Over 30 million people live in this area, and is a quarter of the total population of Japan.
And, the area is within 50 to 80 kilometers from central Tokyo.
Many of them travel by limited trains and buses every day.
The crowded time bands are from around seven to nine in the morning and from six to eight in the evening.
The congestion in the evening is a little looser then the morning, because the time period the commuters returan home widens.
Of course, such congestion occurs in weekday.
Heavily-crowded seasons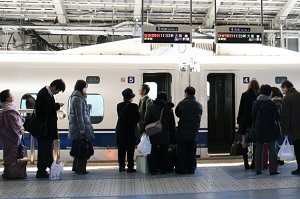 Waiting travelers on a Shinkansen station
When should you visit Japan?
In spring, cherry blossoms bloom.
In summer, cheerful festivals are held.
In autumn, leaves turn red and gold.
In winter, snow covers land.
You can enjoy Japan in all seasons.
But, very many Japanese people travel at the same time in a few particular periods.
If you visit Japan in such period, main airports and stations are very crowded.
Most trains are filled with passengers, and you may have to move to your destination standing up on overcrowded train.
There is a huge traffic jam on any expressway and it is very difficult for all buses to run on time.
When we want to reserve a seat on the train of such day, the ticket is sold out soon after going on sale. (About train, we can make a resevation just a month before.)
After you come to Japan, it is almost impossible for you to get the reservation ticket of the day.
Even if you have Japan Rail Pass, you can't do anything.
But Shinkansen train and most limited express have a few non-reserved cars.
When you must travel to the destination, you have to get on the jam-packed non-reserved car.
These periods have always been same.
Please consider that, when you plan the travel to Japan.
Year-end and New Year holidays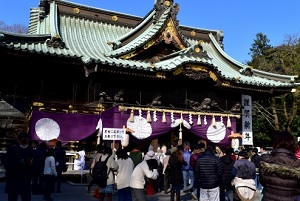 Most Japanese visit a shrine or temple to worship in the new year
Of course, January 1 is New Year's Day and is a universal holiday.
In Japan, the three days until January 3 are traditionally the New Year holidays called "Shogatsu".
And, December 31 is called "Oomisoka".
It is the day that we are prepared for coming new year.
Most companies and government offices in Japan are generally closed from December 30 to January 3 as New Year vacation.
The winter vacation of school includes this New year vacation.
Some shops and restaurants are open until Oomisoka, but are closed during the three days of Shogatsu.
However, convenience stores are open every day, and recently some department stores and supermarkets are open from January 2 or 3.
During Shogatsu, many people living in big cities go back to their hometown and spend the holiday with the family and their parents.
Or, some people go for domestic trip or overseas trip.
Therefore, around December 30, the airplanes, trains, and expressways from Tokyo area are particularly crowded.
And, around January 3, the traffic to Tokyo area is very crowded.
Osaka area is also the same.
Of course, when Saturday and Sunday are connected with the period, the peak of crowding moves.
Golden Week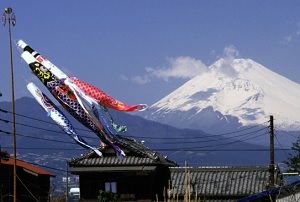 Koinobori (carp streamer) for Children's Day
April 29 : Showa Day (Showa Emperor's birthday)
May 3 : Constitution Memorial Day
May 4 : Greenery Day
May 5 : Children's Day
These are Japanese national holidays in April and May.
And May 1 (May Day) is a holiday in many companies.
Many holidays are concentrated in this period.
Because the length of the period is about a week, it is called "Golden Week".
The season is just in the midst of spring, and it is fine in most days.
It is the most comfortable season of the year.
Cherry blossoms are in full bloom at Hirosaki and Aomori around the northern end of Honshu Island.
Azarea, wisteria and various flowers are beautiful in main areas of Japan.
And, various events are held at many places.
So, many Japanese people visit such places.
Some people make a trip, and some return to their hometown.
Therefore, many transportations are crowded throughout the country.
Bon (Obon) holiday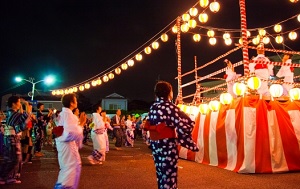 Bon Dance event in a town
Bon is one of the festival of Buddhism, and is often called "Obon" as a polite word.
The day is August 15.
It is believed that spirits of ancestors return to the earth on Bon day.
So, many families hold a memorial service for their ancestors and visit the grave of their ancestors.
Therefore, many people go back to their hometown like new year vacation.
Especially, most companies set the summer vacation including Bon holiday.
In the result, the transportations from Tokyo area are very crowded around August 12 to 14, and the transportations to Tokyo area are crowded around August 16 to 17.
Like Shogatsu, when Saturday and Sunday are connected with the period, the peak of crowding moves.
But some other companies set the summer vacation on the other week in August to avoid the crowds.
And children and students are in summer vacation in whole August.
So, every day in August, most transportations are more crowded than the other month.