Nara Prefecture is located at the center of Kii Peninsula.
It is the largest peninsula in Japan, and Osaka city is at the northwest edge and Nagoya city is at the northeast edge.
Nara Prefecture is an inland prefecture and is between Osaka and Nagoya.
Whole areas in the prefecture are very mountainous, but Nara Basin is in the north part of the prefecture.
It is in an urban area of Osaka and Kyoto, and all cities of Nara Prefecture are in the basin.
Nara city is the prefectural capital and is at the north edge of the prefecture.
Osaka is located about 30 km west of Nara, and Kyoto is located about 35 km north of Nara.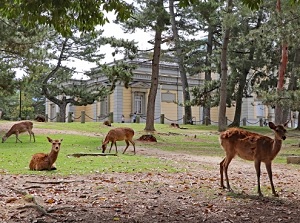 Nara was the Japan's first capital.
From the 3rd to the 4th centuries, some kingdoms were formed in the country spontaneously for the first time in the history of Japan.
It is said that the kings are the origin of current Emperor's Family.
And Shinto was born as a native religion, and Buddhism was introduced from China in the 6th century.
Gradually, Nara area became the center of the nation.
As a result, many shrines, temples and ancient burial mounds were built in Nara Basin.
Therefore, Nara is the place of the origin of Japanese history.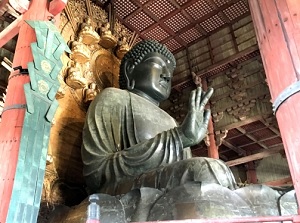 Daibutsu of Todaiji in Nara city
The old name of Nara Prefecture is Yamato (大和).
But, the word "Yamato" is often used as the meaning of "ancient Japan" because this area was the origin of the nation.
And when a feature of the Japanese is represented by comparison with foreigner, "Yamato" is used as idiom.
For example, "Yamato-damashii" (Yamato spirit) is used when the Japanese challange foreigners with desperation, and "Yamato-Nadeshiko" (Yamato pink flower) means Japanese woman who is refined and gentle but has a stalwart heart.
In the late 7th century, the framework of a nation were created, and the Japan's first full-scale capital was set up on current Nara city in 710.
But the capital was moved to Nagaoka-kyo near Kyoto in 784, and the period that Nara was the Japan's capital had been for only 74 years in the long history of Japan.
In addition, the capital was moved to Kyoto in 794, so Kyoto became the capital of Japan for over 1,000 years until 1868.
Tourist Attractions in Nara Prefecture
Around Nara city
Spots in Nara Basin
Other area in Nara Prefecture
Transportation
Railway
To Nara from Tennoji (Osaka) : About 40 minutes by rapid train of JR Yamatoji Line.
To Nara from Nanba (Osaka) : About 40 minutes by Kintetsu Railway.
To Nara from Kyoto : About 45 minutes by rapid train of JR Nara Line.
Express bus
To Nara from Nagoya : about 2.5 hours.
To Nara from Tokyo : about 9.5 to 10 hours. (night bus)
Route bus to travel around Nara
Nara Kotsu Bus runs around the popular spots in Nara.
"Bus Pass" of the bus company is available.
Airport
Nara Prefecture has no airport.
Main events in Nara Prefecture
Wakakusayama Mountain Burning (The 4th Saturaday in January)
Wakakusayama (Mount Wakakusa) is a gentle hill to the east of central Nara city.
On the top, there is an ancient tomb.
Since old time, it had been said that bad things would happen if the grass on the hill was not burnt by January.
Because, they had thought that many ghosts lived in the tomb.
So, someone had set fire to the grass of Wakakusayama without permission every year.
At that time, Todaiji temple had sometimes been exposed to the danger of fire.
Since 1760, the burning had been done under control of the government, then it has been the main event of January in Nara city.
The burning is held in the evening, and about 33 hectares of field are burnt.
Before setting fire to the grass, a display of fireworks is held.
Omizutori in Todaiji (March 1 - 14)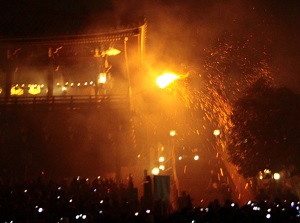 Omizutori is the annual Buddhist ceremony held at Nigatsudo temple in Todaiji.
The formal name is "Shunie".
The first ceremony was held in 752, and it has been held every year for more than 1,260 years.
The ceremony has various events, but all of them are held in Nigatsudo by only the priests.
An important event held on March 12 is formally "Omizutori".
At night, ten or eleven priests hold a large torch about 6 meters long individually and run along the upper-level corridor of the hall like balcony.
Because March 12 is most important day, larger torches appear in the night.
Visitors can see it under the balcony in front of Nigatsudo.
People believe that exposure to the sparks brings good fortune.
This festival announces that spring has come to the ancient capital city of Nara.
Deer antler cutting ceremony (Mid-October)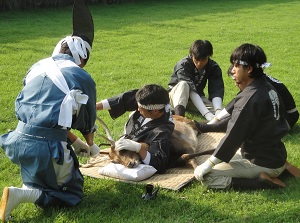 Photo by Nara City Tourism Association
In Nara Park, many wild deer live.
And this event is held in autumn every year.
The antlers of male deer have become large in summer.
The deers are in a state of estrus in autumn, and get wild.
So the antlers are cut to keep the visitors from an injury.
This event is not just a work to cut.
That has been held as a ritual of Kasuga-taisha shrine since 1671.
The cut antlers are dedicated to the shrine.
Kasuga-Wakamiya Onmatsuri (A few days around December 17)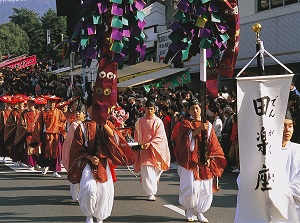 Photo by Nara City Tourism Association
Kasuga-Wakamiya Onmatsuri is the annual festival of Kasuga-taisha shrine.
It has been held every year for more than 880 years since 1136.
The highlight is the parade called "Owatari-shiki" in the December 17.
Many people wearing the costumes in the middle ages parade along the main streets in central Nara city.
Additionally, various traditional events such as horse racing, traditional dancing, noh, sumo wresling are performed as shrine rituals.
Local foods and products in Nara Prefecture
Kakinoha-zushi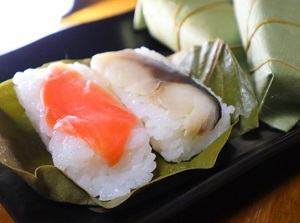 Kakinoha means persimmon leaf.
Kakinoha-zushi is a piece of sushi wrapped with a persimmon leaf.
Nara Prefecture is far from sea, so fish was one of the valuable foods.
Fish was carried after salting from Wakayama Prefecture to the southwest of Nara Prefecture.
People in Nara Prefecture made sushi with the salted fish.
To keep for a few days, the sushi was wrapped with a persimmon leaf with antimicrobial property.
These are sold at the shops in main JR stations.
And some restaurants in Nara city serve them.
Chagayu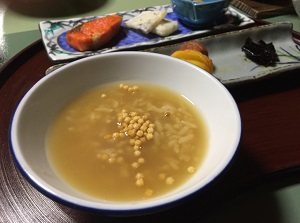 Chagayu means "kayu of tea".
Kayu is the rice cooked in much water.
It is mushy and digests well, and is one of the Buddhist cuisine.
Nara Prefecture has created Japanese tea since the 9th century.
In the Middle Ages, they tried to use tea instead of water when kayu was made.
Since that, Chagayu became a popular dish in Nara.
There are many restaurants serving Chagayu in Nara city, and the hotels sometimes serve it as breakfast.
Nyûmen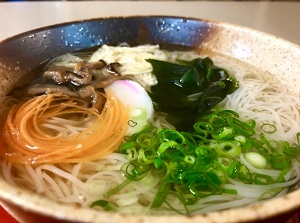 Nyûmen is a noodle dish that boiled "somen" is in a hot soup of Japanese broth and soy sauce.
"Sômen" is very thin noodle made from wheat, and the birthplace is Nara Prefecture.
It is said that and Sômen has been produced since the 7th or 8th century.
Now, it is main that chilled Sômen are eaten by dipping them into cold broth, so Sômen is generally a noodle dish in summer.
It is said that the cold dish was started around the 14th to 15th century.
Many noodle restaurants around Nara city serve Nyûmen and cold Sômen.