Bento (Boxed meal) & Ekiben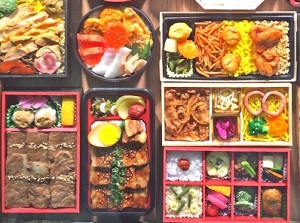 Various bentos
When you travel around Japan, Bento is a very convenient lunch box.
In Japanese, the last vowel "o" is pronounced long, so it is read as "bentô".
And the polite expression of "bentô" is "obentô".
This word is often used in Japanese.
Rice and some side dishes are packed in a box for one meal.
It is a portable meal.
Rice, the staple food of the Japanese, is eaten after boiling with water, but even cold rice is also tasty.
As an example, sushi uses cold rice.
Therefore, bento for lunch is very developing in Japan.
Many of the people who is in their working place or their school at lunch time bring homemade bento.
Because the bento is made in early morning, it becomes cold at lunch time.
But it is tasty.
Various bentos for lunch are sold in the town around lunch time, many people buy them as the lunch.
(The other people have lunch in their home or in any restaurant.)
Of course, bento is also the most useful lunch for tourist.
Especially, Ekiben has been made for the tourists.
About Ekiben
Ekiben is a box lunch sold at a railway station.
"Eki" means railway station and "ben" is the first syllabic character of "bento".
Until the 1980s, when we traveled around Japan, railway was the main method of transportation.
Most of long-distance trains had a dining car.
But only a part of the passengers could have dinner in the car because of a limited number of tables.
Other many passengers needed to buy Ekiben at any station around the lunch time.
In those days, some ekiben sellers waited for the arrival of trains on the platform.
As soon as the train arrived, they sold ekiben walking along the train during the short stoppage time.
The passengers opened the train window, called the seller, and bought the ekiben.
But the trains became faster and the running time became shorter.
We can't open the train window, and dining car has removed from the train.
Now we can't find the walking ekiben seller at any station.
But we need the lunch during the travel.
Therefore, ekiben is still sold.
We can buy ekiben at the stands in the station or on the platform.
But, that is limited to the major stations.
When you take a train before lunch time, it is advisable to buy ekiben before boarding.
You can have a lunch at your seat in running train.
Enjoyment of ekiben is to find the local food and the taste.
When you take a train at Tokyo station, have a look at an ekiben stand.
Probably, you will find over 10 kinds of ekiben and you may hesitate what to choose.
Anyway, ekiben is an indispensable item for traveling around Japan.
Common ekibens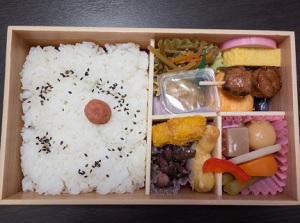 Makunouchi bento
Various ekibens are sold in Japan.
But, there is a basic type of ekiben.
In general, it is called as Makunouchi bento.
Boiled rice is packed in the half part of a lunch box and various small-sized side dishes are packed in the other part.
As the side dish, broiled fish, Japanese omelette and Kamaboko (fish cake) are indispensable.
In a sense, Makunouchi bento may be the essence of Japanese home cuisine.
When you visit Japan, you may feel Japanese taste by ekiben.
Very popular Ekibens
We can buy above type of ekiben easily because it is the basic bento.
But there are many special ekibens throughout Japan.
They are the ekiben taking advantage of the characteristics of each region.
Probably, you can find such special ekibens in many bento stands.
Ekiben has been a food for tourists.
But, because such special and famous ekibens have been sold in various regions since early times and have been spread by word of mouth, ekiben has become a category of interesting Japanese food.
On the other hand, new ekibens are always developed.
Therefore, ekiben line-up in the stand changes little by little.
But the following is a part of long‐sellers.
I introduce them from the north.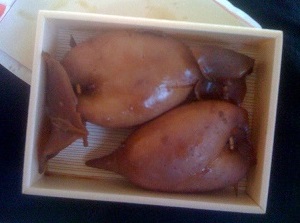 (1) Ika-meshi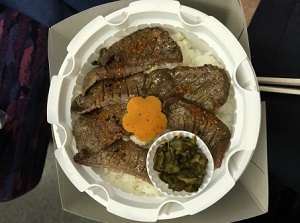 (2) Amiyaki Gyutan Bento
(1) Ika-meshi (Mori stn., 50km north of Hakodate in Hokkaido)

Squid body after removing guts and legs is stuffed with rice, then it is cooked in the soup with soy sauce.

(2) Amiyaki Gyutan Bento (Sendai stn.)

On the rice, some sliced grilled ox tongue is topped.
The bento case has a string. After you pull the string, the bento becomes warm.
(3) Gyuniku Domannaka (Yonezawa stn., Between Fukushima and Yamagata)

Sliced beef and minced beef are cooked with soy sauce and sugar, and they are topped on rice.

(4) Tooge no Kamameshi (Yokokawa, Takasaki stn., Between Tokyo and Nagano)

Various ingredients are topped on the rice, then these are boiled in a small ceramic pot.

(5) Ebi Senryo Chirashi (Niigata stn.)

Some pieces of Sliced omelette cover the box.
Under them, four kinds of fish and vinegared rice are put.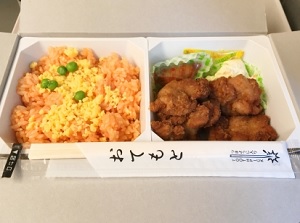 (6) Chicken Bento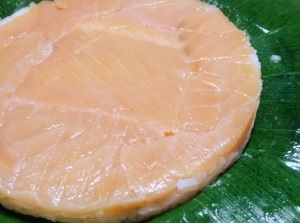 (7) Masu no Sushi
(6) Chicken Bento (Tokyo stn.)

Main dish is Ketchup-flavored fried rice.
Side dish is some pieces of deep-fried chicken.
It is said that the Emperor Heisei likes this.

(7) Masu no Sushi (Toyama stn.)

Some slices of salted trout are put on vinegared rice and the whole sushi is packed and pressed in a circular thin case.
Because the form is circular, it is smart to cut the sushi into sector form like cheesecake.

(8) Echizen Kani-meshi (Fukui stn.)

Rice is boiled with snow crab meat and paste.
Then plentiful flaked meat of snow crab are topped on it.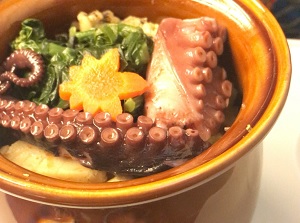 (9) Hipparidako-meshi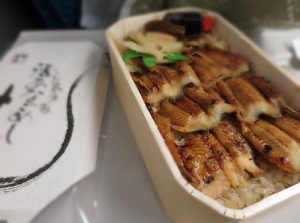 (10) Anago-meshi
(9) Hipparidako-meshi (Akashi and Kobe area)

Octopus, conger and some vegetables are topped on rice flavored with Japanese stock and soy sauce.
And, it is in a small ceramic jar.

(10) Anago-meshi (Miyajimaguchi and Hiroshima station)

Pieces of broiled conger are topped on rice.
The number of the ekiben is low and the price is not so cheap.
You can buy popular Ekibens of Japan in Tokyo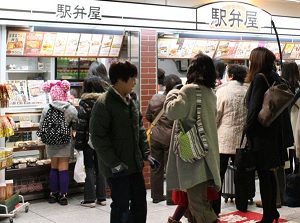 Ekiben shop in Tokyo station
Basically, above popular ekibens are sold only in each local area.
But, there are the shops that many local ekibens are sold in Tokyo.
Most popular shop is Ekiben-ya Matsuri (駅弁屋 祭).
It is at the central concourse of Tokyo station.
About 200 kinds of local ekibens in Japan are sold in the shop, and many tourists visit there.
And there is Ekiben-ya Odori (駅弁屋 踊) near Matsuri.
It is smaller shop than Matsuri, but we can buy the ekibens speedily.
In addition, affiliated ekiben shops are in the other terminal stations in Tokyo.
They are Ekiben-ya Takumi (駅弁屋 匠) in Ueno station and Ekiben-ya Itadaki (駅弁屋 頂) in Shinjuku station.
Bento sold at the places other than station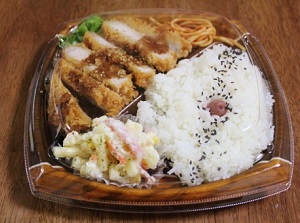 Tonkatsu bento of Convenient store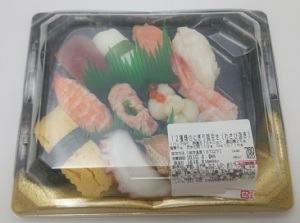 Sushi bento of Convenient store
Ekiben is the bento for tourist.
But, frankly speaking, it is a little expensive because it is made by a devised production process.
But you can buy the cheap bento at the places other than station.
Of course, the food in the box is cheap and had less variety of ingredients than Ekiben.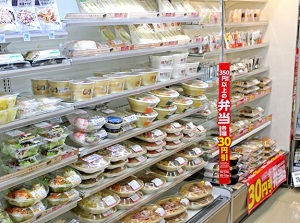 Bentos in Convenient store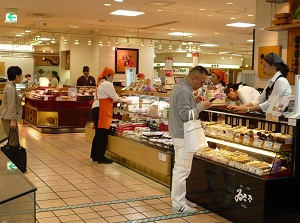 Depachika
Convenient store : There are shelfs for Bento in all shop.
Supermarket : There is the section of takeout foods.
Depachika : It means basement of a department store.
Most department stores have the section of takeout foods in the basement floor.