Restaurants in Japan
General Japanese restaurant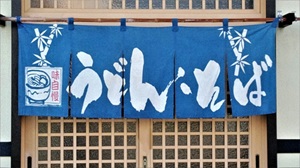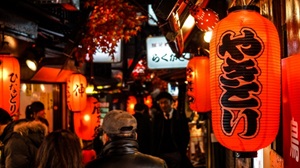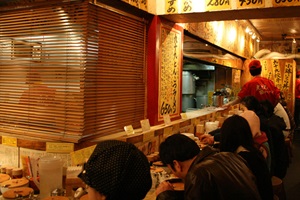 There are many restaurants in Japan.
Of course, you can find easily Western, Chinese or other country's restaurants.
If you want to find traditional Japanese restautants, first search the restaurant that a "noren" is hung in front of the entrance.
Noren is a short curtain with a few vertical slits, and most Japanese restaurants hangs it in front of the entrance.
Hanging noren is the sign of opening the restaurant.
Some Japanese restaurants or Japanese-style pubs use "nawa-noren" (rope curtain).
And there is a display of menu in front of the restaurant.
Most of the restaurants are family-run.
Therefore, the scale is small and the number of the seat is probably within 30.
Generally a Japanese restaurant serves specific dishes.
Sushi restaurants serve sushi, sashimi and some donburi with sashimi. ("Donburi" is rice bowl dish.)
Soba or udon restaurants serve soba or udon noodle and some donburi dishes.
Ramen restaurants serve ramen noodle.
And most ramen restaurants serve some Chinese dishes.
Tempura restaurants serve tempura and set menu with tempura.
Unagi (eel) dish restaurants serve unadon and other menu with unagi.
Tonkatsu (Japanese pork cutlet) restaurants serve tonkatsu and set menu with tonkatsu.
Additionally, don't remember that there are many small restaurants serving various cheap and homely dishes for the people in the community.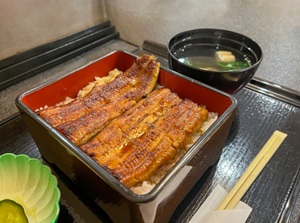 Sukiyaki or shabushabu restaurants are small in number, and most ones are expensive.
There are some classy Japanese restaurants.
The restaurants have the menu of many traditional Japanese dishes.
You can enjoy the Japanese full-course dinner called "kaiseki" at such restaurants.
And the restaurants for sukiyaki and shabushabu are in the category.
In many cases, the guests enjoy the meal in a private room.
Of course, the dishes are expensive.
Most traditional Japanese restaurants have the tables on tatami floor.
Many restaurants have both chairs and tatami, and some restaurants have only tatami.
When you sit on tatami, you must get your shoes off and sit straight with your legs folded under you.
If you have no experience to sit so, you may feel painful.
Please sit on your choice.
Family restaurant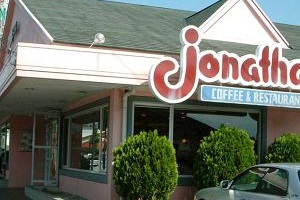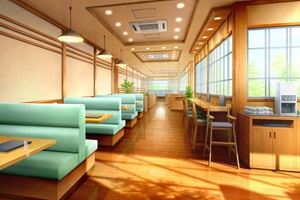 "Family restaurant" is a Japanese-English word.
Japanese people often shorten the word, so it is calles as "famires".
Most family restaurants are in the city or suburbs.
And they have spacious and bright premises.
In the literature, it is the restaurant for family.
It has the menu of dishes without reference to age or sex.
The prices are reasonable.
Most restaurants are chain stores, and there are the restaurants throughout Japan.
Some restaurants serve mainly western dishes and some serve mainly Japanese dishes.
Most restaurants have the menu for children, and drinks and sweets are also served.
There are many chains in Japan.
Mainly western dishes and some Japanese dishes : Gusto, Jonathan's, Denny's, Coco's, Royal Host, Joyfull, BigBoy, Famil
Mainly Japanese dishes : Yumean, Aiya, Hanaya-Yohei, Sato
Mainly Chinese dishes : Bamiyan
Mainly Italian dishes : Saizeriya, Jolly-Pasta
Mainly hamburger stake dishes : Bikkuri Donkey
Fast food restaurant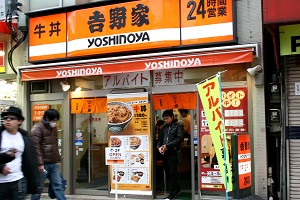 Gyudon restaurant in Tokyo
In Japan there are many fast food restaurants from U.S. like "Kentucky Fried Chicken", "McDonald's", "Burger King", "Mister Donut", "SUBWAY" and so on.

In addition, there are some fast food restaurants of hamburger born in Japan.
Those are "MOS Burger", "Lotteria", "Becker's", "Dom Dom", "First Kitchen" and so on.
Of course, there are some fast food restaurants of Japanese dishes.
Gyudon restautants : Yoshinoya, Matsuya, Sukiya
Udon noodle or donburi dishes : Nakau, Hanamaru-udon, Marugame-Seimen
Curry rice : Coco-Ichiban-ya
Kaiten-zushi (Conveyor belt sushi)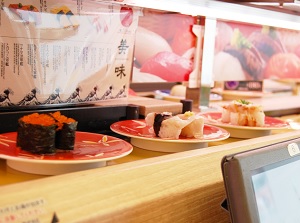 Conveyor belt sushi
Kaiten-zushi is the sushi restaurant where the plates with the sushi are placed on a rotating conveyor belt.
In a sense, this is also a fast food restaurant.
When you get a seat, you can eat your favorite sushi soon.
Most of kaiten-zushi restaurants are chain stores.
Many chains of kaiten-zushi are in Japan. (The following major restaurants have English websites.)
Standing-up-eating soba, udon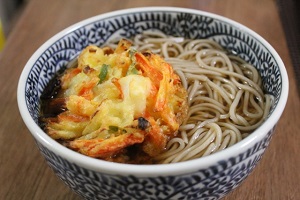 Cheap and tasty standing-up-eating soba (The topping on above photo is a kakiage tenpura)
There are a standing-up-eating soba, udon stand around main railway station.
Soba or udon noodle is quickly served.
Most diners eat it fast.
Of course, most shops have no seat, so you must eat standing up.
It is opened from early morning to late night.
For busy workers, it is a convenient restaurant.
Basically kake-soba/udon (only noodle and hot soup) is served, and the diner can order favorite toppings.
Popular toppings are kakiage (tenpura of chopped vegetables), raw egg, abura-age (fried thin tofu), boiled wild plants, etc.
When ordering, you buy a ticket with vending machine, and hand the ticket to a cook.
The prices are very cheaper than normal soba/udon restaurants. (about 200-400 yen).
Izakaya (Japanese-style pub)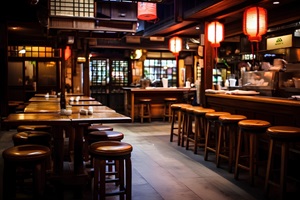 Izakaya
There are many pubs and bars in Japan.
Especially, casual Japanese-style pub is "izakaya".
If you want to eat various Japanese dish cheaply, it is good idea to go to Izakaya.
Of course, it is the place to drink.
But the menu has the lineup of known Japanese cuisines such as sashimi, broiled fish, yakitori (grilled chicken), fried dishes, salad, etc.
Some izakayas serve sushi.
Basically, you must order any drink first.
Main drinks are beer, sake, shochu (Japanese distilled beverage), etc., but you can choose soft drinks such as juice, oolong tea, etc.
At the entrance of most izakayas, red Japanese lanterns are hung.
If you search izakaya, that is the sign.
When you enter an izakaya, there is a thing you should be careful of.
As soon as you take a seat, a waiter or waitress serves a small dish to you without your order.
It is called "Otooshi" in Japanese.
In many cases, it is not a service and you must pay the price.
It is like a fee for a table reservation, and is a traditional business custom of izakaya.
Some izakaya accept your refusal of Otooshi.
If you don't want to have the Otooshi, try to say refusal of Otooshi to the waiter.
For vegetarian
There are few real vegetarians in Japan, I think.
So only few restaurants and hotels serve meal for vegetarian.
If you are a vegetarian, probably you are hard to find the reataurant for vegetarians in Japan.
Even I don't know the restaurant in my city.
If you are a vegetarian, please check the information in the below websites.
For Muslims
Recently, Japanese people comes to know about Muslim.
Because, the workers from Muslim countries are increasing in Japan.
But most Japanese people don't know the restaurants for Muslim.
So, if you are a Muslim and visit Japan, please check the below websites.