Tohoku Region is the north part of Honshu Island in Japan.
The first "o" in "Tohoku" is pronounced long, so it is read as "Tôhoku" in Japanese.
The area extends north and south, and the distance is about 500 km.
There is Hokkaido Island to the north beyond Tsugaru Strait.
Seikan undersea tunnel connects Honshu Island and Hokkaido Island.
And the west side of the region faces to the Sea of Japan, and the east side faces to the Pacific Ocean.
This area is mountainous, but only a few mountains are over 2000 meters high.
From the north to the south, 18 active volcanoes are dotted in this region.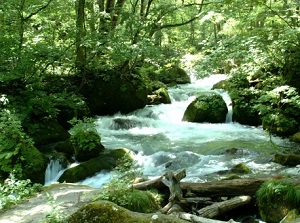 Oirase Stream (Aomori Pref.)
Because this region is located in the north part of Honshu Island, the climate is cooler than the other area.
In winter, much snow fall in most areas on the Sea of Japan side by the wet air from the northwest.
But the areas facing to the Pacific Ocean has not so much snow.
Therefore, winter comes earlier and spring comes later than the other areas in Honshu Island.
On the other hand, it is often as hot as the other areas in summer.
The population is not so large in this region.
About nine million people live in this wide area, and is mostly the same as the population of central Tokyo.
The biggest city in Tohoku Region is Sendai and the population is about one million.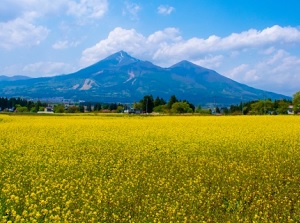 Mount Bandai in spring (Fukushima Pref.)
The main industry of Tohoku Region is agriculture.
Especially, Tohoku region is one of major rice‐producing areas in Japan, so tasty rice is harvested in whole areas of Tohoku.
And various fruits are created in some areas of this region.
Apples in Aomori, cherries in Yamagata, and peaches in Fukushima are very famous.
In addition, because tasty rice is produced, there are many delicious Sake breweries in this region.
Tohoku is also a region that various traditional crafts have been created for several centuries.
In some cities and towns, high-quality products for daily life are made.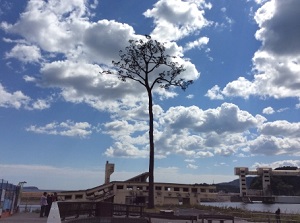 Miracle Pine Tree in Rikuzen-takata (Iwate Pref.)
Only this tree resisted the tremendous tsunami.
The Great East Japan Earthquake occured on March 11, 2011.
The earthquake shook the whole areas in Tohoku Region terribly.
Then, huge tsunami attacked the all coast facing to the Pacific Ocean in Tohoku Region.
By the catastrophe, more than 18,000 people were left dead or missing.
In addition, because Fukushima nuclear power plant was damaged by the tsunami, the areas around the plant were contaminated by radioactivity.
The damaged areas are still on the road to recovery.
To travel around this region is a method to join the recovery efforts.
Please plan to visit this region in your itinerary.
Aomori Pref. Iwate Pref. Akita Pref. Miyagi Pref. Yamagata Pref. Fukushima Pref.
Transportation in Tohoku Region
Airline
Most major airport is Sendai International Airport.
It has some international flights and many domestic flights.
Especially, the flights between Shin-Chitose (Sapporo), Chubu (Nagoya), Itami (Osaka), and Fukuoka airports are frequent.
There is a railway line from Sendai Airport to JR Sendai station.
It takes 17 minutes by rapid train and 25 minutes by local train.
And many buses to some other cities in Tohoku Region are operated.
There are some local airports in Tohoku Region.
Main airports are the following.
Railway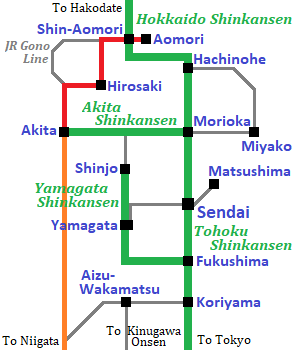 Main railway lines of JR in Tohoku Region.
The colored lines are the route of main limited express. Thin grey lines are local trains.
Shinkansen train comes from Tokyo to the main cities in Tohoku Region.
The trains are operated frequently, so it is very convenient.
By the fastest train, from Tokyo, 1.5 hours to Fukushima and Sendai, 2 hours 20 minutes to Morioka, 3 hours to Shin-Aomori, 2 hours 50 minutes to Yamagata, 3 hours and 50 minutes to Akita.
From Aomori, limited expresses are operated on the JR lines along the west coast of Tohoku Region.
And there are many local lines are in this region.
(Of course, there are some lines except the lines in above map.)
No night train is operated.
Railway passes for travel around Tohoku Region
Express bus
Some bus companies operate express buses in Tohoku Region.
The following website introduces some booking sites of express buses.
Express bus passes for travel around Tohoku Region