Iwate Prefecture is located at northeast part of Tohoku Region.
It is a nearly oval shape about 190 km from north to south and 120 km from east and west in width.
And Iwate is the largest prefecture in Japan except Hokkaido.
The northern area of the prefecture is called Nanbu area, because Nanbu clan had governed this area from the 16th century to the middle of the 19th century (The end of the Edo period).
Kitakami River flows through the center of prefecture from north to south, and most cities are along the river.
Morioka city, the prefectural capital, is also near this river, and is located at the center of the prefecture.
There are many mountains as much as 1,000 to 2,000 meters high on the both sides of the central area that Kitakami River flows.
The eastern coast facing to the Pacific Ocean has a sawtooth coastline.
Therefore, the access north and south along Kitakami River has been convenient, but the access east and west across the mountains has been very inconvenient since early times.
In winter, much snow falls in whole prefecture, and particularly the western mountain area has heavy snow.
So there are some ski resorts in that area.
The south part of the coast areas suffered great damage from the great earthquake and tsunami on March 11, 2011.
The area is under reconstruction now.
Tourist Attractions in Iwate Prefecture
Hotels in Iwate Prefecture
Transportation
Railway
To Morioka from Tokyo : By Tohoku Shinkansen, 2 hours and 20 to 50 minutes.
To Ichinoseki from Tokyo : By Tohoku Shinkansen, 2 hours and 20 minutes.
Express bus
To Morioka from Tokyo : 7 to 8 hours.
Airport
Iwate-Hanamaki airport is located about 30 km south of Morioka city.
It has the flights from Itami (Osaka), Nagoya, Fukuoka and Shin-Chitose (Sapporo).
(There is no flight from Tokyo.)
Main events in Iwate Prefecture
Hidaka-Hibuse Festival (April 28, 29)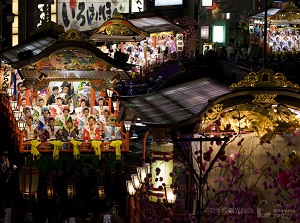 Photo by Iwate Prefecture
It is the festival held in Mizusawa Ward in Oushu city located in the south part of the prefecture.
"Hidaka" is the name of shrine, and "Hibuse" means "fire protection".
About 300 years ago, Mizusawa suffered from massive fires three times.
So the lord of that time learned the organization for fire protection from Edo (current Tokyo), then he set up several citizen's fire companies in the city.
Since that, they preyed for no fire disaster to Hidaka shrine every year, then it has became the current festival.
Nine beautiful floats march throughout the city along to music, which is played by many musicians and singing girls on the floats.
The gorgeousness is similar to Gion Festival in Kyoto.
Fujiwara Festival in spring (May 1 - 5)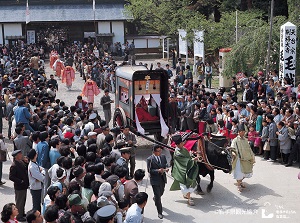 Photo by Iwate Prefecture
It is the festival held at Chusonji and Motsuji temples in Hiraizumi town.
Fujiwara family had ruled this area in the 11 to 12th centuries.
They built these temples.
In this festival, the commemorations of the family are held at the temples, also local entertainment and noh are performanced.
The highlight is a parade reproducing the historical event in the 12th century.
More than 100 casts are dressed in period costume, additionally a popular actor receives the leading roll every year.
The parade is held in May 3rd.
It starts at Chusonji in the morning, plays a drama at Motsuji in the afternoon, and returns to Chusonji at about three.
Chagu-chagu Umako (2nd Saturday in June)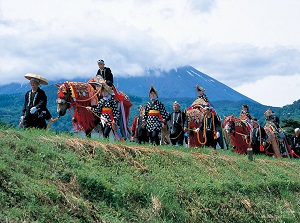 Photo by Iwate Prefecture
It is a parade of horses for agriculture.
Since ancient times, horses have been the most important farm animals in this area, then the people have held this festival of gratitude for horses every year.
More than 100 horses with colorful costume parade the distance of 15 km from Onikoshi-souzen shrine in Takizawa village to Morioka-Hachimangu shrine in Morioka city.
It takes about 4 hours.
Morioka Sansa Dance Festival (August 1 - 4)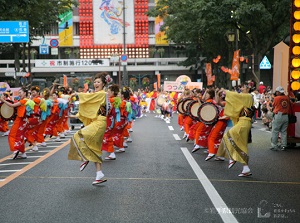 Photo by Iwate Prefecture
It is the parade of great Bon festival dance held in the center of Morioka city.
Originally the dance had been held at many areas around Morioka city.
Since 1978, they have been held together as a big event of Morioka city.
Basically the parade goes in teams.
Each team has some dancers, pipers and drummers, but the number of drummer is very large, so this is called "the greatest drum parade in Japan".
Visitors can also dance without prior application.
Local foods and products in Iwate Prefecture
Wanko-soba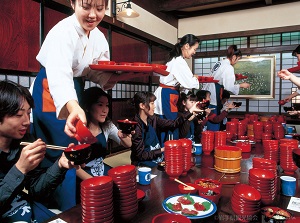 Photo by Iwate Prefecture
It is the famous soba noodle in Morioka and Hanamaki cities.
"Soba" is a major buckwheat noodle in Japan, but Wanko-soba is very unique in serving soba noodle.
First, you hold an empty bowl.
Then, a waitress behind you puts a mouthful cooked cold soba noodle into your bowl quickly with a brisk call.
You eat (swallow) it immidiately.
As soon as your bowl is emply, the waitress puts next soba noodle into it.
This is repeated endlessly.
It is said that about 15 bowls are equal to a normal bowl of soba noodle.
Adult men eat an average of 60 bowls, but the previous record was 632 bowls in 15 minutes in a championship in 2018.
When you give up your challenge of this competitive eating, you must put a lid on your bowl.
Even if you say "stop !", the waitress continues to put noodles during your bowl is without a lid.
In Morioka city, there are some Wanko-soba restaurants.
Reimen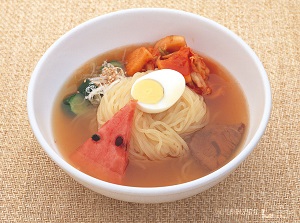 Photo by Iwate Prefecture
Reimen is a Korean cold noodle with soup.
It started when a Japanese cook born in North Korea served in 1954 at Morioka.
Of course, he made an effort to suit Japanese taste.
The noodle is white, and springy like rubber.
The soup is made from beef bones, and kimchi (Korean pickles) is topped.
Since the 1990s, it has become popular in Japan.
Now, Morioka is the best place of Reimen.
Jajamen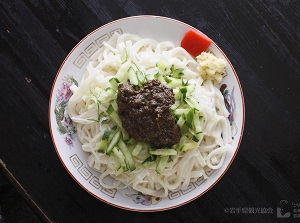 Photo by Iwate Prefecture
Jajamen is also one of popular noodle in Morioka.
A Japanese cook returned from Manchuria (current northeastern China) after World War II, then he started to serve it in Morioka.
He had eaten Chinese noodle "Zhajiang mian" in Manchuria, and he made that to suit Japanese taste.
On the boiled thin udon (Japanese white noodle), miso paste mixed with fried minced meat and chopped cucumber are topped.
Depending on individual taste, add a little vinegar, hot sesame oil, grated garlic or ginger to the dish.
After eating, you can order the soup made by adding broken egg and the miso into your used dish.
Nanbu-senbei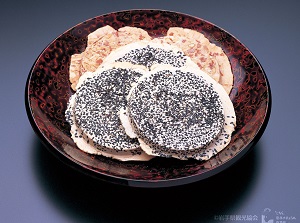 Photo by Iwate Prefecture
It is a traditional senbei (Japanese cracker) made in Nanbu area.
After mixing wheat flour with water, it is made by baking hard in a round mold.
It usually has a part running off the edge.
It tastes plain with a very little salty and is crisp.
And, the popular senbeis are mixed with black sesame or peanuts.
In addition, there is a unique soup that this senbei is used as one of cooking ingredients.
Nanbu ironware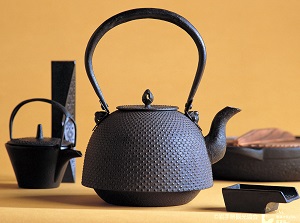 Photo by Iwate Prefecture
In Nanbu area, the materials of ironware had been yielded from old times.
So, various ironware has been produced since the 17th century.
Especially tea ceremony became popular at that time, then good kettles to boil water were made in this area.
And, as the product for daily use, normal kettles were also made.
Today, Nanbu ironware is famous as one of Japanese traditional craft products.