Aomori Prefecture is the northernmost prefecture in Honshu island.
There is Hokkaido island to the north across Tsugaru Strait.
Two large peninsulas extend from the north coast.
The eastern side is Shimokita Peninsula shaped like an ax.
The western side is Tsugaru Peninsula.
There is Mutsu Bay between these peninsulas.
Especially, the southwestern part of the bay is called as Aomori Bay
And the eastern coast faces the Pacific Ocean, and the western coast faces the Sea of Japan.
The central city is Aomori city, and it is located on the northern coast at head of Aomori Bay.
Hachinohe is a main one in eastern region.
And a western main city is Hirosaki, and it is a historic castle town.
Generally, the western half of the prefecture including Aomori city is called as Tsugaru area, and the eastern half is called as Nanbu area.
In winter, most areas in the prefecture have much snow.
Especially, Tsugaru area is a heavy snowfall area.
There are many scenic spots of nature in Aomori Prefecture.
Shirakami-Sanchi located in the southwest part is the mountainous area designated as a UNESCO World Heritage Site.
Tourist Attractions in Aomori Prefecture
Transportation
Railway
To Aomori from Tokyo : By Tohoku Shinkansen, 3 hours and 0 to 10 minutes.
To Aomori from Hakodate : By Hokkaido Shinkansen, 1 hours and 0 to 10 minutes.
To Hirosaki from Aomori : By JR train, 35 to 45 minutes.
Express bus
To Aomori from Tokyo : 10 to 11 hours.
To Aomori from Sendai : 5 hours.
Airport
Aomori airport is located about 12 km south-southwest of Aomori city.
It has the flights from Haneda (Tokyo), Itami (Osaka), Nagoya and Shin-Chitose (Sapporo).
Main events in Aomori Prefecture
Hachinohe Enburi (February 17 - 20)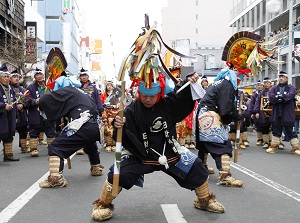 Enburi is the winter festival to pray for a good harvest, and it is held around Hachinohe city.
Some groups with more than a dozen dancers perform dance to flute and drum music in the city.
Each dancer wear a colorful cap modelled a head of horse, and perform the dance of a story from planting seeds of rice to harvesting.
The first performance is held in Chozasan-Shinra Shrine, then the performances are held in various place in the city.
Hirosaki Sakura Festival (April 23 - May 5)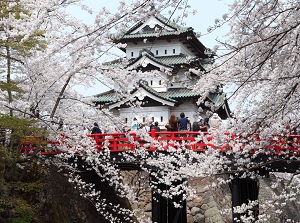 From late April to early May, the cherry blossoms are in full bloom in Aomori prefecture.
Particularly Hirosaki city is well-known as one of the major cherry blossom-viewing spots in Japan.
The main spot is Hirosaki Park in the site of Hirosaki Castle.
There is about 2,600 cherry trees.
The park is not so large, so it is filled with cherry blossoms.
Because the latter half of the period overlaps the "Golden Week" with 4 Japanese national holidays in a week, many tourists visit from all over the country.
Aomori Nebuta / Hirosaki Neputa (Early August)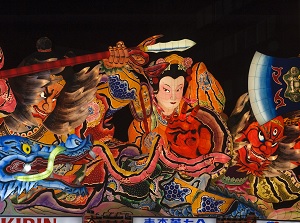 Nebuta or Neputa is the festival held in summer at many cities and towns in Aomori Prefecture.
Many floats are paraded with many shouting citizens through the streets in the evening.
A big paper lantern in the shape of a warrior is on each float, and the lights inside the lantern create a fantasic sight.
It has been held since the 8th century, and becomes the festival with big lanterns in the 19th century.
The festivals of Aomori city and Hirosaki city are large-scale and famous.
Generally this festival is called "Nebuta", but at Hirosaki and some surrounding towns it is called "Neputa".
Local foods and products in Aomori Prefecture
Apples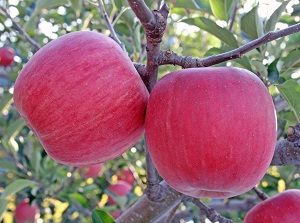 Apple is the most popular agricultural product in Aomori Prefecture.
The amount of production accounts for half of Japan's total harvest.
The apples are cultivated mainly in western part of Aomori Prefecture around Hirosaki. (Tsugaru area)
A lot of apples from Aomori are exported to Taiwan, Hong Kong, China and some other countries.
Especially, it is said that Taiwan people values highly Japanese apples.
Jappa-jiru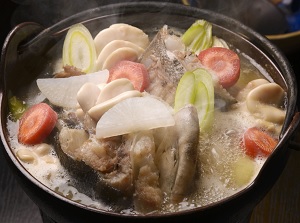 Jappa-jiru is a fish stew cooked in miso soup.
Jappa means "remain" in Aomori dialect, then main ingredients are the head, guts, fishbone and other parts of fish except the fillet.
In short, the parts of fish which are normally thrown away are used.
Generally a codfish is used.
The parts of a codfish are cut into chunks, and are stewed with a few kind of vegetables such as daikon (Japaanese radish), hakusai (Chinese cabbage) and negi (green onion) in miso soup.
Ichigo-ni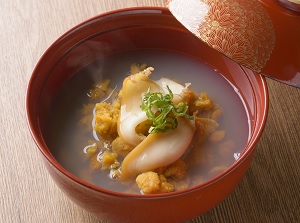 Ichigo means "strawberry" in Japanese.
But ichigo-ni is not the dish of strawberry.
This is a local dish around Pacific Ocean coastline in eastern Aomori Prefecture.
It is a clear soup with uni (sea urchin) and abalone, and the seasoning is only small amount of salt and shoyu (soy sauce).
Commonly chopped green perilla (Japanese basil) is added for flavoring.
Uni and abalone are very expensive, but this dish has been cooked using unsalable ones by fishermen.
A gracious man said that the orange uni looks like wild strawberries in the morning haze, then it is said that this dish got the name.
Tsugaru-nuri (Tsugaru lacquerware)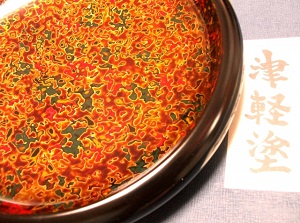 Tsugaru-nuri is a lacquerware produced in Tsugaru area.
Main producing area is Hirosaki city.
It is that the feudal lord in Tsugaru started encouragement to develop the industry in 1646.
Lacquering and polishing are repeated again and again.
Therefore, the product is beautiful and durable.