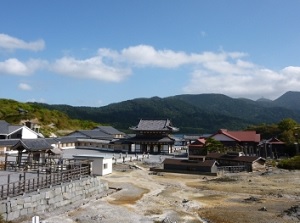 Osorezan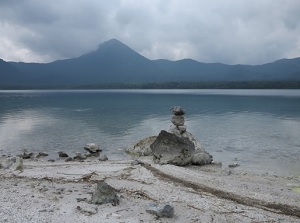 Lake Usori
Osorezan is one of the three major holy sites in Japan.
It is located in the center of Shimokita peninsula and about 10 km west of Mutsu city.
It is about 60 km away from Aomori city in a straight line, but the distance is about 110 km by road.
Osorezan is the name of an active caldera volcano and the highest mountain around the caldera is 878 meters high.
But there is a holy site in the caldera and the site is also called Osorezan.
In the site, volcanic gases are emitted in place, so it smells sulfurous.
And very wild landscape like "hell" is spread before us.
There is Lake Usori (宇曽利湖) in the bottom of caldera.
It is a round lake about 2 km across.
The water is highly acidic, so only a few kinds of fish and aquatic organisms live in the lake.
But the color of the lake is beautiful emerald green.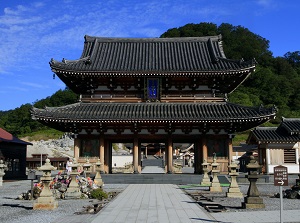 Osorezan-Bodaiji
Photo by Aomori Prefecture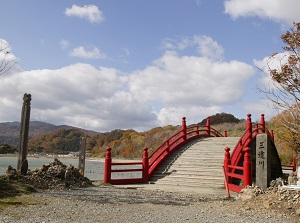 A bridge in Osorezan
Photo by Aomori Prefecture
On the northern lakeside, there is the holy site of Osorezan.
The main building of this site is Osorezan-Bodaiji (恐山菩提寺) temple.
This temple was founded by Priest En-nin in 862.
When Priest En-nin was studying in Tang (current China) in the 840s, he received a revelation of Buddha in a dream.
"You will find a holy mountain after 30 days' trip after you return to your country."
Then after returning to Japan, he found this mountain.
And he built this temple in 862.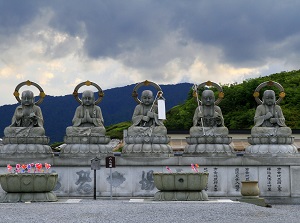 Statues in Osorezan
Photo by Aomori Prefecture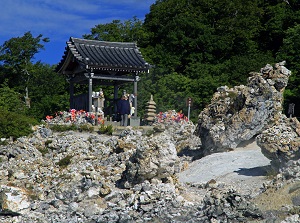 Wild site of Osorezan
Photo by Aomori Prefecture
In the site of temple, there are not only main buildings but also four hot springs that visitors can have a bath freely.
The wild scenery of caldera around the temple make us feel mysterious.
In addition, this temple opens only from May to early November.
How to get here
By train of Aoi-mori railway, 37 to 43 minutes from Aomori to Noheji station, or 35 to 45 minutes from Hachinohe.
Then, transfer to JR Ominato Line.
About 1 hour to Shimikita station by local train.
From Shimokita station to Osorezan, 43 minutes by route bus
The bus is 3 or 4 services a day.
Hotels around Mutsu city
Other Tourist Attractions in Aomori Prefecture