Asamushi hot spring [
浅虫温泉

]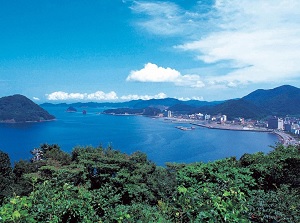 Asamushi hot spring resort
Photo by Aomori Prefecture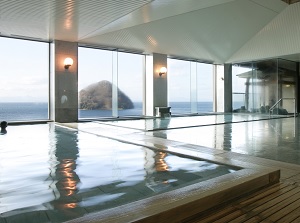 A bathroom in Asamushi onsen
Photo by Aomori Prefecture
Asamushi hot spring ("Asamushi onsen" in Japanese) is a hot spring resort in the suburbs of central Aomori city.
It is located about 13 km northeast of Aomori station.
There are about a dozen hotels and ryokans in the town facing to Aomori Bay.
And Yunoshima island like an upside-down bowl is about 0.5 km off the shore.
This hot spring had already been known in the 16th century.
From the early 20th century, this town had developed greatly due to the opening of the railway from Tokyo.
Until 1980s, many groups of guests visited this resort, so here was a major resort for pleasure.
But, after the burst of the economic bubble around the early 1990s, the atmosphere of the town became quiet.
Now, Asamushi onsen retains the feel of the good old days in the scenery of the sea and mountain.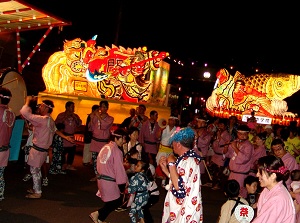 Nebuta in Asamushi
Photo by Aomori Prefecture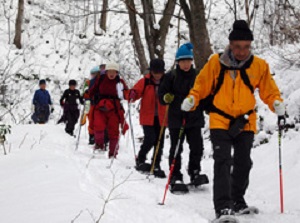 Hiking tour on snow
Photo by Aomori Prefecture
In this resort town, various events are held.
Especially, Nebuta festival in Asamushi is popular.
It is held for two days in the middle of July and on August 14.
It is said that the festival in Asamushi is the origin of Nebuta.
And, in winter, the hiking tour on snow is held.
Asamushi Aquarium (
浅虫水族館

)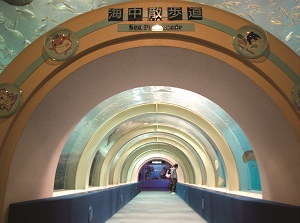 Tunnel under the water in Asamushi Aquarium
Photo by Aomori Prefecture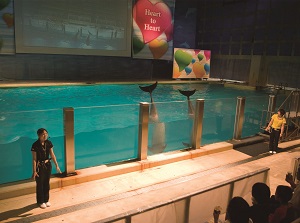 Dolphin show in Asamushi Aquarium
Photo by Aomori Prefecture
Asamushi Aquarium is located in the north part of Asamushi hot spring resort.
Many fishes and aquatic animals around Aomori and the world are displayed.
The tunnel under the water tank is popular.
You can see the powerful dolphin show because the facility is not so wide.
How to get here
By local train of Aoimori Railway, about 20 minutes from Aomori station.
Hotels in Asamushi Onsen
Other Tourist Attractions in Aomori Prefecture