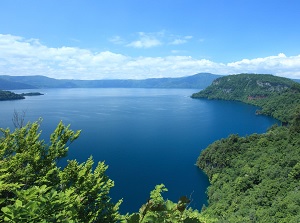 Lake Towada
Photo by Aomori Prefecture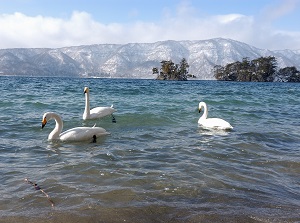 Lake Towada in winter
Photo by Aomori Prefecture
Lake Towada is a caldera lake located about 50 km south of Aomori city and is about 25 km south of Hakkoda mountains.
It is about 10 km both from east to west and from north to south in width.
Two small peninsulas expand from the south coast.
The lake level is just 400 meters high, and the depth is 327 meters.
In the forest around this lake, wild animals such as golden eagle and black bear make their habitat.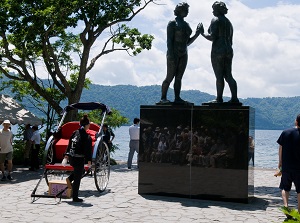 Statue of maidens
Photo by Aomori Prefecture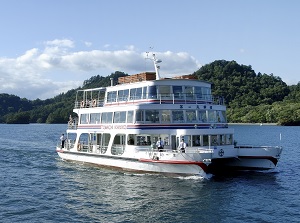 Pleasure boat in Lake Towada
Photo by Aomori Prefecture
Yasumiya (休屋) on the south lakeside is the main town for sightseeing.
There are many hotels, minshukus, a visitor center and a bus terminal.
There is Statue of maidens on the lakeside about 1 km north of Yasumiya.
It is a symbol of Lake Towada and was built in 1953.
It was made by Takamura Kotaro (1883-1956), who was an early 20th century's sculptor and poet in Japan.
On the east lakeside, there is Nenokuchi (子ノ口) town.
Oirase stream flows from here, and it is the only river flowing out from Lake Towada.
Pleasure boats leave from Yasumiya port.
The services are the round cruise in the lake and the cruise between Yasumiya and Nenokuchi.
These are operated from the middle of April to the middle of November.
The cruising time is 50 minutes.
This lake is on the border between Aomori and Akita Prefecture, so we can find the local souvenirs of both prefectures in most shops.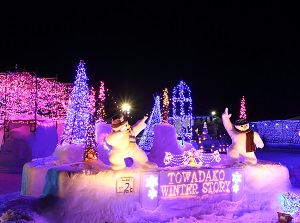 Fuyu-Monogatari Fesival
Photo by Aomori Prefecture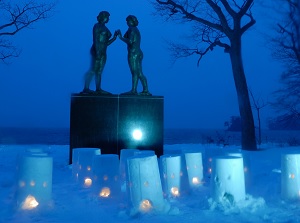 Fuyu-Monogatari Fesival
Photo by Aomori Prefecture
For about three weeks in February, "Fuyu-Monogatari" Fesival is held at Yasumiya.
Various events are held from late afternoon to the night every day.
How to get here
By route bus, about 3 hours from Aomori station, about 2 hours and 20 minutes from Hachinohe station.
Hotels around Lake Towada
Other Tourist Attractions in Aomori Prefecture