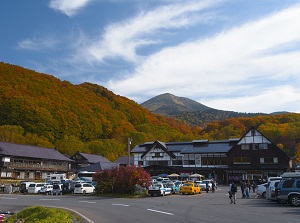 Sukayu Onsen
Photo by Aomori Prefecture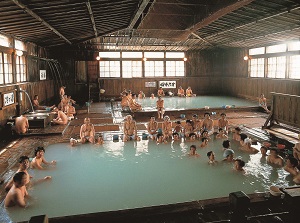 The bathroom for mixed bathing
Photo by Aomori Prefecture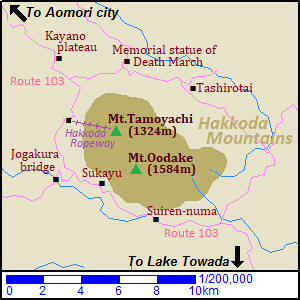 Tourist attractions around Hakkoda
Sukayu hot spring is located about 22 km southeast of Aomori city.
And it is at the western foot of Hakkoda mountains.
There is only one ryokan (Japanese-style hotel).
The large bathroom like a gym is famous.
And it is the bathroom for mixed bathing.
There are gender-segregated undressing rooms, but men and women enter together into the same bathroom.
Of course, you must have a bath naked without shyness.
However, a partiton is partly set in the bathroom, and the place in the biggest bathtub is separated for men and women.
Obviously you should mind your manners.
From 8 to 9 p.m. and from 8 to 9 a.m., the bathroom is for women only.
If you are a woman and you don't hope to have a bath with men, you should enter in these time zones.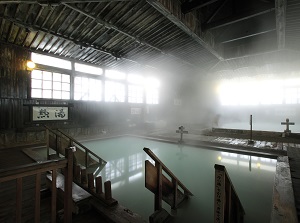 Bathtubs in Sukayu
Photo by Aomori Prefecture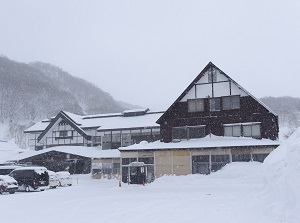 Sukayu in winter
Photo by Aomori Prefecture
It is said that this resort was opened in 1684, and since that it has been a popular hot spring resort as a therapeutic bath.
"Sukayu" means "sour hot water".
In fact, the water is highly acidic and tastes like lemon.
Because this ryokan is mainly a therapeutic spa, some services are committed to the guests.
The rooms are also simple.
This hot spring resort is located over 900 meters above sea level.
And it is in a heavy snowfall area.
Snow falls from November to May, and the snow depth sometimes exceeds 4 meters.
How to get here
By route bus for Lake Towada, about 1 hour and 10 minutes from Aomori station.
Hotels in Sukayu Onsen
Other Tourist Attractions in Aomori Prefecture