Osaka Prefecture is the central prefecture of Kansai Region.
The first "o" in "Osaka" is pronounced long, so it is read as "Ôsaka".
It is a small prefecture, and is about 80 km from north to south and only 20 to 30 km from east to west in width.
The main area is flat, and there are hilly area and mountains around the south, east and north prefectural borders.
The western side faces Osaka Bay.
Yodo River from Lake Biwa flows through the north part of the prefecture and into Osaka Bay.
Osaka (大阪) and Sakai (堺) cities occupy the central area in the prefecture, and many cities surround the large cities.
The climate is mild.
But it is very hot in summer and there are many days with sweltering night.
Around the 6th century, many ancient burial mounds were built in the south part of the prefecture.
This area is close to Kyoto, so it had been an important area since ancient times.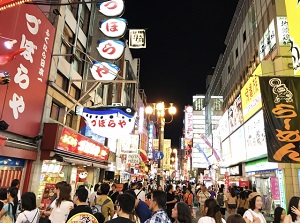 Dotonbori in Osaka city
Osaka city is the prefecural capital and is the third largest city with a population of 2.7 million, after Tokyo and Yokohama.
It is located nearly in the central part of the prefecture.
It is not only the center of Kansai Region but also the center of western Japan.
Many big companies base on Osaka, and the number is after Tokyo.
Since old time, Osaka has been a big business center.
In Edo Period (1603-1868), Osaka had created an original culture different from Edo (current Tokyo).
It is vibrant but grace, and is different from straightforward Edo culture.
The culture of Osaka is still one of the big forces in Japan.
Basically Osaka city has two main downtowns, "Kita" and "Minami".
They mean simply "north" and "south".
Each area of the downtown is not clearly determined, but the names are commonly used.
Kita is the area around JR Osaka and Umeda stations on the northern position of JR Osaka loop line.
There are many department stores and shopping facilities.
Many underground malls run around this area.
Minami is the area around Nanba station, and is about 4 km south of Kita area.
There are many restaurants and pubs.
We can see the brilliant signs there and find sometimes bizarre signs.
And the various theaters are in this area.
Especially comedy from Osaka is well-known across the country.
Several rivers flow through the center of Osaka city, then there are many bridge in the city.
So Osaka is often called "the city of water".
Some pleasure boats touring around the rivers in the city are operated.
Tourist Attractions in Osaka Prefecture
Around Kita area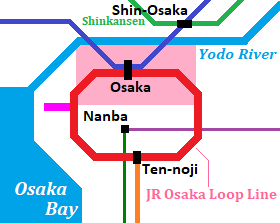 Around Minami area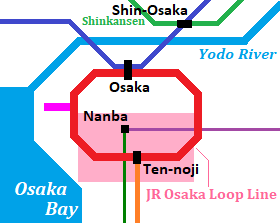 Waterfront area in Osaka city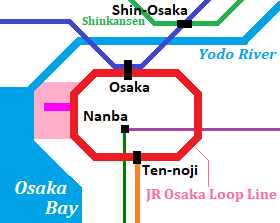 Other area in Osaka Prefecture
Transportation
From Kansai Airport
It is a gateway from abroad to Osaka and Kansai Region, then it has many flights from various cities in the world.
To go to central Osaka, there are some ways.
JR limited express train "Haruka"
About 35 minutes to Ten-noji, about 55 minutes to Shin-Osaka, about 1 hour and 15 minutes to Kyoto.
(It doesn't stop Osaka station.)

JR rapid train
About 50 minutes to Ten-noji, about 1 hour and 10 minutes to Osaka station.

Nankai Railway
By limited express "Rapi:t", about 36 minutes to Nanba.

Express bus
About 48 minutes to Nanba.
It runs to other various destinations.
From Itami Airport
It is the main airport of domestic flights, and has many flights from various cities in Japan.
The formal name is "Osaka International Airport", but it has no flight from abroad.
Route bus
About 25 minutes to JR Shin-Osaka station, about 35 minutes to Nanba.

Osaka Monorail and subway
By monorail, about 12 minutes to Senri-Chuo.
Then by subway (Kita-Osaka Kyuko Line and Midosuji Line) about 13 minutes to Shin-Osaka, about 19 minutes to Umeda, about 27 minutes to Nanba.
By Shinkansen
By Tokaido-Shinkansen, about 2.5 hours from Tokyo, about 50 minutes from Nagoya, and 13 minutes from Kyoto.
By Sanyo-Shinkansen, about 1 hours and 20 to 40 minutes from Hiroshima, 2.5 hours from Hakata.
Main events in Osaka Prefecture
Tôka-Ebisu (January 9 - 11)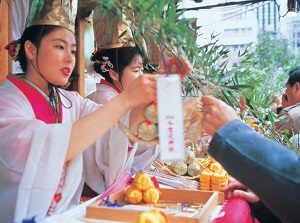 © Osaka Convention & Tourism Bureau
Ebisu is one of the Seven Gods of Good Fortune.
It is a god of fishery, and is known as a god of business now.
On January 10, Tôka-Ebisu as a festival of Ebisu is held in western Japan.
Especially, the festival held in Imamiya-Ebisu Shrine in Osaka city is popular.
It is held for three days including January 10.
"Tôka" means "10th day".
And, the people in Kansai area call this festival as "Ebessan" friendly.
Many people visit the shrine, and they are given bamboo branches with several lucky charms.
Some beautiful lucky ladies are selected every year, and they give them to the people.
Tenjin Festival (From late June to late July)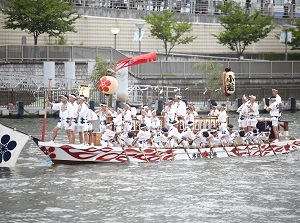 © Osaka Convention & Tourism Bureau
Tenjin Festival is the annual festival of Osaka Tenmangu Shrine.
This shrine enshrines Sugawara Michizane who was a scholar in the 9th century.
For about a month, many rituals are held.
The highlight of the festival is the parade of illuminated boats in the river held in the last day (July 25th).
Thousand of people involved in the festival board many boats and parade.
Kishiwada Danjiri Festival (Mid-Septmber and mid-October)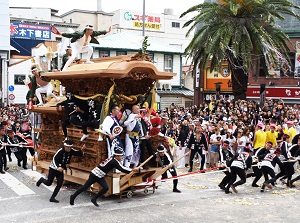 Photo by Kishiwada City
Kishiwada Danjiri Festival is the festival held in Kishiwada city located at the southwest part of Osaka Prefecture.
"Danjiri" is the beautiful festival float, and the musicians play music on the float.
Tens of Danjiri appear in this festival.
This festival is exciting because hundreds of people pull a Danjiri and run at full power.
Particularly it is very exciting when the Danjiri turns at any intersection.
Local foods and products in Osaka Prefecture
Takoyaki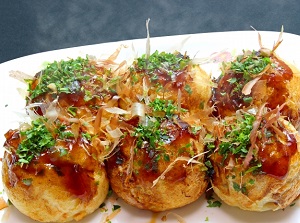 Takoyaki is a popular Japanese dumpling made of batter, diced boiled octopus, tempura scraps (tenkasu), pickled ginger, and green onion.
And okonomiyaki sauce, green laver (aonori), and katsuobushi (fish shavings) are topped.
"Tako" means "octopus", and it is the main ingredient of Takoyaki.
We can eat at any city in Japan.
But the birthplace was Osaka city, and Osaka has the most number of the shops making and selling Takoyaki in Japan.
To make takoyaki, iron mold with several hemispheric dimples is used.
In Kansai area including Osaka, it is sold even for household use.
Okonomiyaki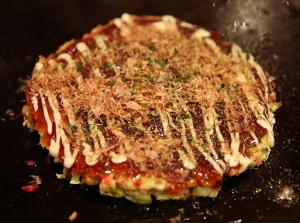 Okonomiyaki is a popular Japanese pancake containing a variety of ingredients such as grated yam, chopped cabbage, pickled ginger, chopped green onion.
And okonomiyaki sauce, green laver (aonori), mayonnaise, and katsuobushi (fish shavings) are topped like Takoyaki.
Two major cities of okonomiyaki are Osaka and Hiroshima.
Osaka's okonomiyaki is called "Kansai-style".
In Hiroshima-style okonomiyaki, noodles are added under the pancake.
Because Kansai-style is simple as okonomiyaki, the okonomiyaki in other area in Japan is mainly Kansai-style..
In Osaka city, there are many Okinomiyaki restaurants.
Kushi-age (Kushi-katsu)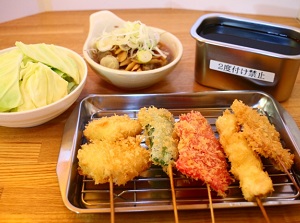 Kushi-age (Kushi-katsu) is a food that a piece of ingredient is skewered and it is fried after coating with bread crumbs.
The ingredients are various, and vegetables, meats, fishes are used.
There are many kushi-age stands and restaurants in Osaka city.
When you eat them, you hold the skewer and dip it into Worcestershire sauce in a shared tray.
Usually, square-cut raw cabbage is served as the garnish on the side plate.
But, when you eat Kushi-age, there is an unspoken rule that you must never dip it into the sauce "twice".