Hokuriku Region is located nearly in the center of the Sea of Japan side in Honshu Island.
Narrow plains spread along the coastline, and most cities are located on the plains.
So, main railways and national routes run on the plains connecting the cities.
The interior areas are mountainous.
The mountains divide Pacific Ocean and the Sea of Japan, and all rivers in Hokuriku region flow into the Sea of Japan.
Because the mountains are over 2,000 meters high and the length of rivers is short, many rivers flow swiftly.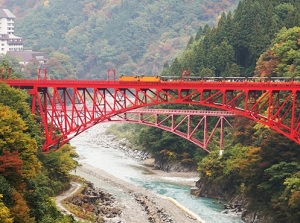 Kurobe Gorge Railway (Toyama Pref.)
In winter, wet cold wind from the continent comes to this area and the mountains generate snow cloud.
Therefore, Hokuriku region has much snow from late December to early March.
Noto Peninsula extends from northward.
The main part of the peninsula is relatively far, so there are some local spots in the area.
The rivers in Hokuriku region are short, but the mountains are steep.
The rapid stream has been used in hydroelectric power generation, so various industrial facilities are located in Hokuriku region.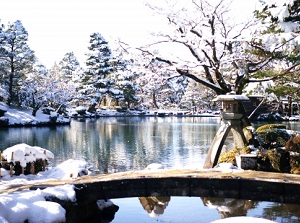 Kenrokuen in Kanazawa city (Ishikawa Pref.)
Kanazawa is the central city of Hokuriku region.
It was one of largest cities in Japan in Edo Period (1603-1868).
So Hokuriku region has some traditional cultures.
The geographical location of Hokuriku region is closer to Kyoto and Osaka than Tokyo.
And Nagoya is also close to this region.
But Hokuriku Shinkansen opened in 2015, so we can visit this region from Tokyo relatively in a short time.
Transportation in Hokuriku Region
Airline
There are three airports in Hokuriku region.
Komatsu Airport
It has some international flights and domestic flights.
The domestic flights are operated between Shin-Chitose (Sapporo), Sendai, Haneda, Narita (near Tokyo), Fukuoka and Okinawa airports.
It is located in Komatsu city about 30 km southwest of Kanazawa city.
It takes 40 minutes from Kanazawa station by route bus.
Toyama Kitokito Airport
It has also some international flights and domestic flights.
The domestic flights are operated between Shin-Chitose (Sapporo) and Haneda airports.
("Kitokito" means "fresh" in a Toyama dialect.)
It is located about 8 km south of Toyama city.
It takes 20 minutes from Toyama station by route bus.
Noto Airport
It has domestic flights from Haneda airport (two round-trip a day).
It is located about 15 km south of Wajima city.
It takes 35 minutes from Wajima by route bus.
Railway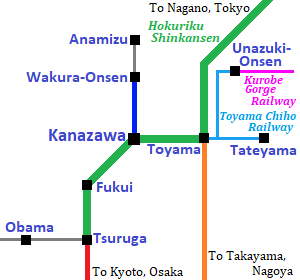 Main railway lines of JR in Hokuriku Region.
The colored lines are the route of main limited express. Thin grey lines are local trains.
Shinkansen train comes from Tokyo to Toyama and Kanazawa area.
The trains are operated once or twice an hour.
By the fastest train, from Tokyo, about 2.5 hours to Kanazawa.
By Limited expresses of JR lines, about 2 hours to Fukui, about 2 hours and 40 minutes to Kanazawa from Osaka.
And, from Nagoya, about 2 hoursand 10 minutes to Fukui, about 3 hours to Kanazawa.
Railway passes for travel around Tohoku Region
Express bus
Some bus companies operate express buses in Tohoku Region.
The following website introduces some booking sites of express buses.