Shikoku Region is an island located in the southwest part of the mainland of Japan.
It is surrounded by Honshu island and Kyushu island.
The sea on the north side between Shikoku and Honshu is calm Seto Inland Sea, and the southern side faces vast Pacific Ocean (Philippine Sea).
Shikoku island is the smallest among four main islands in Japan.
The size is about 230 km from east to west and 60 to 140 km from north to south.
But, steep mountain range runs from east to west in the center of the island.
The highest peak is 1,982 meters in height. (Mount Ishizuchi)
So, the whole area in Shikoku is mountainous and only some narrow flat lands are dotted near the coast.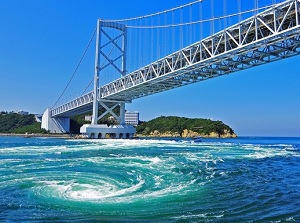 Naruto Whirlpools (Tokushima Pref.)
Photo by Tokushima Prefecture
The climate is relatively warm and the southern side of the mountain range has much rain because of wet air from the ocean.
"Shikoku" means "four countries".
Literally, Shikoku Region has four prefectures.
Because of mountainous island, each central city is located apart from each other.
And each area has developed locally and had a unique culture.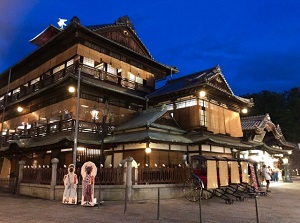 Old public bathhouse in Dogo Onsen (Ehime Pref.)
Shikoku is connected with Honshu by some bridges, and there are three routes.
From Kansai area, expressway runs through Awajishima island into Tokushima area.
From Okayama, JR railway line and expressway runs into Kagawa area.
From Onomichi, Shimanami Kaido enters into Ehime area.
In Shikoku island, four main areas are connected by JR railway and expressway.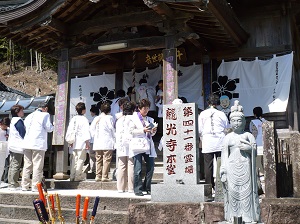 Pilgrims of Shikoku 88 temples pilgrimage
By the way, Shikoku 88 temples pilgrimage (四国八十八箇所) is the most popular pilgrimage in Japan.
Pilgrims visit and worship 88 Buddhist temples in Shikoku that high priest Kuukai (774-835) practiced Buddhism.
The temples are dotted in whole Shikoku and are sequentially numbered.
The total length of the pilgrimage route is about 1,400 km.
It is said that tens of thousands of people make a pilgrimage every year.
Recently, hundreds of foreign people also join the pilgrimage.
Transportation in Shikoku Region
Airline
There are four airports in Shikoku region.
They are near the prefectural capital city in each prefecture.
Railway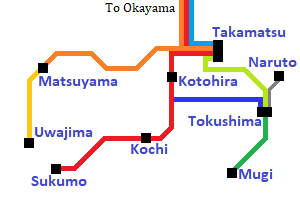 Main railway lines of JR in Shikoku Region.
The colored lines are the route of main limited express.
Between Shikoku and Honshu Islands, JR line is connected by Great Seto Bridge.
So JR limited expresses from Okayama are operated to Takamatsu, Tokushima, Kochi and Matsuyama.
And Takamatsu station is the main terminal in Shikoku Island, JR limited expresses from Takamatsu are operated to Tokushima, Kochi and Matsuyama.
Only one night train is operated from Tokyo.
It arrives at Okayama in early morning and at Takamatsu around 7:30.
Railway passes for travel around Shikoku Region
Express bus
Some bus companies operate express buses in Shikoku Region.
The following website introduces some booking sites of express buses.