Chugoku Region is located at the west end of Honshu Island.

The region extends east and west.
It is about 350 km from east to west and the widest part from north to south is about 120 km.
The east side is Kansai Region, and there are Shikoku Island to the south and Kyushu Island to the southwest.
The southern coast faces narrow Seto Island Sea between Chugoku region and Shikoku Island.
There are many small island in the sea and the weather is mild throughout the year.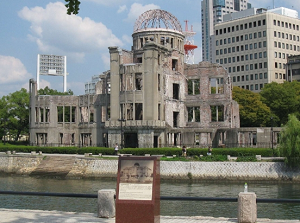 Genbaku Dome (Hiroshima Pref.)
In general, the south part of Chugoku Region is called San-yo (山陽).
The norther coast faces the Sea of Japan.
This area has many snowy days in winter.
The north part of Chugoku Region is called San-in (山陰).
Whole area in Chugoku Region is mountainous and the flat plains are narrow.
But the mountains are not so high and the altitude of most mountains are within 1,400 meters.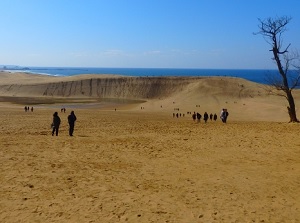 Tottori Sand Dunes (Tottori Pref.)
The main railways and expressways run from east to west.
But there are only a few routes connecting San-yo and San-in.
San-yo Shinkansen runs through along the southern coast in San-yo area, and connects Osaka to the east and Fukuoka in Kyushu Island.
From Okayama and Onomichi, there are two routes to Shikoku Island.
Each route runs on the long bridges over Seto Island Sea.
By the way, the name "Chugoku" is exactly the same as "China" in Japanese.
The formal name of China is "People's Republic of China" and "Chugoku" is the abbreviated name of it in Japanese.
"Chugoku" in Japan means "Middle country".
Kyushu Island had been the remote area facing the continent in the ancient times and this area was between the capital Kyoto and remote Kyushu.
Okayama Pref. Hiroshima Pref. Yamaguchi Pref. Tottori Pref. Shimane Pref.
Transportation in Chugoku Region
Airline
Most major airport is Hiroshima Airport.
It has some international flights and many domestic flights.
Especially, the flights between Haneda (Tokyo) airport are frequent.
It is located about 50 km east of Hiroshima city.
It takes about an hour by express bus.
There are some local airports in Chugoku Region.
Main airports are the following.
Railway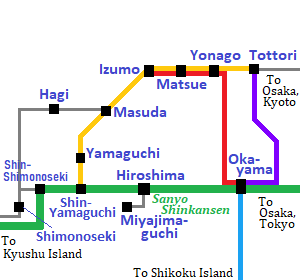 Main railway lines of JR in Chugoku Region.
The colored lines are the route of main limited express.
Shinkansen train comes from Osaka, Kyoto, Tokyo to the main cities in San-yo area in Chugoku Region.
The trains are operated frequently, so it is very convenient.
By the fastest train, from Shin-Osaka, 50 minutes to Okayama, 1.5 hours to Hiroshima, 2 hours to Shin-Yamaguchi.
From Okayama, limited expresses are operated to San-in area.
About 2 hours to Tottori.
About 2 hours and 40 minutes to Matsue.
Only one night train is operated from Tokyo.
It arrives at Okayama in early morning and at Matsue, Izumo between 9:30 and 10:00.
Railway passes for travel around Chugoku Region
Express bus
Some bus companies operate express buses in Chugoku Region.
The following website introduces some booking sites of express buses.