Shimane Prefecture is located in the north part of Chugoku Region, and faces the Sea of Japan.
Generally, the area along the Sea of Japan in Chugoku Region is call "San-in", so Shimane Prefecture belongs to San-in area.
The area is long from northeast to southwest, and the length is about 190 km.
It is broadly mountainous, and main cities are on the coastline.
There is Shimane Peninsula in the northeast part of the prefecture.
It lies long from east to west, but it looks like mainland.
Lake Shinji (宍道湖) and Lake Nakaumi (中海) are between the peninsula and the mainland.
Between two lakes, there is Matsue city (松江) which is the prefectural capital.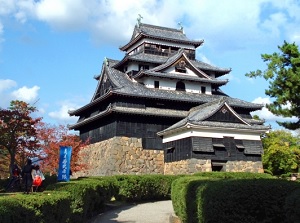 Matsue Castle
Most cities are around the lakes, and only a few cities are dotted on the long coast in the western part of the prefecture.
There are Oki Islands (隠岐) about 70 to 100 km north of Shimane Peninsula.
Shimene Prefecture is on the Sea of Japan side.
The area of mountains has heavy snowfall in winter, but the area along the coast has relatively light snowfall.
The main industries in this prefecture are agriculture and fishery.
This prefecture has the second least population in Japan after Tottori Prefecture.
So we can enjoy the rich nature in this prefecture.
Tourist Attractions in Shimane Prefecture
Hotels in Shimane Prefecture
Transportation
Railway
To Matasue from Okayama : About 2 hours and 40 minutes by JR limited express.
To Matasue from Yonago : About 30 minutes by JR limited express.
To Izumo city from Matsue : About 30 minutes by JR limited express.
To Masuda from Matsue : About 3.5 hours by JR rapid train.
To Masuda from Yamaguchi : About 1.5 hours by JR limited express.
Express bus
To Matsue from Tokyo : about 11.5 hours. (Night bus)
To Matsue from Osaka : about 5.5 hours.
Airport
Izumo Airport is located between Matsue and Izumo city.
It is located about 22 km west of Matsue and about about 15 km east of Izumo city.
It has the flights from Haneda (Tokyo), Nagoya, Itami (Osaka), Fukuoka, and a few cities.
Yonago Kitaro Airport is in Tottori Airport, but it is not so far from Matsue.
It is located about 12 km northwest of Yonago station.
It has the flights from Haneda (Tokyo).
Oki Airport is in Oki Islands.
It has the flights from Izumo and Itami (Osaka) airports.
Main events in Shimane Prefecture
Sagi-mai (July 20, 27)

Photo by Shimane Prefecture
Sagi-mai means "Dance of egret", and it is danced in Yasaka Shrine in Tsuwano town.
Originally, this dance was performed in Yasaka Shrine in Kyoto, and was danced in Tsuwano as the ceremony for the new wife of the lord in 1542.
Since 1645, the dance has been performed every year at the time of Gion Festivel in Kyoto.
Two dancers dress as a pair of egrets, and they dance to the song.
The dance is one of the events in the annual festival of the shrine.
The dancers, singers and players of instruments march throughout the town, and they play the dance at about a dozen places in the town in a day.
Bullfighting in Oki Islands (August 15, September 1, October 13)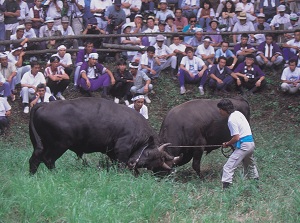 Photo by Shimane Prefecture
Bullfighting in Oki Islands is the match between two bulls.
In Japanese, this event is called "Ushitsuki".
Emperor Go-Toba pulled off the coup in 1221, but it was abortive.
After that, he was exiled to these islands.
The people in these islands showed a match of bullfighting to comfort him.
That was the origin of this event.
Two bulls controlled by men butt each other.
When a bull flees, the game is over.
(Therefore, this is diffrent from bullfighting in Spain.)
The formal tournaments are held on the above three days.
And the show of the matches for tourists are held every Saturday from May to October.
Local foods and products in Shimane Prefecture
Izumo soba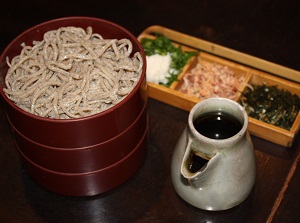 Photo by Shimane Prefecture
Izumo is the eastern area of Shimane Prefecture, and Izumo soba is the soba noodle producing and eating in the area.
Soba noodle (buckwheat noodle) is one of the popular noodle in Japan.
Izumo soba is produced by grinding buckwheat with hull, so its color is darker and more strong-scented than the common soba noodle.
We generally eat cold soba noodle after dipping in the sauce, but Izumo soba is usually eaten after pouring the sauce on the noodle.
Izumo soba is often served after setting in three-tiered lacquer boxes.
It is called "Warigo-soba", and we can enjoy tasting the soba three times in different toppings.
Botebote-cha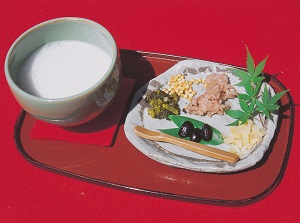 Photo by Shimane Prefecture
Botebote-cha is a unique tea for snacking in Matsue city.
But it may not be a tea to drink.
A cup of foamed tea is served.
The tea is made of green tea leaves and flowers and is whipped.
And you put a small amount of red rice, sweet black beans and pickles into the tea.
But you must not stir it.
Then, you drink the tea and the foods without using the chopsticks.
It is said that this wonder food was invented as a lunch for busy workers in the middle ages.
Shijimi clam in Lake Shinji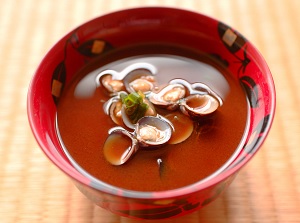 Photo by Shimane Prefecture
Shijimi is a black clam and the size is a few centimeters, and lives in brackish water.
Lake Shinji produces about 40 percent of all shijimi clams in Japan.
Shijimi in Lake Shinji is tasty, and various dishes using Shijimi are served around Lake Shinji.
But most popular dish is Miso soup of Shijimi.
It's the best cure for a hangover.