Yamaguchi Prefecture [
山口県

]
Yamaguchi Prefecture is located at the west end of Honshu Island.
And, Kyushu Island is located to the southwest across the narrow Kanmon Straits.
The southern coast faces Seto Inland Sea (Seto Naikai), and the northern and western coasts face the Sea of Japan.
In the middle of the 19th century, Edo government which had had an isolationist policy for more than 250 years had been threatened by Western powerful countries.
In Hagi city, many young samurai learned about the newest situations of the Western advanced countries, and thought the future of Japan.
They took various actions, then they overthrew the feudal government in 1868.
As a result, Japan became a modern state.
Many of them held important positions in new Meiji Government, so Yamaguchi Prefecture has produced the most prime ministers in all prefectures in Japan after that.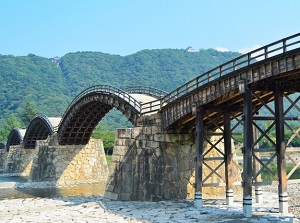 Kintai Bridge in Iwakuni city
The whole prefecture is mountainous, but the highest part is lower than a level of 1,400 meters.
The prefectural capital is Yamaguchi city, and is located in the nearly center of the prefecture.
Hagi city is on the Sea of Japan side, and most of the cities are on the Seto Inland Sea side.
The main industries are agriculture and fishery, and there is an industrial area in the southwestern part of the prefecture.
Tourist Attractions in Yamaguchi Prefecture
Hotels in Yamaguchi Prefecture
Transportation
Railway
To Shin-Yamaguchi from Shin-Osaka : about 2 hours by Shinkansen.
To Shin-Yamaguchi from Hiroshima : About 30 minutes by Shinkansen.
To Shin-Shimonoseki from Hiroshima : 40 to 80 minutes by Shinkansen.
Express bus
To Yamaguchi from Osaka : about 11 hours. (Night bus)
To Hagi from Osaka : about 12 hours. (Night bus)
To Yamaguchi from Tokyo : about 13.5 hours. (Night bus)
To Hagi from Tokyo : about 14.5 hours. (Night bus)
Airport
Yamaguchi Ube Airport is located about 35 km southwest of Yamaguchi city.
It has the flights from Haneda (Tokyo).
Iwakuni Kintaikyo Airport is located about 2 km southeast of Iwakuni station.
It has the flights from Haneda (Tokyo) and Naha (Okinawa).
Main events in Yamaguchi Prefecture
Burning the hills of Akiyoshidai (Third Saturday in February)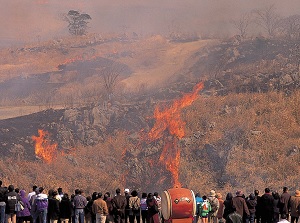 Photo : Yamaguchi Prefectural Tourism Federation
Akiyoshidai is the largest karst tableland in Japan, and the broad grassland spreads on it.
Every year, this burning event is performed before spring comes.
About a thousand residents living around the area set fire to this grassland at 9:30 a.m.
The fires burn down the dead grassland in winter.
Then, on the charred tableland, new grasses will grow in coming spring.
Yamaguchi Tanabata Lantern Festival (August 6, 7)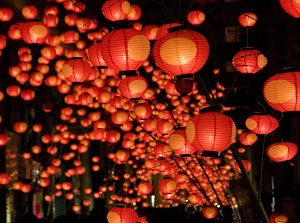 Photo : Yamaguchi Prefectural Tourism Federation
Yamaguchi Tanabata Lantern Festival is the summer festival held in the center of Yamaguchi city.
About 100,000 red lanterns (Chochin) over the streets are lighted, and they create a fantastic sight.
It is said that this event has been held since the early 15th century.
In front of the city hall, a tall tree with many Chochin about 15 meters high is set up.
It looks like a Christmas tree in summer.
Local foods and products in Yamaguchi Prefecture
Pufferfish in Shimonoseki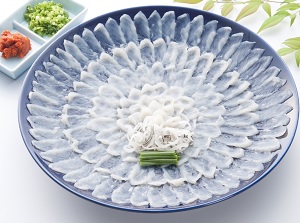 Photo : Yamaguchi Prefectural Tourism Federation
Pufferfish is called "fugu" in Japanese.
But it is sometimes called "fuku" around western Japan, because "fuku" is also a word meaning "happy" in Japanese.
Pufferfish has deadly poison.
But, qualified cooks remove the parts with poison and we can eat it as excellent food fish.
About 80 percent of the pufferfishes caught around Japan come to Haedomari Market in Shimonoseki city.
Kawara-soba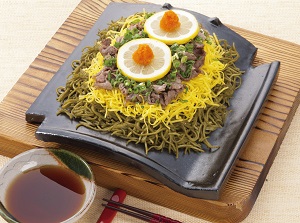 Photo : Yamaguchi Prefectural Tourism Federation
Kawara is Japanese roof tile.
Kawara-soba is the soba (buckwheat) noodle served on a kawara tile instead of a dish.
For kawara-soba, soba noodle mixed with green tea powder is used. (So, the color of the noodle is greenish.)
Fried noodle is put on a heated kawara tile, then cooked sliced beef, chopped fried egg, nori (dried laver seaweed), sliced lemon are topped on the noodle.
This dish was invented by Mr.Takase who was a cook in a Japanese hotel in 1961.
His restaurant is in Kawatana hot spring resort town located about 25 km north of central Shimonoseki city.
The hotels and ryokans in Kawatana onsen serve this dish.
Hagi Ware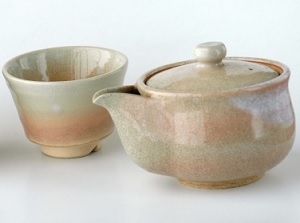 Photo : Yamaguchi Prefectural Tourism Federation
Hagi Ware ("Hagi-yaki" in Japanese) is pottery which has created around Hagi city.
The first work was created by Korean brothers on orders of the lord of Hagi Clan in 1604.
Their family lineage had ceased, but a Japanese artist became the successor in the late 17th century.
The glazed surface of Hagi ware has small cracks with mesh design.
As it is used long, the cracks become tasteful feeling.