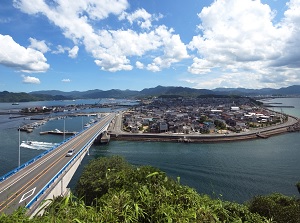 Senzaki Port
Photo: Yamaguchi Prefectural Tourism Federation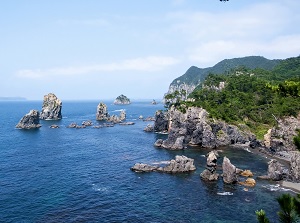 Coast of Oumijima
Photo: Yamaguchi Prefectural Tourism Federation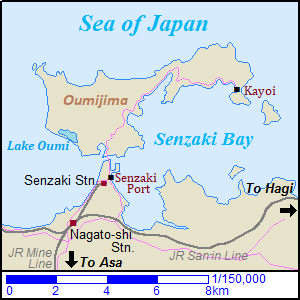 Oumijima is an island in the Sea of Japan.
It is located just north of Nagato city and about 20 km west of Hagi city.
The size is about 10 km from east to west is about 10 km and its widest part from north to south is about 3 km.
This island was formed by combination of some islands by sand banks, so there are a few narrow parts in the island.
The south end is closed to the mainland, and a bridge across the narrow channel connects the island and the mainland.
The north coast of the island has been washed by choppy waves of the Sea of Japan, so there are sheer cliffs and rocks.
The rough landscape attracts the tourists, and is called "Alps in the sea".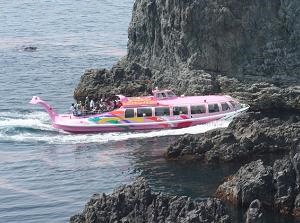 Pleasure boat of Oumijima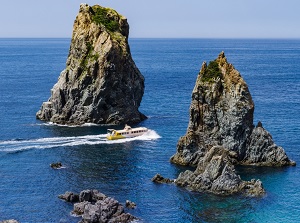 Big rocks near Oumijima
Photo: Yamaguchi Prefectural Tourism Federation
The area in the mainland facing the south end of the island is Senzaki district.
It has a fishing port, and the pleasure boats touring around Oumijima start from the port.
It takes about 1.5 hours for the cruise.
JR Senzaki station is near the port.
It is a terminal station of a short branch line of JR San-in Line.
But it has only about 5 to 6 services a day.
At the east end of the island, there is Kayoi district (通).
The main industry of Kayoi was whale fishing.
The whale fishing was done by traditional method using nets from 1673.
They treasured whales.
A Buddhist name was given for a dead whale.
And when the whale had unborn baby, the unfortunate baby was buried in the tomb for whale.
The people had performed the Buddhist memorial service for the whales every year.
But since the late 19th century, Western countries came around Japan, and they had overfished the whales for whale oil, almost-totally.
Then the whales had never come to this island, so the whale catching finished in 1908.
(Such Western counties are criticizing Japan for catching whales now.)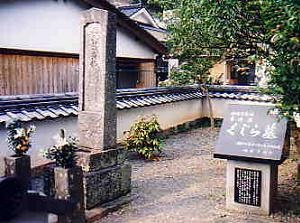 Tomb of whales in Kayoi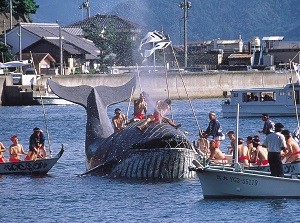 Whale Festival in Kayoi
Photo: Yamaguchi Prefectural Tourism Federation
In Kayoi district, there are the museum about the traditional whale catching and the tomb for whales.
Whale Festival is held in July, and the traditional whale fishing is reenacted using the replica of a whale.
How to get here
By route bus, to Senzaki Port, about 1.5 hours from Akiyoshido, about 70 minutes from Higashi-Hagi station, about 2.5 hours from Shimonoseki.
From Senzaki port to Kayoi district, about 25 miniutes by route bus.
Or, by local train of JR Mine Line, about 1.5 hours rom Asa (San-yo Shinkansen station)
Other Tourist Attractions in Yamaguchi Prefecture