Hokkaido Prefecture [
北海道

]
Hokkaido is the northernmost island of Japan, and Hokkaido Prefecture is the whole area of this island.
It is the second largest island in Japan after Honshu Island, and it is about a quarter of the total land area of Japan.
The main part of the island is roughly a diamond shape, and is over 500 km both from north to south and from east to west.
And Oshima Peninsula like a tail of fish is attatched at the southwestern part of the island.
To the south of Oshima Peninsula, there is Honshu Island.
Both of islands are connected by Seikan Tunnel, which is an undersea tunnel for railway and is about 53.85 km long.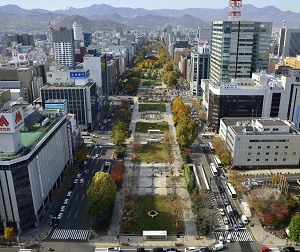 Odori Park in Sapporo
To the north, there is Sakhalin Island.
To the east, there are Kurile Islands.
Now, both of them are under Russian rule.
But main four islands in the south part of Kurile Islands were occupied by Russia in the confusion around the end of the World War II in 1945.
So Japan has demanded the return of the islands, but Russia is still refusing.
Hokkaido is located in the subarctic zone.
So it is very cold in winter.
But in summer, the temperature rises to nearly same as that of the cities in Honshu Island.
Originally, Ainu people had been lived in Hokkaido.
Around the 15th century, Japanese people came to Oshima peninsula from Honshu Island and settled down.
And it became Matsumae Domain as a samurai government, and the only castle in Hokkaido was built.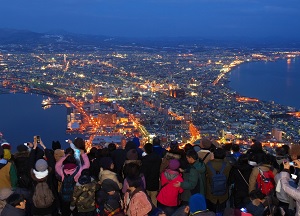 Famous night view of Hakodate city.
The port was opened in 1859.
After the end of feudal Edo Period (1603-1868), modern Japanese government started the developement of Hokkaido from the 1870s.
(Until then this island was called "Ezo" (蝦夷).)
Many pioneers came into Hokkaido, and Hokkaido developed. (Some say that it was the aggression to Ainu.)
Hokkaido is one of the Japan's major prefectures of rice production, but the more characteristic agriculture is large-scale farming and dairy.
Wheat, potato, sugar beet are the main products, and Hokkaido produces about a half of national production volume of milk.
Such productions and the natural features evoke the image of European rural area.
So the exoticism of Hokkaido attracts many people in the other area of Japan.
From a historical standpoint, Hokkaido is a new land.
So there are few historic spots.
Instead, we can see many grand natures.
Hokkaido is popular with the tourists from Taiwan, Hong Kong and Korea.
And many Australians visit some ski resorts in Hokkaido every year.
Transportation in Hokkaido
Airline
Most major airport is Shin-Chitose Airport (New Chitose Airport in English).
It has some international flights and many domestic flights.
Especially, the flights between Shin-Chitose and Haneda Airport in Tokyo are very frequent.
To Sapporo, it takes about 40 minutes by JR rapid train.
And many buses to Sapporo and some other city are operated.
There are some local airports in Hokkaido.
Main airports are the following.
Railway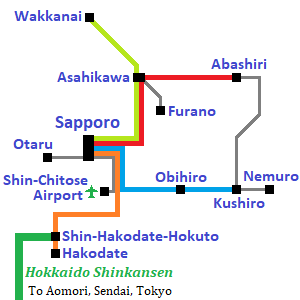 Main railway lines of JR in Hokkaido.
The colored lines are the route of main limited express. Thin grey lines are local trains.
Hokkaido Shinkansen comes from Tokyo to Shin-Hakodate-Hokuto.
You can transfer to JR limited express there.
It takes about 4 to 4.5 hours from Tokyo.
Main limited expresses start at Sapporo.
Between Sapporo and Asahikawa, one or two limited express are operated every hour.
The other limited express are operated to Hakodate and Kushiro about 5-7 times a day, and to Abashiri and Wakkanai 2-3 times a day.
No night train is operated.
Railway passes for travel around Hokkaido
Express bus
Some bus companies operate express buses in Tohoku Region.
The following website introduces some booking sites of express buses.