Tourist Attractions in Nikko
Main area of Nikko city
Around Lake Chuzenji
Oku-Nikko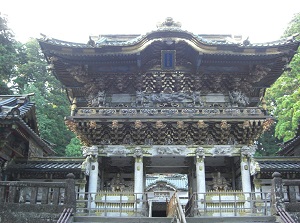 Yomeimon gate in Nikko Toshogu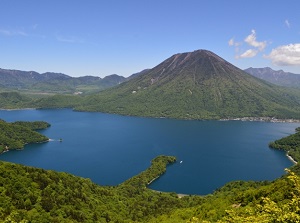 Lake Chuzenji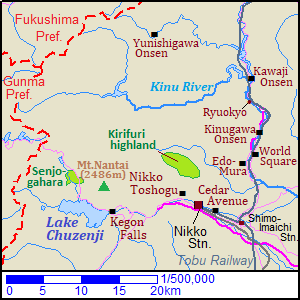 Nikko is the city is located northwest of Utsunomiya and at the foot of the western mountains.
The last "o" in the word "Nikko" is pronounced long, so it is read as "Nikkô".
The central area of the city is about 30 km northwest of Utsinomiya city.
In the 8th century, Futarasan Shrine and Rinnoji temple were built here.
So, here had been the main sacred land in east Japan since that.
In the 17th century, Nikko Toshogu shrine was built.
And, Tokugawa Ieyasu (1543-1616), the founder of Edo government, was enshrined as a god in this shrine.
So, Nikko had become the most important place in east Japan.
In 1999, above two shrines and a temple were designated as a World Heritage site.
There is Lake Chuzenji (中禅寺湖) about 10 km west of the city area.
Daiya River flows out to the east from the lake.
The river flows toward the city area of Nikko.
And Kegon Falls (華厳の滝) is in the river near the lake.
A plateau spreads to the north of Lake Chuzenji.
This area is called Oku-Nikko (奥日光) meaning "inner Nikko".
It is surrounded by some mountains, and there are Senjogahara marsh (戦場ヶ原) and Lake Yunoko (湯ノ湖).
Daiya River flows into Kinu River about 15 km east of the central Nikko.
Kinu River is a main river in Tochigi Prefecture, and the upstream area is to the north of the main town of Nikko.
In the area, there are some hot spring resorts such as Kinugawa, Kawaji, Yushigawa along the river.
How to get here
By Tobu Railway or JR Line, about 2 hours from Tokyo (Asakusa, Shinjuku).
Or, by express bus, about 3 hours from Tokyo.
Hotels around Nikko
Other Tourist Attractions in Tochigi Prefecture