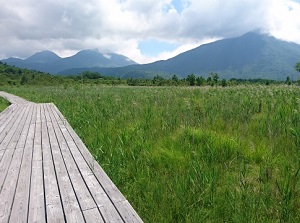 Senjogahara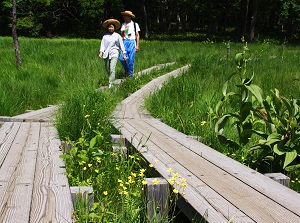 Hikers in Senjogahara
Photo by Nikko City Tourism Association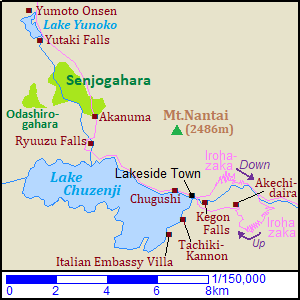 Senjogahara is a marsh extending to the north of Lake Chuzenji and at the west foot of Mount Nantai (2,486 m).
"O" in the word is pronounced long, so it is read as "Senjôgahara" in Japanese.
It is located at the level of about 1,400 meters.
It is about 2.5 km from north to south in length, and the width is about 1 km.
From north to south, Yukawa River flows through this marsh.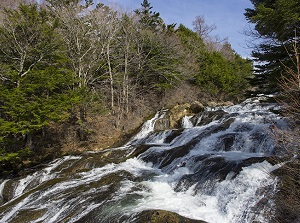 Ryuuzu Falls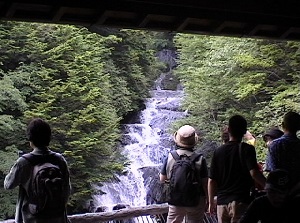 Observatory of Ryuuzu Falls
Yukawa river flows to the south for about 2 km, then into Lake Chuzenji.
On the way, there is Ryuuzu Falls (竜頭の滝) in the river.
This marsh is classified into intermediate moor or high moor, then we can see alpine plants from June to August.
And a lot of wild birds inhabit this area.
So, the marsh is registered under the Ramsar Convention.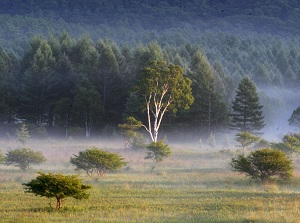 Odashirogahara
Photo by Nikko City Tourism Association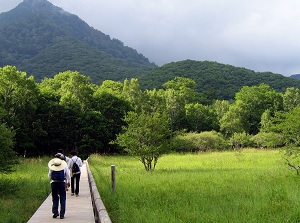 Hikers in Odashirogahara
Photo by Nikko City Tourism Association
To the west of Senjogahara, Odashirogahara grassland (小田代ヶ原) spreads.
It is also a popular spot in this area, and we can see many native wildflowers in summer.
About 20 thousand years ago, when Lake Chuzenji was formed after the erruption of Mount Nantai, a large lake also was formed in current Senjogahara around the same time.
After that, earth and sand had deposited for a long period of time, then current marsh has been formed.
"Senjogahara" means "field of battle".
According to a legend, the god of Mt. Nantai and the god of Mt. Akagi (Gunma Prefecture) had fought for the ownership of Lake Chuzenji.
The god of Mt. Nantai changed himself into a lot of snakes, and Mt. Akagi changed himself into many centipedes, and they had a battle at this area.
Therefore, "Senjogahara" was given to this field.
Of course, Mt. Nantai won the battle.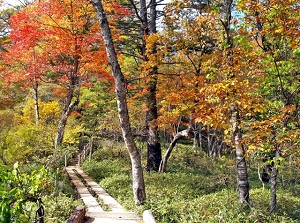 Senjogahara in autumn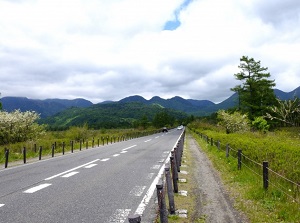 Route 120 in Senjogahara
Through the east part of this marsh, Route 120 runs.
The road runs from central Nikko, through Iroha-zaka, main town of Lake Chuzenji and this area, and to Lake Yunoko.
There are a few bus stops or parking areas on this route.
They are the starting points to go hiking in the marsh.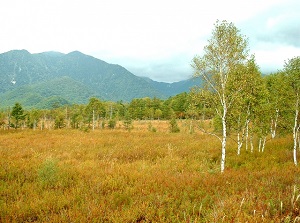 Senjogahara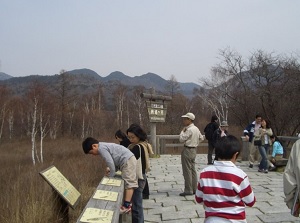 Observatory at Sanbonmatsu
Akanuma stop is at the south end of the marsh.
From there, low-emission bus runs toward Odashirogahara.
If you walk on the walking trail, the distance is about 2.5 km to Odashirogahara.
Sanbonmatsu stop is located about 1 km north of Akanuma, and is near the center of the marsh.
Here is the popular spot because there are an observatory and a souvenir shop.
How to get here
By route bus to Yumoto-onsen, about 1 hour and 5 to 10 minutes from Nikko station to Akanuma stop.
Hotels around Lake Chuzenji
Other Tourist Attractions in Nikko
Main area of Nikko city
Around Lake Chuzenji
Oku-Nikko