Ibaraki Prefecture is located at the northeast part of Kanto region, and the whole east coast faces the Pacific Ocean.
Formal name is "Ibaraki", but some people say "Ibaragi".
Nearly along the southern prefecture's border, Tone River flows.
It is the large river flowing through Kanto region, and forms the Japan's second largest lake Kasumigaura in the downstream part.
Also many other lakes are around it.
And broad plain fields spread around the south part of the prefecture.
Only Mount Tsukuba towers as if it is an island.
The middle part of the prefecture has many hills, and the north part is mountainous.
The southwest end of the prefecture is within the commutable area of Tokyo.
The central city of this prefecture is Mito located around the center of the prefecture.
The main industry of Ibaraki prefecture is agriculture.
And, because this prefecture is close to Tokyo, there are the factories and research facilities of many companies.
Hitachi city located north part of the prefecture is the company town of Hitachi, an Japanese electrical manufacturer.
Tourist Attractions in Ibaraki Prefecture
Hotels in Ibaraki Prefecture
Transportation
Railway
To Mito from Tokyo : 1 hour and 15 minutes by JR Joban Line.
To Hitachi from Tokyo : 1 hour and 40 minutes by JR Joban Line.
Express bus
To Mito from Tokyo : about 2 hours.
To Mito from Sendai : about 5 hours.
Airport
Ibaraki airport is located about 25 km south of Mito city.
It has the flights from Shin-Chitose (Sapporo), Kobe, Fukuoka, Naha (Okinawa).
There is no flight from Haneda in Tokyo, Itami in Osaka, and Chubu near Nagoya.
Main events in Ibaraki Prefecture
Mito Ume Festival (Mid-February - March 31)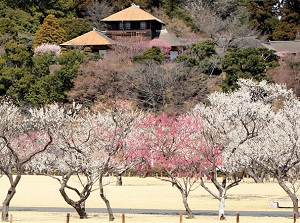 Photo by Ibaraki Prefecture
It is held in Kairakuen garden in Mito city.
In the garden, there are about 3,000 trees of ume (Japanese apricot).
Their white, pink or red blossoms are in full bloom in this season.
Kairakuen is one of Three Great Gardens of Japan and the ume blossoms are also well-known.
This festival started in 1896, and has been held every year.
During the period, the concerts of Japanese harps, outdoor tea celemonies and some other traditional events are held in the garden.
Suigo-Itako Ayame Festival (From late May to the last Sunday in June)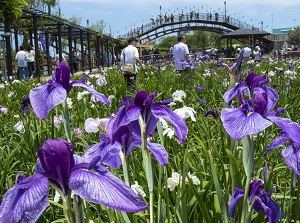 Photo by Ibaraki Prefecture
It is held in Maekawa Ayame Garden in Itako city.
Ayame means Japanese iris, and there are more than one million irises in this garden.
We can see beautiful flowers in early summer.
This area has many canals, and boat had been one of main means of transportation.
So it had been common that dressed bride goes to groom's home by boat.
In this festival, a real bride boards a boat, and goes by boat through irises.
Of course, all visitors congratulate her.
Local foods and products in Ibaraki Prefecture
Mito Nattô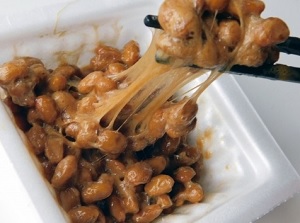 Natto is one of the popular Japanese foods, and is made by fermenting the boiled soy beans.
(The last "o" in "natto" is pronounced long.)
It is rich in nutrients and is a healthy food, but it has a distinctive smell.
So most foreigners probably don't like it.
Originally natto had been made locally as a home industry.
But in early 20th century, a natto maker in Mito began to mass-produce natto industrially.
Since that, most Japanese people associate "natto" with "Mito".
Ankô-nabe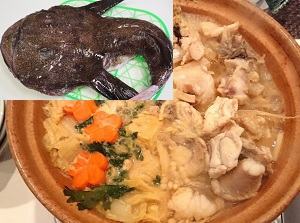 Ankô & Ankô-nabe
"Ankô" is one of deep-sea fish, and it is called "anglerfish" or "goosefish" in English.
Many anko are caught off the east coast of Ibaraki Prefecture.
Anko has a grotesque body, but it tastes good.
Not only its meat but also inner parts, skins, gills and fins are eaten.
Especially the liver is similar to "foie gras" because anko is a tremendous eater in the sea.
So it is much-prized.
Anko-nabe is one pot stew with all parts of anko, vegetables and tofu.
The soup are mixed with either shoyu (soy sauce) or miso.
In winter, we can eat it at any ryokans or restaurants at the northeast coast in Ibaraki Prefecture.
Melon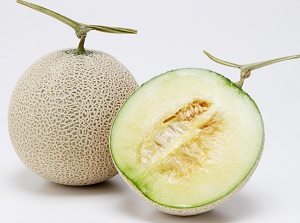 Melon is one of popular fruits in Japan.
It is expensive, so it is often used as a gift in Japan.
As a result, many Japanese people can sometimes eat melon.
Ibaraki Prefecture is the top producer of melon in Japan.
Especially, Hokota city at the southeast part of the prefecture is the center of the production.
Some varieties of melon are cultivated in Ibaraki Prefecture and every melon has its unique characteristics.