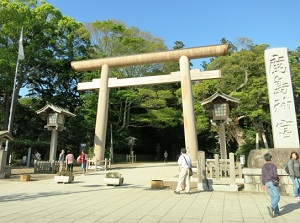 Entrance gate of Kashima Shrine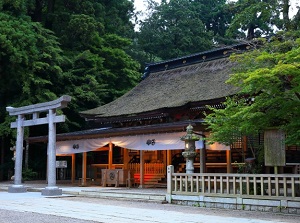 Worship hall in front of Honden
Kashima Shrine is a Shinto shrine located at the center of Kashima city.
In Japanese, it is called "Kashima-jingû".
It is said that this shrine was founded in 660.B.C.
In the year, Emperor Jinmu, the first Emperor in Japan, ascended to the throne.
But it is the record on the mythology, so it's not known exactly when the shrine was founded.
However, it is said that it had already existed around the 8th century.
In the precincts, there are two shrines and the other some buildings.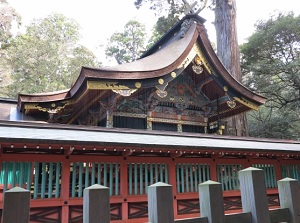 Honden of Kashima Shrine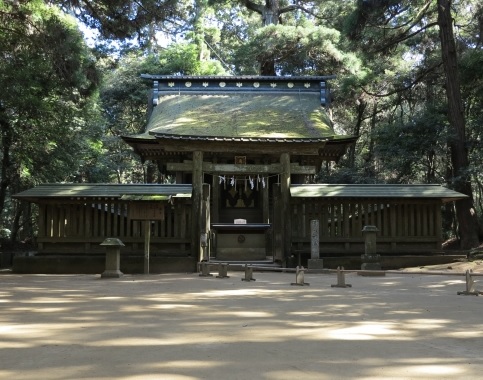 Okumiya in Kashima Shrine
Honden (Main shrine) was rebuilt in 1618, and Okumiya (Old main shrine) was rebuilt in 1605.
In the Hômotsuden (Treasure Museum), a sword designated a national treasure is displayed.
It was created in the 8th century, and the length is about 2.7 meters.
(This museum is currently closed because of major repair.)
And in the precincts, there are two mysterious spots.
One is a rock named Kanameishi (要石).
It is said that the rock is holding down a great catfish which causes the great earthquakes in the ground.
So Kashima region has only a little earthquakes.
(Old Japanese people had believed that catfish caused the earthquakes.)
And the bottom of the rock is unknown.
In the 18th century, a samurai dug around the rock to find the bottom for seven days.
But it had always gotten back again next morning.
Since that, nobody has challenged that.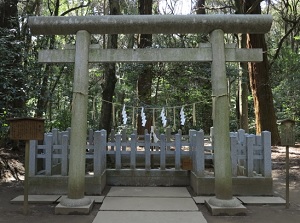 Kanameishi in Kashima Shrine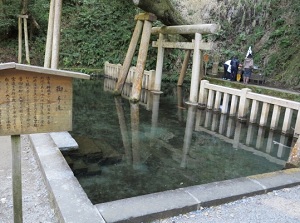 Mitarashi-no-ike in Kashima Shrine
Another is Mitarashi-no-ike pond (御手洗池).
Whether you are tall or short, it is said that this pond has the same depth strangely.
Additionally there is a deer farm in this precincts, and there are about 30 deer.
Deer is a messenger of God in this shrine.
How to get here
By railroad, from Narita, get on the local train of JR Narita Line and Kashima Line.
It takes about 1 hour to Kashima-jingu.
From the station to Kashima Shrine, walk for about 400 meters.
To Narita station, use JR Sobu Line from Tokyo through Chiba.
By express bus, from Tokyo station, get on the bus to Kashima-Jingu station or Kashima Soccer Staduim.
It takes 2 hours (the former) or 1 hour 35 minutes (the latter) to Kashima-jingu station.
Hotels in Kashima city
Other Tourist Attractions in Ibaraki Prefecture