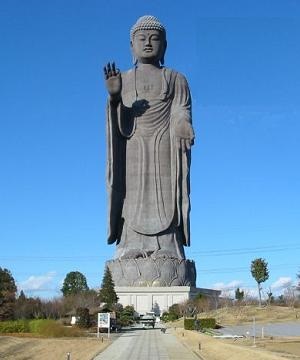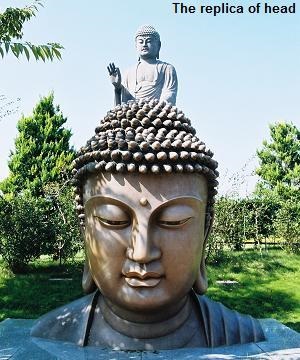 Ushiku Daibutsu is a huge Buddha statue.
Ushiku city is located about 50 km northeast of central Tokyo and the statue is located about 7 km east of Ushiku station of JR Joban Line.
It was built as a monument in the cemetery of Pure Land Buddhism in 1989.
But, the size is amazingly big.
The bronze statue is 100 meters tall, and its foundation is 20 meters tall, then the the whole height is 120 meters.
And, the gross weight is 4,000 tons.
The famous Great Buddha in Nara is only the palm-size of this statue.
And, this is about three times as large as the Statue of Liberty in New York.
This has been entered into the Guinness Book of Records as the biggest bronze Buddha statute in the world.
This statue has the shape of an orthodox Amitabha Buddha which is the main Buddha in Pure Land Buddhism.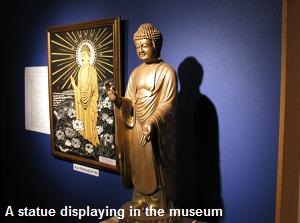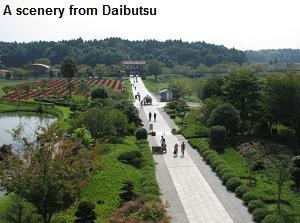 This has five stories internally, and we can enter the inside.
There are some museums and halls on the floors.
The highest floor is at the level of the chest of Buddha and the Buddha's ashes are enshrined there.
The height is 85 meters and we can look down on the earth through the window.
In addition, there is a replica of head and toe around the statue.
We can enter this statue every day. (9:30 to 17:00 [16:30 from Oct to Feb])
How to get here
Get off at Ushiku station of JR Joban Line.
From Tokyo, about 1 hour by local train.
From Ushiku station, by route bus to Ushiku-joen, about 34 minutes.
(On Saturday and Sunday, some buses run directly. It takes 23 minutes.)
Hotels around Tsuchiura city
Other Tourist Attractions in Ibaraki Prefecture