Saitama Prefecture is the the prefecture located just north of Tokyo Metropolis.
The eastern half of the prefecture is flat land.
Arakawa River flows through this area, and Tone River flows along the northern border between prefectures.
In the area close to Tokyo, there are many cities, then it is formed the north part of Tokyo metropolitan area.
The western half of the prefecture is mountainous.
There are many mountains as much as 1,000 to 2,000 meters high.
In the center of the area, there is Chichibu city, then the area is often called "Chichibu region".
The prefectural capital is Saitama city located in the southeast part.
It is located only 20 km north of central Tokyo.
But it has a population of over 1.2 million people.
A central area in this city is Urawa district.
There are the prefectural office, the city hall and some other administrative agencies here.
Another central area in the city is Omiya.
There is an important junction of Shinkanasen and JR Line.
Omiya is the next Shinkansen station of Ueno in Tokyo, and Tohoku Shinkansen and Joetsu Shinkansen branch off from here.
This prefecture has many railroad lines, but most lines lead to Tokyo.
However, it is relatively convenient to visit this prefecture from Tokyo.
Tourist Attractions in Saitama Prefecture
Hotels in Saitama Prefecture
Transportation
Railway
To Omiya from Tokyo, Shinjuku : 30 to 40 minutes by JR Utsumomiya, Keihin-Tohoku, Shonan-Shinjuku and Saikyo Lines.
To Kawagoe from Shinjuku : By Seibu Railway or JR Saikyo Line, about 50 to 65 minutes.
To Kawagoe from Ikebukuro : By Tobu Railway or JR Saikyo Line, about 40 to 50 minutes.
To Chichibu from Ikebukuro : By limited express of Seibu Railway, about 1 hour and 20 minutes.
Main events in Saitama Prefecture
Kumagaya Uchiwa Festival (July 20 - 22)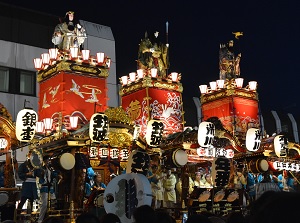 Photo by Kumagaya City
It is the summer festival held in Kumagaya city located in the north part of Saitama Prefecture.
It is the annual festival of Yasaka Shrine in Kumagaya.
Because this shrine is one of the branch shrines of Yasaka Shrine in Kyoto, this festival is similar to Gion Festival in Kyoto.
Twelve gorgeous floats parade through the city to the traditional music "Kumagaya-bayashi".
Espacially in the last evening, they gather at the main square, so it is the highlight of this festival.
"Uchiwa" means "Japanese paper fan".
Around the middle of the 19th century, a restaurant handed out uchiwas to each visitors during this festival, then it gained popularity.
Since that, this festival has been called "Uchiwa festival".
Chichibu Night Festival (December 2 and 3)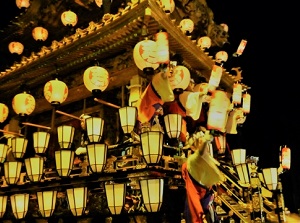 It is the annual festival of Chichibu shrine in Chichibu city.
This is one of the Japan's three beautiful festivals along with Gion Festival in Kyoto and Takayama festival in Takayama city.
It has been held every year since the 1660s.
Six large and decorated floats parade through the streets.
The highlight is the parade by all floats in the last evening.
Local foods and products in Saitama Prefecture
Soka Senbei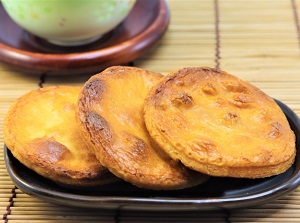 It is one of Japanese rice crackers, and is made in Soka city located at southeast part of Saitama Prefecture.
It is made from rice flour.
After baking, both sides are brushed with shoyu (soy sauce).
A piece is circular in shape and its size is generally about 9 centimeters in diameter.
The taste is very simple.
It is one of the popular souvenirs in Tokyo area.
Hina Dolls in Iwatsuki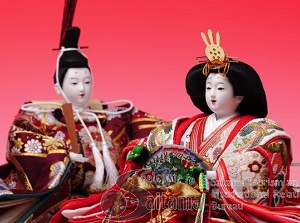 Photo by Saitama Tourism & International Relations Bureau
March 3 is the Doll Festival in Japan, and it is the day for the future happiness of girls.
And, families with girls display a set of dolls (Hina dolls) dressed in costumes which were worn in the royal court in ancient times.
Saitama Prefecture is the top producer of Hina dolls in Japan, and especially Iwatsuki district in Saitama city is famous.