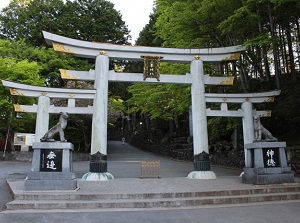 Entrance gate of Mitsumine Shrine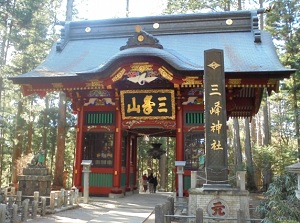 Zuishinmon gate near main shrine
Mitsumine Shrine is a Shinto shrine located about 15 km southwest of the center of Chichibu city.
It is around the top of Mount Mitsumine and is located at the level of about 1,100 meters.
The surrounding area is deep in the mountains.
In the mythlogy, it was founded around the 1st century.
But it is true that this shrine has been here since ancient times.
This shrine enshrines Izanami (a god) and Izanagi (a goddess).
They made a couple, and Japanese myth says that they created the land of Japan.
Between the 8th to 19th centuries, Buddhist temples had been located in this precincts.
But now this is only a Shinto shrine.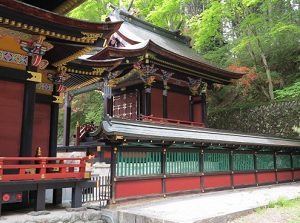 Main shrine of Mitsumine Shrine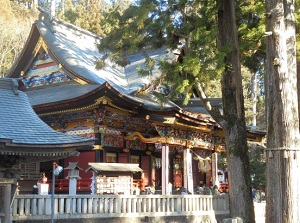 The hall of worship of Mitsumine Shrine
There are many buildings in the precincts surrounded with the forests.
There is the main shrine in the center of the precincts, and there is the hall of worship in front of the main shrine.
In 2012, a shape of dragon appered on the stone of the path in front of the hall of worship, suddenly.
If you sprinkle water on the stone, you can find the shape of dragon and its red eye.
(The year of 2012 was the Year of the Dragon in the twelve signs of the Chinese zodiac!)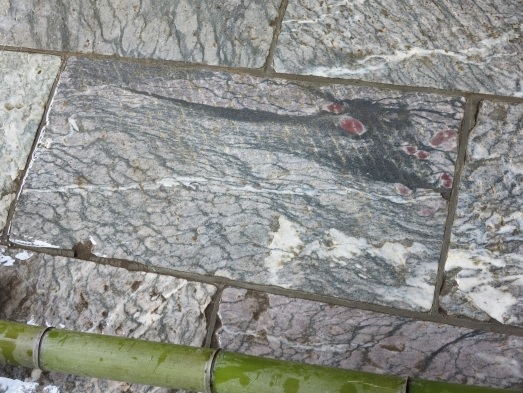 Dragon appered on the stone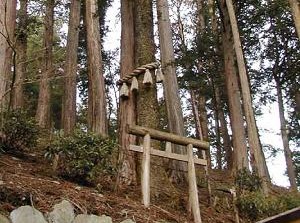 Enmusubi-no-Ki in Mitsumine Shrine
And, at the northwest edge of the area, there are Enmusubi-no-Ki (えんむすびの木, Trees of Matchmaking).
Strangely, a big fir tree and a big Japanese cypress are united.
If you write the name of the person you love on a prepared paper and enshrine it there, Izanagi and Izanami will do something for you.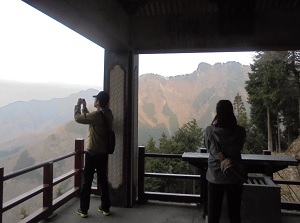 Youhaiden in Mitsumine Shrine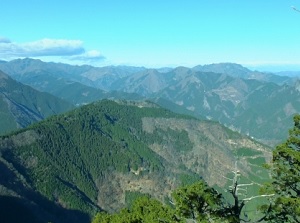 View of mountains from Youhaiden
Near the entrance gate, there is Youhaiden (遥拝殿).
You can worship the branch shrine on the top of the mountain about 1.6 km away from there.
It is also the good observatory, so you can enjoy the view of mountains of Mitsumine.
How to get here
The express bus runs from Seibu-Chichibu station to here.
It takes 1 hour 15 minutes.
And, the bus stops at Mitsumineguchi terminal of Chichibu Railway.
When you arrived at Mitsumineguchi by Chichibu Railway, you can get on the bus there.
It takes 50 minutes from Mitsumineguchi to the shrine.
Hotels in Chichibu city
Other Tourist Attractions in Saitama Prefecture