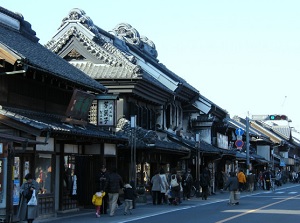 Old town in Kawagoe
Photo by Railstation.net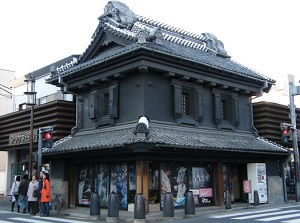 House with the structure of Japanese storehouse
Photo by Railstation.net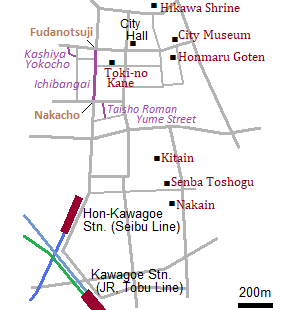 Kawagoe is a city located about 15 km west of Omiya in Saitama city.
In Edo Period (1603-1868), here was the central city of Kawagoe Domain, then here had prospered as a castle town.
Fortunately, this city escaped the damage of the World War II, so it still has many old streets and buildings.
Then, this city is often called Koedo (Little Edo).
In March 2007, the Emperor and Empress guided the King and Princess of Sweden around this city.
The main area is located in a northerly direction of Hon-Kawagoe station (Seibu Railway) and Kawagoe station (JR Kawagoe Line, Tobu Railway).
The distance to the main area is about 1 km from Hon-Kawagoe station and 1.8 km Kawagoe station.
And the main area is nearly within a diameter of about 1 km.
You can make a tour of old town, not only on foot but also by route bus or rickshaw for sightseeing.
If you want to walk with kimono, there are some kimono rental shops in Kawagoe. (These have English website.)
Around Ichibangai street (
一番街

)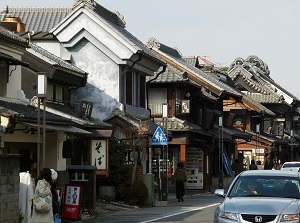 Ichibangai street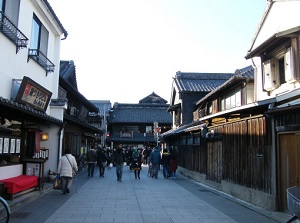 Street around Toki no Kane
Photo by Railstation.net
Ichibangai is the popular street in Kawagoe.
Many old buildings line on both side of the street.
Nakacho intersection located 0.8 km north of Hon-Kawagoe station is the entrance place and the street is about 400 meters long.
In 1893, Kawagoe city suffered the great fire.
After that, rich merchants rebuilt their buildings with fireproof structure.
They adopted the structure of traditional Japanese storehouse (In Japanese, "kura").
These buildings are still used as general shops and restaurants.
There is Kura-zukuri Museum (蔵造り資料館) introducing the structure of "kura" around the middle of the street.
There are a few popular spots around Ichibangai.
Toki no Kane (時の鐘, Time Bell Tower) is located just a little east of Ichibangai street.
It is the 16-meter high bell tower, and is the symbol of this old town.
The original tower was built in the early 17th century by the lord of Kawagoe castle, but current tower was rebuilt in 1894 after the great fire.
Now this bell is rung every day at 6, 12, 15 and 18 o'clock.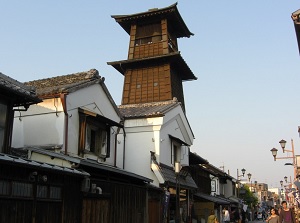 Toki no Kane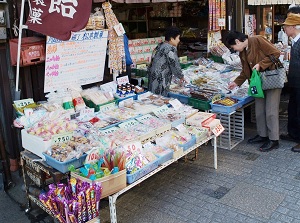 Dagashi shop in Kashiya Yokocho
Kashiya Yokocho (菓子屋横丁) is a small street located just a little west of Ichibangai street.
"Kashiya" means "confectioner", and there are a dozen shops selling traditional and cheap Japanese confectionery for children.
Not only normal ame (candy), senbei (rice cracker) but also various unique confectioneries packaged in bright, childish wrapping are sold.
In Japanese, these confectioneries are called "dagashi".
Here is one of the popular spots in Kawagoe, because most Japanese adults also flash back to their childhood.
Popular spots to the northeast of Ichibangai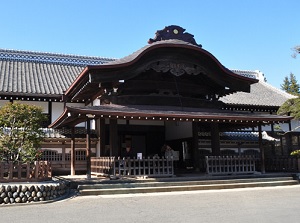 Honmaru Goten
Photo by Railstation.net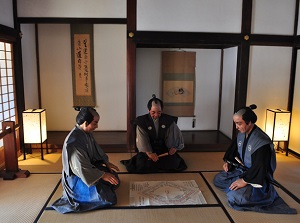 Model of samurais in Honmaru Goten
Photo by Railstation.net
There is Honmaru Goten (本丸御殿) about 800 meters east of Ichibangai.
It is the rebuilt palace in the center area of Kawagoe Castle.
Kawagoe Castle was built in 1457, but most buildings were demolished in the 1870s by Meiji government.
Honmaru Goten was rebuilt in 1848, and a part of the palace remains now.
We can see the entrance, a great hall and a room for chief retainers.
Just to the north of Honmaru Goten, there is Kawagoe City Museum (川越市立博物館).
It introduces the history of Kawagoe city, festivals in Kawagoe and the structure about "kura".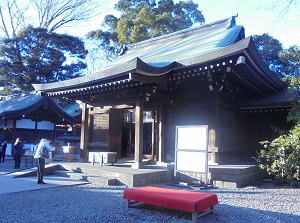 Main shrine of Kawagoe Hikawa Shrine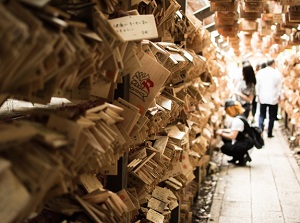 Many Ema (Votive horse tablets)
There is Kawagoe Hikawa Shrine (川越氷川神社) about 0.5 km northwest of Honmaru Goten.
It is said that it was founded as a branch shrine of Hikawa Shrine in Omiya in the middle of the 6th century, and it is the main shrine of Kawagoe city.
The main shrine was rebuilt in 1849 and is decorated with many elaborate carvings.
This shrine is famous for a god of marriage, so various talismans for matchmaking are sold.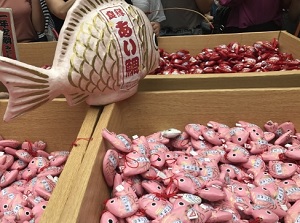 Tai Mikuji in Kawagoe Hikawa Shrine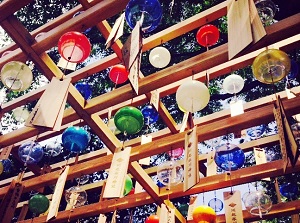 Wind‐bell Festival
Espacially, Tai Mikuji is a popular fortunetelling slip.
A fortunetelling slip is attached on a cute mascot of sea bream and you get it like fishing.
"Tai" is a Japanese auxiliary verb and means "wish".
And, "tai" is also a Japanese noun meaning "sea bream".
(It is a witticism of Japanese.)
Red mikuji is for general luck and pink mikuji is for success of love.
In addition, romantic Wind‐bell Festival for Matchmaking is held from early July to early September and many wind-bells are decorated in the site.
Popular spots to the southeast of Ichibangai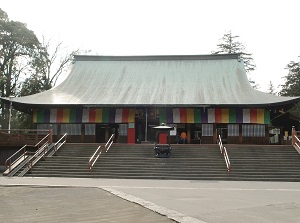 Main temple of Kitain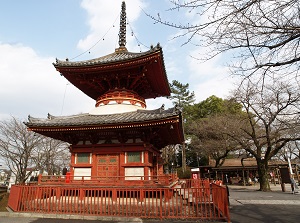 Tahoto (Two-storied Pagoda) in Kitain
There are many Buddhist temples in the main area of Kawagoe.
The largest temple of them is Kitain (喜多院) temple.
It is located 0.8 km south of Honmaru Goten.
It was founded in 830 by high priest En-nin.
Since the foundation of Edo government in the eatly 17th century, this temple had been given sanctuary by Edo government.
After this temple had been destroyed by fire in 1638, Tokugawa Iemitsu, the 3rd Shogun of Edo government, removed and rebuilt some buildings from Edo Castle in current Tokyo.
But Edo Castle had been destroyed by fire in 1657.
Therefore, fortunately, we can see the only original buildings of Edo Castle here now.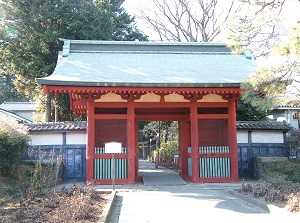 Entrance gate of Senba Toshogu
Photo by Railstation.net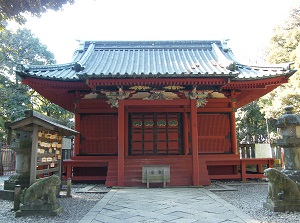 Main shrine of Senba Toshogu
Photo by Railstation.net
There is Senba Tôshôgû shrine (仙波東照宮) just south of Kitain.
Tôshôgû in Nikko is very famous, but there are many shrines with the same name in Japan.
They mostly had been built by Tokugawa family, which is the Shogun family in Edo Period.
After the death of Tokugawa Ieyasu in 1617, a Buddhist service was performed at Kitain temple on the way to carry his remains.
This shrine was founded after that, and the name of Tôshôgû was given.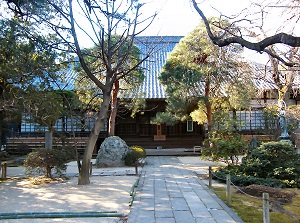 Nakain
Photo by Railstation.net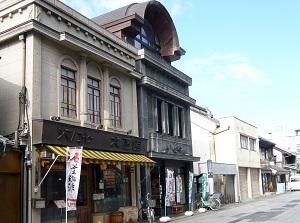 Taisho Roman Yume Dori
And Nakain (中院) temple is also an old temple founded in 830.
It is located about 200 meters south of Senba Tôshôgû.
It is known as a beauty spot for cherry blossoms in the spring.
Additionally, there is a street named Taisho Roman Yume Dori (大正浪漫夢通り) near Nakacho intersection.
Taisho is the period from 1912 to 1926, and there are some old-style shops in such period along the street.
It is a good place on the way to the main area of Kawagoe.
How to get here
By Seibu Railway, about 45 minutes by limited express "Koedo", about 60 minutes by express, from Seibu-Shinjuku station.
By JR Saikyo Line, 52 to 55 minutes from Shinjuku.
By Tojo Line of Tobu Railway, about 30 minutes from Ikebukuro.
In addition, some trains run on this line from Yurakucho Line and Fukutoshin Line of Tokyo Metro (subway) directly.
Other Tourist Attractions in Saitama Prefecture