Gunma Prefecture is located at the northwest part of Kanto region.
There is flat land at the southeast part of the prefecture, and most cities of the prefecture are in the area.
The prefectural capital is Maebashi city.
And, there is Takasaki city at just southwest of Maebashi.
The population of Takasaki is larger than that of Maeashi.
These are the central cities in Gunma Prefecture.
Takasaki is the important junction of railroad.
Joetsu-Shinkansen runs through the prefecture from south to north.
It leads to Niigata facing the Sea of Japan.
And Hokuriku-Shinkansen branches off from here.
It runs toward the west.
Other area of the prefecture is almost mountainous.
Particularly, very steep mountains lie along the northern prefectural border.
They are a part of dividing ridge of water between the Pacific side and Sea of Japan side in Japan.
And along the western border with Nagano Prefecture, there are many popular mountains such as Mt.Asama and Mt.Shirane.
They are 2,100 to 2,500 meters high, and active volcanos.
In winter, the mountainous area has much snow by wet and cold air from the Sea of Japan side.
And the cold air which has lost the moisture blows down to the flat land of the prefecture strongly.
The dry blast in Gunma is well-known in Japan.
In the mountainous area, there are many popular hot spring resort.
Gunma is one of the prefectures with the most well-known hot springs in Japan.
Tourist Attractions in Gunma Prefecture
Hotels in Gunma Prefecture
Transportation
Railway
To Takasaki from Tokyo : 40 to 50 minutes by Joetsu or Hokuriku Shinkansen.
To Minakami from Takasaki : By JR Joetsu Line, about 1 hour and 5 minutes.
To Naganohara-Kusatsu-guchi from Takasaki : By JR Agatsuma Line, about 1 hour to 1 hour and 20 minutes.
Express bus
To Kusatsu-onsen from Tokyo : About 4 hours
Main events in Gunma Prefecture
Shôrinzan Daruma Fair (January 6 and 7)
It is the fair of Daruma doll held in the precincts and on the approaches of Shorinzan-Darumaji temple in Takasaki city.
About 200 years ago, the farmers around here had been in poverty in the famine.
So a priest of this temple taught them how to make Daruma dolls, then they made and sold the dolls here.
It was the origin of this fair.
Daruma doll is one of the lucky charms, so more than 200 thousand people visit to buy the doll every year.
Numata Festival (August 3 - 5)
It is the festival held in Numata city located in the north part of Gunma Prefecture.
Originally, it had been the annual festival of Suga shrine and Haruna shrine in the city.
Since 1970, it has been held as the annual festival of the city.
Many floats and mikoshis (potrable shrine) parade throughout the city.
Particularly the great long-nosed mask carried by many women as a mikoshi is unique.
Local foods and products in Gunma Prefecture
Konnyaku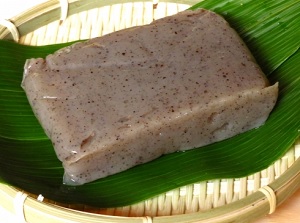 It is one of the popular Japanese food, and is like hard jelly.
Konnyaku has few calories and is hard to digest, so it is an ideal diet food.
It has little taste, but has a little smell.
About 90 percent of konnyaku in Japan are produced in Gunma Prefecture.
Common konnyaku is made in the form of plates.
Sometimes we find konnyaku shaped like a ball.
Stringlike konnyaku is called "shirataki", and it is the important ingredient essencial for "sukiyaki".
Shimonita negi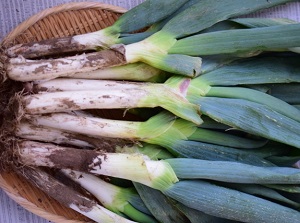 Negi is also one of the popular Japanese food, and is translated as "Welsh onion", "green onion" or "scallion".
It is often used in various Japanese dishes as one of vegetables or as a condiment.
Shimonita negi is produced around Shimonita town located about 30 km west of Takasaki city.
Strangely, it can't grow outside Shimonita area.
It is thicker than common negi, and the taste becomes sweet when it has cooked.
Okkirikomi
It is a home cuisine in Gunma Prefecture, and is similar to noodle stew.
The noodle is not "Udon" which is a general Japanese noodle made from flour.
After kneading dough and flattening out it, the noodle for Okkirikomi is made by cutting into over 1 centimeter wide strings.
Salt is mixed into Udon, but nothing is mixed with this noodle for Okkirikomi.
Then, this noodle is stewed with various vegetables in dashi soup with shoyu (soy sauce) or miso.
Yaki-manjuu
Manjuu is a traditional steamed cake filled with "an" (sweet bean jam).
Yaki-manjuu means "baked manjuu".
Three or four manjuus without "an" are skewered, and they are grilled with coating sweet miso.
Manjuus without "an" are used traditionally, but recently manjuus with "an" are sometimes used.
It is said that the people in Gunma sometimes argue whether "with an" is orthodox or not.
Daruma doll in Takasaki
Daruma was an Indian priest who founded Zen Buddhism in early 6th century.
It is said that he had sat in Zen meditation for 9 years.
Daruma doll is modeled after his sitting pose without arms and legs.
The doll came from China around the 18th century.
When this doll has fallen down, it stands up soon.
About Daruma dolls, people find meaning that "Life is full of ups and downs", so they buy it as a lucky charm.
In Takasaki city, 80 percent of Daruma dolls in Japan are produced.