Mount Shirane is a volcano located about 6 km west-northwest of Kusatsu onsen.
In Japanese, it is called "Shiranesan".
There are a few other "Shiranesan" in Japan, then this mountain is often called "Kusatsu-Shiranesan".
It is an active volcano, and the altitude is 2,160 meters.
It has sometimes erupted on a small scale since 1882.
In January, 2018, unexpected eruption occured near the ski course around the top and twelve people were killed or injured in the eruption.
So, Japan Meteorological Agency sets the volcanic alert level by continuous observation and off-limits area is determined.
When you visit this mountain, you must check the info of the volcanic alert level.
Near the top, there is a crater lake named Yugama. (湯釜)
It means "pot with hot water" and it is the popular spot of this mountain.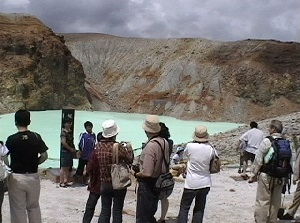 Yugama of Mount Shirane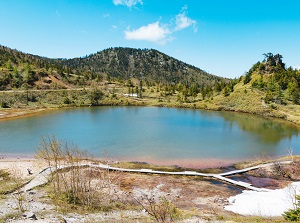 Yumiike of Mount Shirane
The color of the lake is beautiful emerald green.
It has a diameter of about 300 meters and a depth of 30 meters.
The temperature of the water is about 18 degrees C.
And it is said that this lake is the highest acidic lake (around pH 1.0) in the world.
It is thought that the volcanic gas dissolved in the water and changed to sulfuric acid and hydrochloric acid.
There is Kusatsu Shirane Rest House by National Route 292 passing around Mount Shirane.
You can see Yugama around the house.
There is a walking trail to Yugama. The distance is about 500 meters.
In addition, there is a small normal lake Yumiike (弓池).
How to get here
By route bus, about 30 minutes from Kusatsu Onsen.
Other Tourist Attractions in Gunma Prefecture