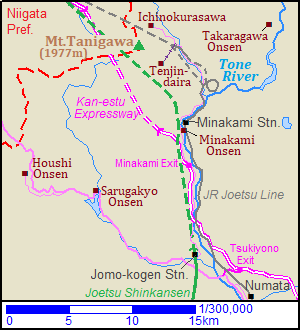 Minakami onsen is a hot spring resort in the north part of Gunma Prefecture.
It is located about 17 km north-northwest of Numata city, and about 50 km north of Takasaki city.
The resort is in the upper reaches of Tone River which flows through Kanto Plain.
And there is Mount Tanigawa about 7 km north-northwest of here.
It is the dividing ridge of the waters between the Pacific Ocean and the Sea of Japan.
Tone River forms Minakami Gorge around Minakami station and Suwa Gorge around the southern end of the town.
The resort town is located on the west side of Tone River.
JR Minakami station is at the northern end of the town.
Originally, here was a remote area deep in the mountains, but the hot spring with the magnificent scenery attracted many novelists and poets in the early 20th century.
In 1931, Joetsu Line (Japan National Railways at that time) opened.
Since that, many guests had been visited here particularly from Tokyo area.
So many large hotels and ryokans were built.
But after collapse of the 1990s bubble economy, this resort also declined.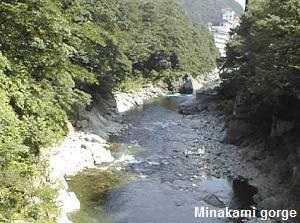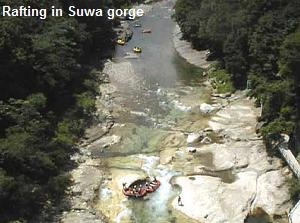 Now they are approaching revival of more appealing resort with outdoor sports such as skiing and rafting.
There are some rafting clubs around the resort town.
How to get here
By Joetsu-Shinkansen, get off at Jomo-kogen station.
About 1 hour 15 to 20 minutes from Tokyo.
Then, by route bus, about 23 minutes from Jomo-kogen station to Minakami station.
Or, by local train of JR Joetsu Line, about 1 hour and 5 minutes from Takasaki.
Hotels around Minakami onsen
Other Tourist Attractions in Gunma Prefecture