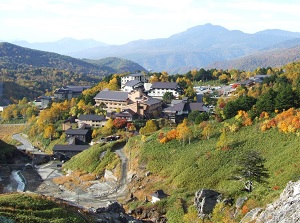 Manza onsen
Photo by Manza Onsen Nisshinkan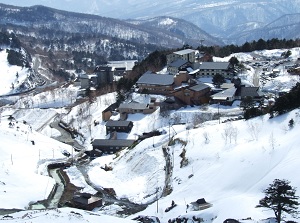 Manza onsen in winter
Photo by Manza Onsen Nisshinkan
Manza onsen is a hot spring resort in the west part of Gunma Prefecture.
It is located about 50 km west-northwest of Shibukawa city, and about 70 km from Takasaki city.
The main railway station is Manza-Kazawa-guchi of JR Agatsuma Line, and the distance from the station is about 25 km.
The resort is on the western slope of Mount Kusatsu-Shirane (草津白根山, 2,160 m).
On the easter slope, there is Kusatsu Onsen.
The onsen town is located at the level of about 1,800 meters.
It is one of onsen resorts located at the highest place in Japan. (Another onsen is Nigorigo onsen in Gifu prefecture.)
The onsen resort is located only 1.5 km from the top of Mount Kusatsu-Shirane which is an active volcane.
Since ancient times, this hot spring had been known.
After the World War II, this area was developed as a hot spring resort and some onsen hotels and ski ground were constructed.
This onsen town has only a dozen hotels and ryokans.
But there is no shop and convenience store in the town.
Because this area is in a national park, it is difficult to construct new buildings and repair the facilities on a large scale.
But Manza Highway for car connects between this onsen town and the town around Manza-Kazawa-guchi station.
So, it is easy to visit this onsen town by bus or car.
Abundant quantity of hot spring water is gushing at some places in the town.
The temperature of the water is 80 degrees C and the water contains the highest sulfur in Japan.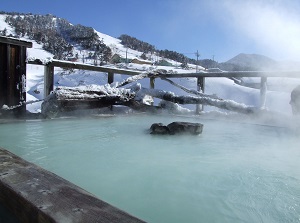 Outdoor bath in a ryokan
Photo by Manza Onsen Nisshinkan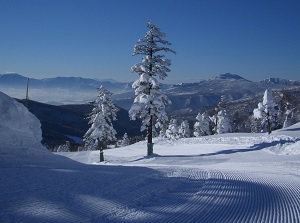 Manza Onsen Ski Resort
Photo by Manza Onsen Nisshinkan
There is Manza Onsen Ski Resort just to the west of onsen town.
The quality of the snow is good.
It is opened from the middle of December to the end of March.
How to get here
By limited express "Kusatsu" of JR Joetsu Line and Agatsuma Line, about 2 hours and 25 to 30 minutes from Ueno to Naganohara-Kusatsu-guchi.
Change to the local train. About 15 minutes to Manza-Kazawa-guchi.
Or, from Takasaki, by local train of JR Agatsuma Line, about 1 hour and 20 to 40 minutes to Manza-Kazawa-guchi.
Then, change to a highway bus.
About 45 minutes to Manza onsen.
Hotels in Tsumagoi village
Other Tourist Attractions in Gunma Prefecture