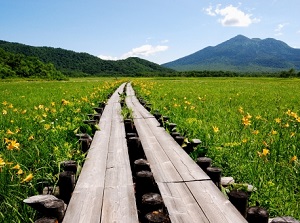 Ozegahara and Mt.Hiuchi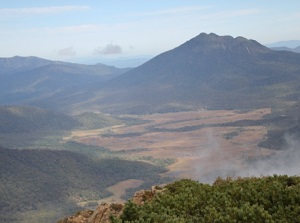 View of Oze and Mt.Hiuchi from Mt.Shibutsu
Oze is one of most popular marshlands in Japan.
It extends over three prefectures, Fukushima,Gunma and Niigata Prefectures.
The central area is Ozegahara marsh (尾瀬ヶ原).
It is about 6 km from east to west and 3 km from north to south.
The marsh is located about 1,400 meters above sea level.
Around Ozegahara, there are Mount Shibutsu (至仏山, 2,228 m, "Shibutsusan" in Japanese) to the west and Mount Hiuchi (燧ヶ岳, 2,356 m, "Hiuchigatake" in Japanese) to the east.
And there is a lake Oze-numa (尾瀬沼) at the south foot of Mount Hiuchi.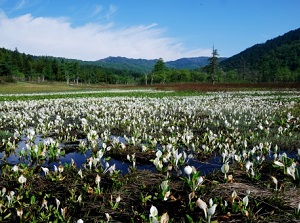 Community of Asian skunk cabbage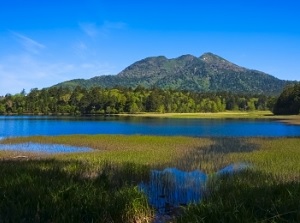 Oze-numa and Mt.Hiuchi
In this area, there are great communities of Asian skunk cabbage, sphagnum, marsh marigold, cottongrass, daylily and many other precious plants in this area.
So it has been designated a national park in 1934 and special national treasure in 1960.
Additionally it was inscribed as a registered wetlands under the Ramsar Convention in 2005.
The size of total protected area is about 8,690 hectares, and the whole area is called "Oze".
It is forbidden to drive cars in this area.
Therefore, all visitors must tour around this large area on foot.
In addition, they must walk only on the wooden boardwalk.
So you had better dress for trekking.
Basically, the good season is from late May to late October.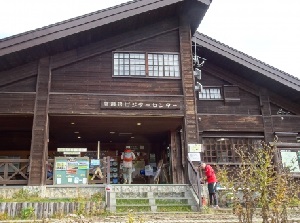 Visitor Center near Oze-numa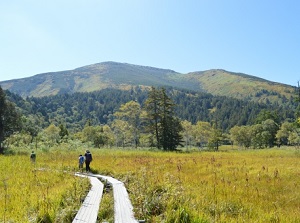 Mt.Shibutsu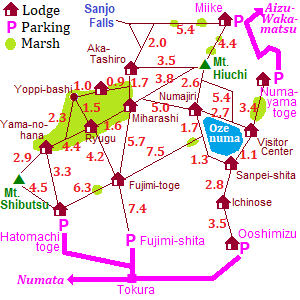 The map of boardwalks in Oze.
Red number is the distance (km).
There are two visitor centers in Oze.
One is at the easten lakeside of Oze-numa.
Another is at Yama-no-hana at the northeast foot of Mt.Shibutsu.
There are about 24 mountain lodges in this area.
If you want to stay, advance reservations are required.
But they serve the light meals and sell some drinks and souvenirs.
They are available as rest houses.
Additionally public latrines are set up at only each lodge.
(Please put 100 or 200 yen into a box when you use a latrine.)
Please have good manners in Oze.
Never step into the marsh.
Never pick any plant or animal.
Never throw garbage. Take your garbage back.
The entrances to Oze are followings.
From Fukushima Prefecture, 1) Miike, 2) Numayama-toge (Numayama pass).
From Gunma Prefecture, 1) Hatomachi-toge (Hatomachi pass), 2) Fujimi-shita, 3) Ooshimizu.
The best season of Oze is from late May to late October.
How to get here
Railroad and route bus (From Fukushima Prefecture)
From Aizu-Wakamatsu to Aizu-Tajima, by local train on Aizu Railway Line, about 1 hour and 5 - 10 minutes.
Change train at Aizu-Tajima, then get off at Aizu-kogen-Oze-guchi station.
From Aizu-Tajima, 17 -24 minutes.
From Aizu-kogen-Oze-guchi station, by route bus, 2 - 2.5 hours to Miike.
About 20 minutes from Miike to Numayama-toge.
Railroad and route bus (From Gunma Prefecture)
From Tokyo to Jomo-kogen, by Joetsu-Shinkansen, about 1 hour and 15-20 minutes.
Or, after getting off Takasaki (about 50-60 minutes from Tokyo), change to JR Joetsu Line.
Then get off at Numata (about 45-50 minutes from Takasaki).
The route bus runs from Jomo-kogen station through Numata station to Ooshimizu.
The number of bus service from Numata is more than from Jomo-kogen.
It takes 2 hours and 6 minutes from Jomo-kogen, 1 hour and 41 minutes from Numata.
When you want to go to Hatomachi-toge or Fujimi-shita, get off the bus at Tokura stop. (From Tokura to Ooshimizu, 11 minutes)
Other buses run to these spots.
About 35 minutes to Hatomachi-toge, and about 10 minutes to Fujimi-shita.
Overnight train "Oze-yakou 23:55" (From Asakusa in Tokyo)
This is the overnight train of Tobu Railway.
It is operated on Friday and Saturday from June to the middle of October.
(But it is not operated in some days. You should check the service schedule.)
It leaves Asakusa station at 23:55, then arrives at Aizu-kogen-Oze-guchi on Aizu Railway at 3:18.
And the special bus for the passenger of the train leaves there at 4:00 and arrives at Numayama-toge at 6:10.
You need to reserve through Tobu Travel Company.
It is a tour company of Tobu Railway and the offices are in the main stations of Tobu Railway.
Express bus
From Shinjuku and Ikebukuro in Tokyo, some bus companies operated the express bus to Oze (Gunma Prefecture side).
Other Tourist Attractions in Fukushima Prefecture
Other Tourist Attractions in Gunma Prefecture