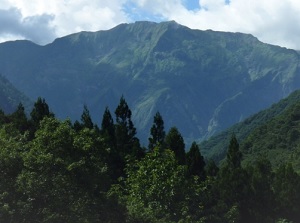 Mount Tanigawa in summer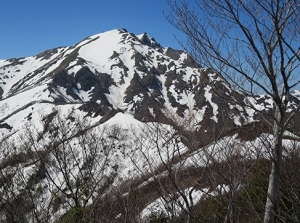 Mount Tanigawa in early spring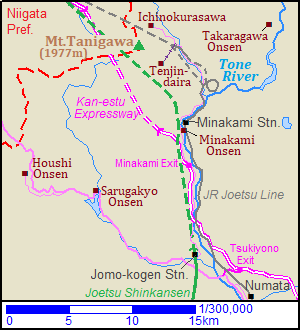 Mount Tanigawa is a mountain located on the northern prefecture's border with Niigata Prefecture.
In Japanese, it is called Tanigawadake.
It has two peaks.
The highest peak is 1,977 meters high, and another peak within short distance is 1,963 meters high.
It is a dividing ridge between the Pacific side and the Sea of Japan side of Japan.
So, change of weather conditions is rapid and frequent.
In the result, many climbers have been killed in mountaineering accidents.
The number is 805 climbers until 2012, and is the worst in the world.
(It is far more than the total number of 14 peaks over 8,000 meters of the Himalayas.)
So, Mount Tanigawa is called "Devil's mountain".
If you plan to climb this mountain, never underestimate it.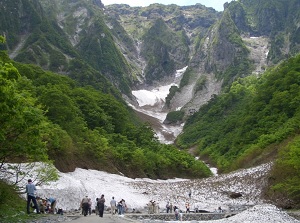 Ichinokurasawa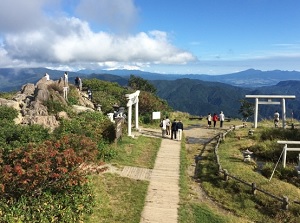 Tenjindaira
Ichinokurasawa (一ノ倉沢) located 2 km northeast of the peaks is a very steep rocky cliff, and the height of the cliff is about 800 meters.
So, it is popular with many rock climbers.
Tenjindaira (天神平) located 2 km southeast of the peaks is a small highland on a ridge.
Its altitude is is 1,321 meters.
In winter, here is a popular ski area.
General tourists can come here from the foot by ropeway.
We can enjoy the scenery of the highland here.
The climbers to the mountain depart from here toward the top.
The distance between the ropeway station at the foot of Tenjindaira and Ichinokurasawa is about 3.5 km and a road is set up.
It is opened from the late May to the late November.
The road is closed to cars for the preservation of nature.
By the way, important and long tunnels connecting between the Pacific side and the Sea of Japan side run under this mountain.
Oo-Shimizu Tunnel (Joetsu-Shinkansen) : 22.1 km
Shin-Shimizu Tunne (JR Joetsu Line to Niigata) : 13.5 km
Shimizu Tunnel (JR Joetsu Line to Tokyo) : 9.7 km
Kan-etsu Tunnel (Kan-etsu Expressway) : 11.1 km
There is a spiral of JR Joetsu Line near the exit of Shimizu Tunnel.
In winter, Mount Tanigawa blocks snow cloud from the Sea of Japan side.
So, after we pass through either tunnel to the north for 10 to 20 minutes, we shall enter the amazing heavy-snow world.
How to get here
By route bus, 20 minutes from JR Minakami station to Tanigawadake Ropeway station.
From the ropeway station to Ichinokurasawa, electrical bus is operated every an hour.
Hotels around Minakami onsen
Other Tourist Attractions in Gunma Prefecture