Shima onsen is a hot spring resort in the northwest part of Gunma Prefecture.
It is located about 15 km north of Nakanojo town, and about 50 km north-northwest of Takasaki city.
Shima River flows from north to south and the hot spring town is along the river for about 3 kilometers.
There are 42 sources of the hot spring in this area.
There are dozens of ryokans and hotels in the town.
And there are some public bathhouses and footbaths in the town.
It is said that the water of this hot spring is good for the stomach and bowels.
So there are two houses for drinking the water in the town.
It is said that this hot spring was found in the 8th or 10th century.
And the first lodging facility was opened in 1563.
The most upstream area is Hinatami district, and is the oldest onsen resort area.
Near the district, there is Shimagawa Dam completed in 1999.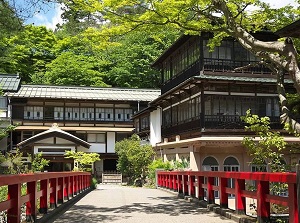 Sekizankan
Photo by Sekizankan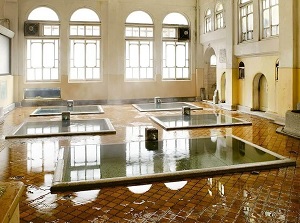 A bathroom in Sekizankan
Photo by Sekizankan
The oldest ryokan in this hot spring resort is Sekizenkan.
It is in Shin-yu district which is the center of the town and is about 1 km downstream of Hinatami district.
The main building built in 1691 is the oldest wooden ryokan building in Japan.
And the other buildings and bathrooms also have historic value.
In addition, they say that this ryokan was one of the models in a Japanese popular animated fantasy film "Spirited Away" ("Sen to Chihiro no Kamikakushi" in Japanese, by Studio Ghibli, 2001).
A few sightseeing spots around Shima onsen town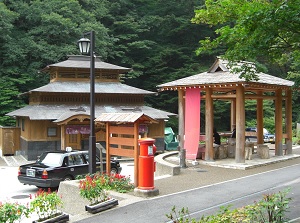 Gomusou-no-yu & footbath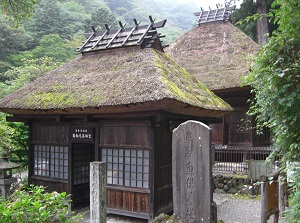 Hinatami Yakushido
In Hinatami district, there is the public bathhouse Gomusou-no-yu (御夢想の湯).
There is Hinatami Yakushido temple (日向見薬師堂) near the bathhouse.
In 989, a religious samurai had to sleep in the open, when he was in the middle of a trip.
He was reciting Buddhist sutra in his sleep through the night.
He received a divine revelation in a dream.
The god said, "I'll give you a hot spring for curing a disease, in appreciation of your religious mind."
He woke up to find a hot spring there.
Then, he built this temple in return.
The hot spring became the current Shima onsen.
There is Lake Oku-Shima (奥四万湖) to the northeast of Hinatami district.
It is a dam lake formed by Shimagawa Dam.
Even though it is a man‐made lake, the color of the water is beautiful cobalt blue.
It is called as "Shima blue" sometimes.
A reason is the water in the lake has very high transparency.
But the real reason why the the color becomes so beautiful is unknown.
After all, it is a spot with good scenery.
There is Ouketsu (甌穴) in Shima River at about 3 km downstream of Shin-yu district.
There are eight big holes in the riverbed of rock.
They have been formed by being hollowed out by stones for ten thousands of years.
How to get here
By local train of JR Agatsuma Line, about 1 hour from Takasaki to Nakanojo.
Then, by route bus, about 40 minutes from Nakanojo station to Shima-Onsen stop.
Hotels around Nakanojo town
Other Tourist Attractions in Gunma Prefecture