Fukiware Waterfalls [
吹割の滝

]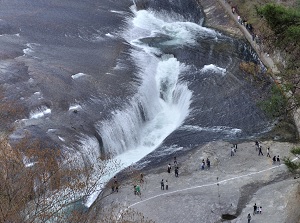 Fukiware Waterfalls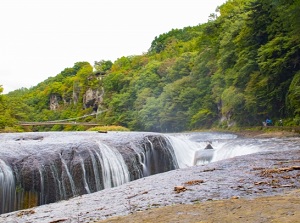 Fukiware Waterfalls at the riverside
Fukiware Waterfalls are in a Fukiware Gorge formed by Katashina River.
It is located about 16 km east-northeast of Numata city.
And it is located about 45 km north-northeast of Takasaki city.
The waterfalls are along Route 120 leading to Nikko or Oze wetland.
The width of the river about 30 meters, and there is a long large crack in the river.
The water of the river falls down into the crack.
The height is about 7 meters.
The scenery is like Niagara Falls between USA and Canada. (Of course, these falls are very smaller than Niagara.)
The strong flow of this river erodes the rock, so these waterfalls are moving back about 7 cm a year.
There is Masutobi waterfall (鱒飛の滝) downstream a little.
It has a height of 8 meters and a width of 6 meters.
Along the river, there are many strange rocks.
The length of the gorge is about 1.5 km, and some walking trails are set up along the gorge.
Near the two waterfalls, there are three observatories.
How to get here
By local train of JR Joetsu Line, about 50 minutes from Takasaki to Numata.
From Numata station, 40 minutes by route bus for Kamada.
Hotels around Numata city
Other Tourist Attractions in Gunma Prefecture