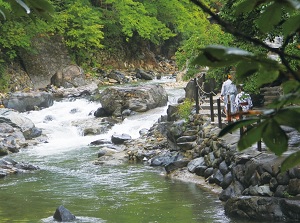 Takara River
Photo by ©JTA/ ©JNTO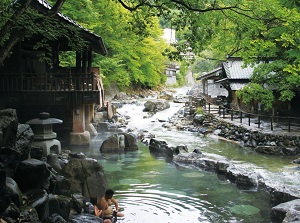 Open-air bath in Takaragawa onsen
Photo by ©JTA/ ©JNTO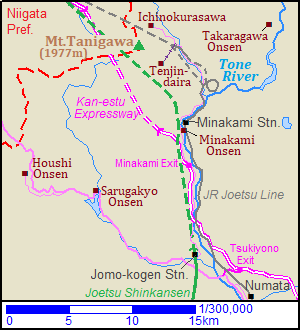 Takaragawa onsen is a hot spring resort in the north part of Gunma Prefecture.
It is located about 60 km north of Takasaki city.
It is in a valley of Takaragawa (Takara River) which is a tributary of Tone River and is located about 15 km northeast of Minakami hot spring resort.
There is Hôsenkyô gorge (宝泉峡) about 1 km up the Takara River.
As the lodging facility, there is only ryokan "Osenkaku" founded in 1923.
The very wide outdoor baths by the river make this ryokan popular.
It has three open-air baths for mixed bathing and an open-air bath for woman.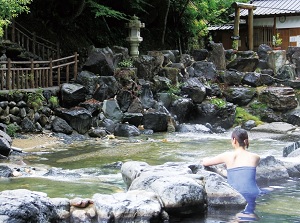 Open-air bath & Takara River
Photo by ©JTA/ ©JNTO
For shy woman, bathing wear is provided.
So, woman can enjoy the bathing at ease.
This ryokan was introduced in TripAdvisor in 2008.
Since that, foreign visitors are increasing.
How to get here
By Joetsu-Shinkansen, get off Jomo-kogen station.
About 1 hour 15 to 20 minutes from Tokyo.
Then, by route bus, about 23 minutes from Jomo-kogen station to Minakami station.
Or, by local train of JR Joetsu Line, about 1 hour and 5 minutes from Takasaki to Minakami station.
Route bus for Yunokoya is operated from Jomo-kogen station through Minakami station every 1.5 to 2 hours.
The buses around 10:00 and 13:00 stop at Takaragawa-onsen.
(About 30 minutes from Minakami station, about 70 minutes from Jomo-kogen station)
Other buses stop at Takaragawa-iriguchi located about 1 km south of the ryokan.
From the bus stop, shuttle bus of the ryokan is operated.
In addition, the direct shuttle bus of the ryokan comes to Jomo-kogen station at 13:00 and 15:00, to Minakami station at 15:15.
But a reservation is required for using this shuttle bus.
Hotels of Takaragawa onsen
Other Tourist Attractions in Gunma Prefecture