Sarugakyo onsen & Houshi onsen [
猿ヶ京温泉, 法師温泉

]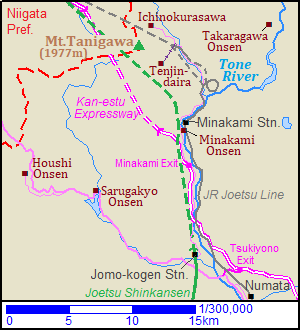 Sarugakyô onsen is a hot spring resort near Lake Akaya created by the dam.
It is located about 17 km northwest of Numata city.
It is said that this hot spring was founded about 400 years ago.
"Saru" in "Sarugakyo" means "monkey".
A hungry monkey was helped by a young couple.
One day, their child had been badly burned.
At that time, the monkey cured the child in this hot spring.
This was the first time when this hot spring was opened.
In 1958, the original resort town was moved to the current place because of the construction of the dam.
But abundant hot water is springing now, then several dozen of hotels and ryokans are in this town.
Additionally there are two public bath.
Houshi onsen is about 9 km upstream from Sarugakyo.
There is only an old ryokan named "Chôjukan".
The buildings were built in 1875, and has been designated as the national tangible cultural property.
The main bathroom is mixed bathing.
The hot water is springing from the bottom.
Additionally there is also a bathroom for women.
How to get here
By route bus, to Sarugakyo onsen, 36 minutes from Jomo-kogen station of Joetsu-Shinkansen, 61 minutes from Numata station of JR Joetsu Line.
To Houshi onsen, 18 minutes from Sarugakyo onsen.
Hotels around Minakami onsen
Other Tourist Attractions in Gunma Prefecture