Ikaho onsen is a hot spring resort roughly in the center of Gunma Prefecture.
It is located about 8 km west of the center of Shibukawa city and about 25 km north of Takasaki city.
The resort town is on the northeastern slope of Mount Haruna (榛名山, 1,449 m).
Ikaho onsen is one of the most popular hot springs in Gunma Prefecture, along with Kusatsu hot spring.
This hot spring was found long ago.
Because the name "Ikaho" is found in Man-yoshu, the Japan's oldest poetry written in the 8th century.
The resort town was built in the late 16th century to cure the soldiers wounded by civil wars.
This resort town is on the slopes of the mountainside for about 1.2 km.
There are about 50 hotels and ryokans.
The highest area is the center of the resort town.
The main street is a long set of stone steps, and it is the Ikaho's symbol.
The length is about 350 meters, and the total number of the step is 365.
There are many souvenir shops, a small foot bath, and a public bath Ishidan-no-yu (石段の湯) along the steps, and some alleys are around the steps.
In addition, a poem for Ikaho by Yosano Akiko (1878-1942) is inscribed on some steps.
She was a famous woman poet and sometimes visited Ikaho.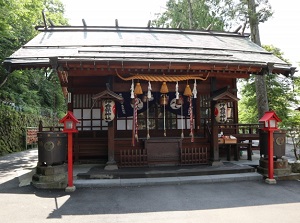 Ikaho Shrine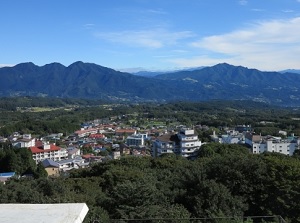 Scenary from the observatory in Ikaho
At the top of the steps, there is Ikaho Shrine (伊香保神社, 1,449 m)
It is a Shinto shrine, and it is said that it was founded in 825.
The shrine is small, but it is said that, if you worship at this shrine, you will make a good match and receive blessings with good children.
And Ikaho Ropeway is operated near the main town of Ikaho.
It lead to Uenoyama park with the observatory.
From the observatory, the town of Ikaho and Mount Tanigawa far away are seen.
How to get here
By Joetsu-Shinkansen, get off Takasaki station. About 1 hour from Tokyo.
Change to a local train on JR Joetsu Line.
About 25 to 30 minutes to Shibukawa.
Then, by route bus, about 24 minutes from Shibukawa station.
Or, by express bus, from Tokyo or Shinjuku stations, about 2 hours and 40 minutes to 3 hours.
Other Tourist Attractions in Gunma Prefecture