Tokai Region is located nearly in the center of southern side in Honshu Island.
"O" in the word is pronounced long, so it is read as "Tôkai".
This region faces vast Philippine Sea to the south.
(But most Japanese people call the sea Pacific Ocean.)
It is located right between Kanto Region including Tokyo and Kansai Region including Osaka and Kyoto.
Tokyo has been the center of government since 1603.
Kyoto and Osaka had been the capital area since ancient times.
So, the important route connecting both areas passes through Tokai Region.
The route is called Tôkaidô (東海道).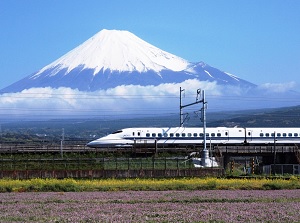 Mt.Fuji and Shinkansen (Shizuoka Pref.)
The section of Shinkansen between Tokyo and Osaka is called "Tokaido Shinkansen".
In the section, high speed trains are operated every several minutes.
And two routes of expressways run in parallel because the traffic on the route is heavy.
Shizuoka Prefecture is a main part of Tokaido, and lies from east to west.
On the northeastern side, there is Mount Fuji.
Because eastern part of Shizuoka Prefecture is directly at the south foot of Mount Fuji, we can see the whole shape of Mount Fuji.
There is Aichi Prefecture to the west of Shizuoka Prefecture.
Various industries locate in this region.
Particularly, the Japan's biggest company, TOYOTA car is based in Aichi Prefecture.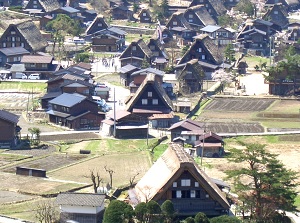 Shirakawa-go (Gifu Pref.)
On Tokaido route, there are large cities such as Shizuoka, Hamamatsu and Nagoya.
Especially, Nagoya (名古屋) in Aichi Prefecture is the fourth largest city of Japan after Tokyo, Yokohama and Osaka, and is the center of Tokai Region.
To travel around Tokai Region, it is convenient to start from Nagoya.
To the north of Aichi Prefecture, there is Gifu Prefecture.
The whole area is mountainous, and there are the popular towns such as Takayama, Shirakawa-go.
And, to the south, there is Mie Prefecture.
There are Ise Shrine which is the center of all Shinto shrines and Iga city which is the birthplace of "Ninja", and you can find unique tradition of Japan.
Transportation in Tokai Region
Airline
Most major airport is Chubu International Airport (Centrair).
It has many international flights and domestic flights.
Especially, as domestic flight, the flights between Shin-Chitose (Sapporo), Sendai, Fukuoka, and Okinawa airports are frequent.
There is Meitetsu line from Chubu Airport to Nagoya station.
It takes about 30 minutes by limited express.
Nagoya Airport
It has only domestic flights to some regional cities.
It is located about 10 km north of Nagoya city.
It takes about 30 minutes from the center of Nagoya city by route bus.
Shizuoka Airport
It has some domestic flights to some regional cities.
It is located right between Shizuoka city and Hamamtsu city.
So, it is not so convenient to use this airport.
Railway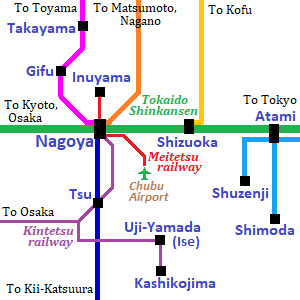 Main railway lines of JR in Tokai Region.
The colored lines are the route of main limited express.
Tokaido-Shinkansen runs through this region.
It is on the way from Tokyo to Kyoto and Osaka, and the trains are operated frequently.
By the fastest train, to Nagoya, about 1 hours and 40 minutes from Tokyo, about 35 minutes from Kyoto, about 50 minutes from Shin-Osaka.
Railway passes for travel around Tokai Region
Express bus
Some bus companies operate express buses in Tokai Region.
The following website introduces some booking sites of express buses.