Kansai Region is located west of Honshu Island.
The formal name of the region is Kinki (近畿).
So, both names of Kansai and Kinki are used.
This region had been the center of Japan since the dawn of history.
Nara was the capital of Japan in the 8th century.
Then, Kyoto became the capital from the 9th.
The Emperor had lived in Kyoto until the capital was moved to Tokyo in 1868, so Kyoto had been the capital for over 1,000 years.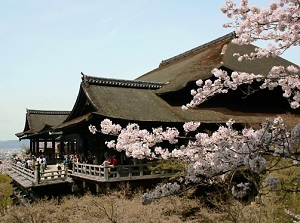 Kiyomizu-dera (Kyoto Pref.)
Osaka is close to Kyoto, and has a port.
After Edo goverment was founded in 1603, Osaka developed a great commercial city.
Because, Osaka was the convenient place to collect cargo of various products from around the country more safely than Edo.
"Futures trading" was conducted in Osaka in 1730 for the first time in the world.
And Kobe was opened for trading with foreign countries after the end of Edo government, and became one of biggest ports in Asia.
As above, there are many cities with long Japanese history in Kansai Region.
Osaka has a population of 2.7 million, and each of Kyoto and Kobe has a population of 1.5 million.
So a metropolitan area is formed around Osaka in Kansai Region.
The size of the area is smaller than Tokyo metropolitan area, but the population in the center of Kansai Region is over 12 million.
(The population of Tokyo metropolitan area is 43 million.)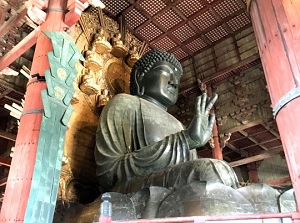 Nara Daibutsu (Nara Pref.)
Kansai is often compared with Kanto including Tokyo, Yokohama, etc.
Tokyo dialect is basically near the standard Japanese.
But, the intonation and the auxiliary verb in the sentence of Kansai dialect are different from Tokyo dialect.
Because Kansai dialect is a major dialect, most Japanese people can be easily understood.
It gives an impression of more cheerful and frankly than Tokyo dialect.
About Japanese food in Kansai, the style, flavor, cooking method are a bit different from Tokyo.
Comparing various foods in both Kansai and Tokyo by eating is interesting.
Osaka Pref. Kyoto Pref. Nara Pref. Wakayama Pref. Shiga Pref. Hyogo Pref.
Transportation in Kansai Region
Airline
Most major airport is Kansai International Airport.
It has many international flights and domestic flights.
Especially, as domestic flight, the flights between Shin-Chitose (Sapporo), Narita, Haneda (Tokyo), Fukuoka, and Okinawa airports are frequent.
JR line and Nankai Railway lead to Osaka.
It takes about 40 minutes to 1 hour.
The limited express of JR go through Osaka to Kyoto.
Itami Airport
It has only domestic flights to many regional cities.
It is located about 12 km north of Osaka station.
It takes about 30 to 40 minutes from Osaka by express bus.
And you can use the train of Hankyu Railway and Osaka Monorail.
Kobe Airport
It has also only domestic flights to some regional cities.
It is located in an island right south of Kobe city.
And it is not so far from Kansai Airport and Itami Airport.
Other Airports in Kansai Region
There are Nanki-Shirahama Airport in the southern part of Wakayama Prefecture and Tajima Airport in the northern part of Hyogo Prefecture.
Each airport has only a few flights a day.
(From Haneda to nanki-Shirahama, from Itami to Tajima)
Railway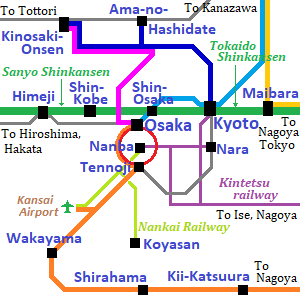 Main railway lines of JR in Kansai Region.
The colored lines are the route of main limited express.
Osaka city is the center of this region.
There is a loop line of JR in the center of Osaka city.
From Osaka city, many lines of JR and some other railway comapnies run to the main areas in Kansai.
Railway passes for travel around Kansai Region
Express bus
Some bus companies operate express buses in Kansai Region.
The following website introduces some booking sites of express buses.