Kyushu Region is an island located at the southwestern end of Japan.
Both "u"s in the word are pronounced long, so it is read as "Kyûshû".
Kyushu island is just southwest of Honshi island and to the west of Shikoku island.
The sea on the north side is the sea of Japan and the sea of the west side is the East China Sea.
The east and southeast sides face vast Pacific Ocean (Philippine Sea).
Kyushu island is roughly pentagonal and has many bays, peninslulas and islands.
The size is about 320 km from north to south and 130 to 220 km from east to west.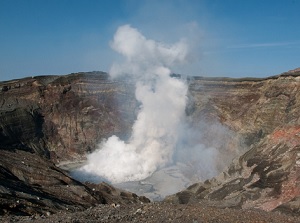 A crater of Mount Aso (Kumamoto Pref.)
Steep mountain range runs from north to south in the center of the island.
There is Mount Aso (阿蘇山) which is a huge active volcano in the center of the island.
And some active volcanoes are dotted in the island.
The climate in the north and northwest parts of the island is moderate like Tokyo and Osaka.
The south and southeastern parts are warm.
To the south of Kyushu island, there is a row of small islands shaped in an arc.
It is called Nansei Island (南西諸島) and is basically included in Kyushu Region.
The area is about 1,100 km in length and the southwest edge is close to Taiwan island.
The center is Okinawa island (沖縄) and it forms a subtropical prefecture with unique culture.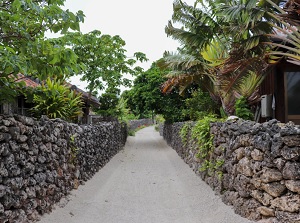 Village in Taketomi Island (Okinawa Pref.)
In the ancient times, Kyushu was an outlying area far from Kyoto in the center of Japan.
But, it is the area close to Korea Peninsula and the Chinese Continent.
So, the island had been the place where advanced ancient Chinese cultures were accepted.
And the attacks of Mongolia to Kyushu in the 13th century was the biggest historical crisis for Japan.
The first contact with Europeans was in Kyushu.
The Portuguese washed ashore on Kyushu in 1543, and introduced gun and Christianity into Japan.
Kyushu had been the gateway for foreign countries in the history.
JR railway including Shinkansen and a few main roads connect between Kyushu and Hondhu islands through bridges and undersea tunnels.
Fukuoka Pref. Saga Pref. Nagasaki Pref. Kumamoto Pref. Oita Pref. Miyazaki Pref. Kagoshima Pref. Okinawa Pref.
Transportation in Kyushu Region
Airline
Most major airport is Fukuoka Airport.
It has some international flights and many domestic flights.
Especially, the flights between Haneda (Tokyo), Itami (Osaka), Chubu (Nagoya) airports are frequent.
It is located just to the east of Fukuoka city.
It takes about some minutes from the center of Fukuoka city by subway.
There are several airports in Kyushu Region.
There are many islands in Kyushu Region, and many islands have airports.
Railway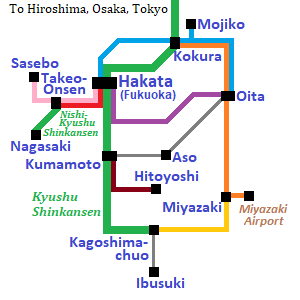 Main railway lines of JR in Kyushu Region.
The colored lines are the route of main limited express.
Between Kyushu and Honshu Islands, Shinkansen and JR line are connected by Kanmon undersea tunnel.
Shinkansen trains come from Honshu island to Hakata (central station in Fukuoka) directly, and Kyushu Shinkansen run along the western coast.
By the fastest train, to Hakata, about 6 hours from Tokyo, about 2.5 hours from Shin-Osaka, about 1 hour from Hiroshima.
And, from Hakata, about 35 minutes to Kumamoto, about 1.5 hours to Kagoshima.
To Nagasaki, Nishi-Kyushu Shinkansen started a partial operation in 2022.
It is about 66 km long from Takeo-onsen to Nagasaki.
From Hakata to Takeo-onsen, limited express is operated.
You change to Nishi-Kyushu Shinkansen at Takeo-onsen station.
Main JR lines runs roughly along the coastline and many limited expresses are operated.
There is no railway in Okinawa island.
Railway passes for travel around Kyushu Region
Express bus
Some bus companies operate express buses in Kyushu Region.
The following website introduces some booking sites of express buses.