Kagoshima Prefecture [
鹿児島県

]
Kagoshima Prefecture is located in the south part of Kyushu Island.
It is at the southernmost position in four main islands of Japan.
Two large peninsulas extend to the south.
The western peninsula is Satsuma Peninsula, and the eastern one is Ôsumi Peninsula.
There is Kagoshima Bay between the peninsulas, and active Sakurajima volcano (桜島) is in the center of the bay.
The north part of the prefecture is mountainous.
But the area has not general mountain but the tableland of thick volcanic ash deposit.
The land is unsuitable for rice cultivation, so sweet potatoes and radishes have been produced.
And pigs have been raised using the potatoes as their feed, then this prefecture has produced tasty pork.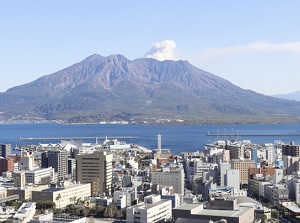 Sakurajima from the center of Kagoshima city
The prefectural capital is Kagoshima city, and it is just near Sakurajima.
The scenery that Sakurajima is close to a large coastal city is similar to Naples (Napoli) in Italy.
So Kagoshima is sometimes called the "Napoli of the Orient".
In the middle of the 14th century, Shimazu Family built a castle in current Kagoshima city, and the city had developed since that.
Shimazu Family governed the area of current Kagoshima Prefecture, and the area had been called Satsuma (薩摩).
In 1543, Portuguese merchants washed ashore on Tanegashima island to the south of the mainland.
They were the first Westerners who came to Japan in history and introduced the gun.
In 1549, Francisco de Xavier (1506-1552) from the Society of Jesus landed on current Kagoshima city as a missionary.
He spread Christianity in Japan for the first time.
In the middle of the 19th century, Nariakira Shimazu (1809-1858, the 28th lord of Shimazu Family) generated some industries using the Western advanced technology during a period of national isolation.
The advanced culture produced many progressive samurai, so they overthrew the feudal government.
Saigô Takamori (1828-1877) and Ôkubo Toshimichi (1830-1878) were the prominent samurais and politicians.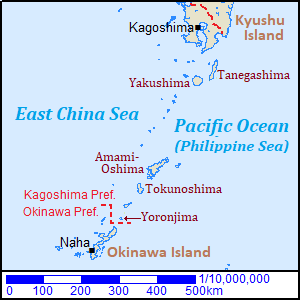 Islands in Kagoshima Prefecture
Kagoshima Prefecture has the broader area.
Between Kyushu Island and Okinawa Island, there are several islands like steppingstones.
Some of them are attractive islands for sightseeing.
Yakushima (屋久島) is popular for the great nature.
Tanegashima (種子島) was the place where Westerner came to Japan for the first time in the history of Japan as above.
The southernmost island is Yoronjima (与論島), and the distance from Kagoshima city is about 550 km.
It is rather close to Okinawa island and the distance is about 25 km.
Tourist Attractions in Kagoshima Prefecture
Mainland of the prefecture
Southern islands of the prefecture
Hotels in Kagoshima Prefecture
Transportation
Railway
To Kagoshima-chuo from Hakata : By Kyushu Shinkansen, 1 hours and 20 to 35 minutes.
To Kagoshima-chuo from Miyazaki : By JR limited express, about 2 hours and 10 minutes.
Express bus
To Kagoshima from Osaka : about 15 hours. (Night bus)
To Kagoshima from Fukuoka : about 4.5 hours.
Airport
Kagoshima Airport is located about 35 km northeast of the center of Kagoshima city.
It has the flights from Haneda (Tokyo), Itami (Osaka) and Chubu (Nagoya) frequently, and has also the flights from Okinawa, several cities in the mainland, and the islands in Kagoshima Prefecture.
Main events in Kagoshima Prefecture
Ohara Festival (November 2, 3)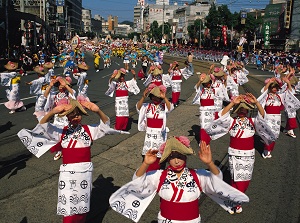 Photo: Kagoshima Prefectural Visitors Bureau
Ohara Festival is the autumn festival of Kagoshima city, and has been held since 1949.
"Ohara-bushi" is the most popular folk song in Kagoshima area.
Many dancers parade with dancing to Ohara-bushi and some other local folk songs throughout the city.
The total number of the dancers is over 20,000, and they dance in over 250 teams.
This festival is also held in Shibuya in Tokyo on the 3rd Sunday in May.
Many of the teams go to Tokyo and dance in the downtown in Shibuya.
Bullfighting in Tokunoshima island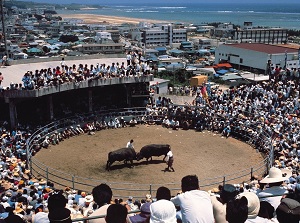 Photo: Kagoshima Prefectural Visitors Bureau
Tokunoshima island is located about 450 km south of Kagoshima city.
It is known for bullfighting.
It is said that the bullfighting has been held for about 500 years.
There are some popular regions of bullfighing in Japan, and all of them are the match between two bulls.
Most of them have the human judgement of victory or defeat.
But Tokunoshima's bullfighting makes the bulls fight until one beats the other.
The people in the island excite for the fight, then they believe that the owner's family of the champion bull will be happy.
Local foods and products in Kagoshima Prefecture
Kibinago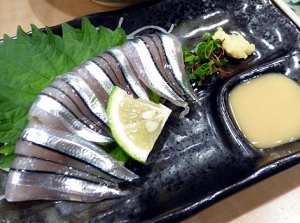 Kibinago is a kind of herring.
It has cylindrical form with a silver stripe, and the length is about 7 to 10 centimeters.
Kibinago migrates in the tropical ocean, so many kibinago are caught around the coast of Kagoshima Prefecture.
Because it spoils rapidly, we can eat it only around the landing port.
It can be cooked in many ways, but sashimi (raw kibinago) is best.
Satsuma Shochu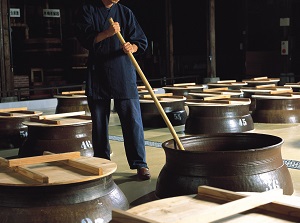 Brewery of Satsuma Shochu
Photo: Kagoshima Prefectural Visitors Bureau
Satsuma Shochu is a distilled alcoholic beverage produced in Kagoshima Prefecture.
Because Kagoshima Prefecture has a vast land of volcanic ash unsuitable for rice cropping, sweet potatoes have been grown in such land.
In addition, Kagoshima area is too warm to brew Japanese Sake from rice.
Therefore, Shochu has been produced by sweet potatoes.
There are about 100 breweries in the area, and the people in the area drink more Satsuma Shochu than Japanese Sake.
Kagoshima Kurobuta pork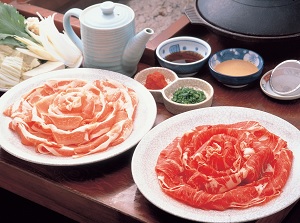 Photo: Kagoshima Prefectural Visitors Bureau
Kagoshima Kurobuta is a kind of Berkshire pig.
In Japanese, "kurobuta" means "black pig".
In fact, the pig is black.
It is one of the best brands of pork in Japan.
Kagoshima Kurobuta was created by crossing between native pig in Kagoshima region and Berkshire pig from Britain in the late 19th century.
Of course, it is very tasty.
It is used for Shabu-shabu, tonkatsu (pork cutlet) and many other dishes.
Tonkotsu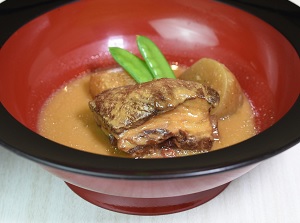 Photo: Kagoshima Prefectural Visitors Bureau
Tonkotsu is a local specialty of Kagoshima Prefecture.
"Tonkotsu" means "bone of pig", and is a dish using boned rib of pork literally.
It is said that samurais in Satsuma region made the dish dynamically in the field.
The boned rib of pork is chopped into large pieces.
Then they are boiled in the soup of Satsuma Shochu, miso paste, brown sugar and ginger as a spice for a few hours.
And konnyaku and daikon are often added in the soup.
Satsuma-age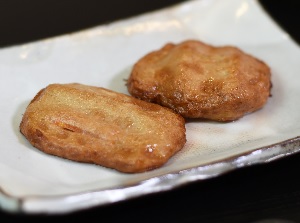 Photo: Kagoshima Prefectural Visitors Bureau
"Satsuma" is the old name of west part of Kagoshima Prefecture.
And, "age" means "frying in oil".
Satsuma-age is a food that fish paste is deep-fried in oil.
It is said that this food originated in Satsuma region.
Satsuma-age has a variety of products.
Some are mixed with chopped vegetables in the paste, and the others are mixed with chopped squid or octopus.
You can eat it plain.
Of course, it is delicious after broiling.
Oshima-tsumugi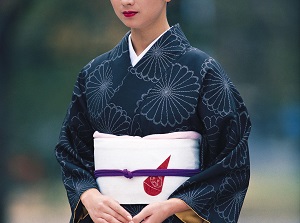 Photo: Kagoshima Prefectural Visitors Bureau
Oshima-tsumugi is a specialty products in Amami-Oshima island located about 350 km south of Kagoshima city.
Tsumugi is a Japanese cloth woven using cotton thread or silk thread.
Generally tsumugi is heavy-duty, so the cloth has been used for casual wear or work clothes.
But Oshima-tsumugi is a high-grade product.
It uses high-quality silk.
And it goes through many manufacturing process (designing, making thread, dying, weaving).
The color is deep and elegant.
It takes 6 to 12 months to complete a kimono cloth.