Oita Prefecture is located in the northeast part of Kyushu Island.
In Japanese, "o" in the word is pronounced long, so it is read as "Ôita".
Most part of the prefecture is mountainous, and there are many hot springs.
The number of hot spring source and the yield of hot water is the largest in Japan.
Beppu (別府) and Yufuin (湯布院) are the well-known hot spring resorts.
The north part of the prefecture faces Seto Inland Sea (Seto Naikai) and the south part faces Bungo Channel connecting to the Pacific Ocean.
This area has a moderate climate.
But the inland area is in the mountain, so the temperature difference is large in a day.
Snow falls in some days in winter.
Since the middle ages, several small cities with castle had developed throughout the area.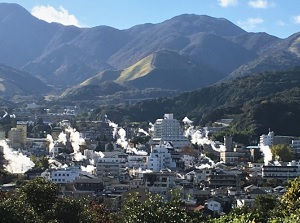 Beppu Onsen town
No big city had been formed, but each city had a local character.
At the beginning of the Meiji period (1868-1912), Oita city (大分) became the prefectural capital in the modern nation.
Since that, Oita city has grown up to be the central city of the prefecture.
All railway lines of JR in the prefecture are connected to Oita city, so it is the base city for tour around the prefecture.
Tourist Attractions in Oita Prefecture
Hotels in Oita Prefecture
Transportation
Railway
To Oita from Hakata : By JR limited express, about 2.5 hours.
To Beppu from Oita : By JR line, 10 to 13 minutes.
To Yufuin from Oita : By limited express of JR Kyudai Line, 45 minutes.
To Usuki from Oita : By JR limited express, about 30 minutes.
Express bus
To Oita from Fukuoka : about 2.5 hours.
To Oita from Osaka : about 10.5 hours.(Night bus)
Airport
Oita Airport is located about 60 km north of Kumamoto city.
It has the flights from Haneda (Tokyo) and Itami (Osaka) frequently, and has also the flights from Narita and Chubu (Nagoya) a few times a day.
Main events in Oita Prefecture
Hôran-en'ya (Early January)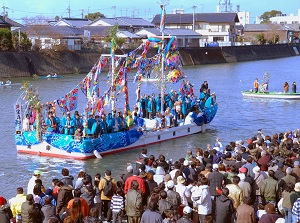 Photo: Oita Prefectural Tourism Association
Hôran-en'ya is a festival held in Bungo-Takada city on the northern coast of Oita Prefecture.
A boat decorated with colorful flags leaves from Konpira Shrine at the mouth of Katsura River flowing through the city.
The boat goes upstream to Wakamiya-Hachimangu shrine about 3 km away.
Tens of naked young men with a loincloth are on board, and they shout "Hôran-en'ya".
Many citizens see the boat on river banks, and some of them present gifts to the boat.
At that time, the naked men plunge into the cold river, and swim to get the gifts.
They pray for great catch of fish and navigation safety.
Hita Gion Festival (Saturday and Sunday after July 20)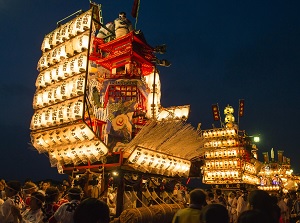 Photo: Oita Prefectural Tourism Association
Hita Gion Festival is the annual festival of Yasaka Shrine and Wakamiya Shrine in Hita city in the west part of Oita Prefecture.
This festival has been held since the 17th century.
It modeled Gion Festival in Kyoto.
Each of above two shrines and eight towns has a beautiful float, and they march playing music through the city.
Each float is 5 to 10 meters high, and big dolls in the famous scenes of Kabuki are set up.
Local foods and products in Oita Prefecture
Seki-Aji, Seki-Saba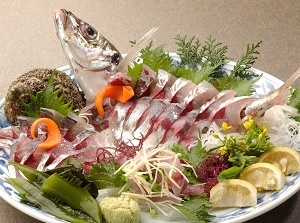 Sashimi of Seki-Aji
Photo: Oita Prefectural Tourism Association
"Aji" means "horse mackerel", and "saba" means "common mackerel".
Both are popular fishes for Japanese people.
But the fishes caught around Saganoseki at the northeast part of Oita Prefecture are special.
"Seki" comes from "Saganoseki".
Because the sea has rapid current and much plankton are alive, the fishes grow richly and strongly.
And they are caught with not net but angling.
So the caught fishes has little damage and the flesh is tasty.
Of course, it is the best to eat as sashimi, while they are fresh.
Dango-jiru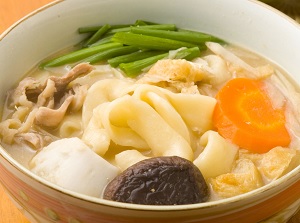 Photo: Oita Prefectural Tourism Association
Dango-jiru is a local dish in Oita Prefecture.
"Dango" means "dumpling", and it is commomly made of wheat flour in ball shape.
But this dish use the flattened dango like wide noodle.
Dango-jiru is made by boiling the flattened dango, shaved bardock roots, carrot, shiitake mashroom, taro, sliced pork, etc. in miso soup.
Because Oita area are mountainous, wheat had been harvested more than rice in the past.
So this dish had been eaten in everyday life.
Yaseuma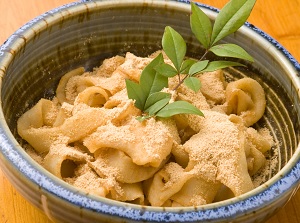 Photo: Oita Prefectural Tourism Association
The flattened dango in Dango-jiru is also used as a snack.
Yaseuma is a snack dusting sugar and roasted soybean flour over the flattened dango.
In the ancient times, a little illegitimate child of a nobleman was send from Kyoto to current Oita Prefecture to hide him.
And his nurse often made a simple snack for him.
It is said that the snack was current Yaseuma.
Beppu Bamboo ware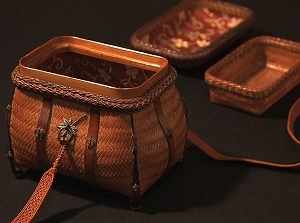 Photo: Oita Prefectural Tourism Association
Oita Prefecture has produced a large amount of bamboos.
And various bamboo wares have been created in Beppu city since the 14th century.
Most of them are livingwares such as bascket, strainer.
Since the 20th century, art works such as the tools for tea ceremony have been created.
To produce these works, not only new bamboos but also boiled bamboos, dried bamboos, long-time smoked bamboos are used.