Ruin of Usuki Castle
Photo: Oita Prefectural Tourism Association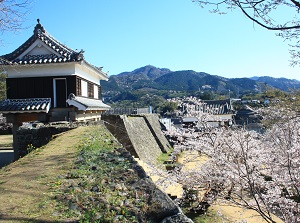 Usuki Castle in spring
Photo: Kyushu Tourism Promotion Organization
Usuki is a city located in a bay along the eastern coast of Oita Prefecture.
It is located about 25 km southeast of Oita city.
Usuki Castle was a castle in Usuki city, and was located on a hill near the bay.
It is located about 0.4 km north of JR Usuki station.
The castle was built by Ôtomo Yoshishige (1530-1587) in 1562.
He was a powerful warrior, but had escaped to Usuki after defeat in a battle of the civil war.
The hill of the castle was originally a small land-tied island, and the site was a natural fortress.
It is about 450 meters from east to west and about 100 meters from north to south.
There were a castle tower and 31 other towers and buildings.
But most of the buildings were demolished after the end of feudal Edo Government in 1868.
The ruin of castle with a few buildings and some stone walls became a park.
There are about a thousand cherry trees in the park.
It is known for the magnificent cherry trees in the southern part of Oita Prefecture.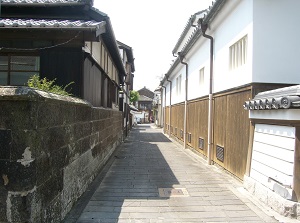 Street of Nioza in Usuki city
Photo: Oita Prefectural Tourism Association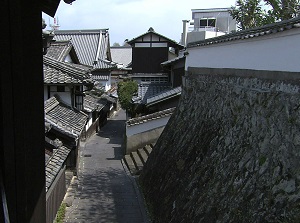 Old housen in Nioza
Photo: Oita Prefectural Tourism Association
Usuki had been a castle town since the 16th century.
To the southwest of Usuki Castle, many merchant residences were set up.
And samurai residences and Buddhist temples surrounded them.
The district is called Nioza (二王座).
The area is roughly circular, and the diameter is about 0.5 km.
Old houses are along the narrow and labyrinthine stone-paved streets.
It is on the hilly area, so the streets are often sloping.
How to get here
By JR limited express, to Usuki, about 30 minutes from Oita.
Other Tourist Attractions in Oita Prefecture