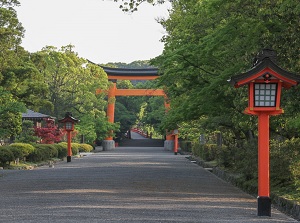 Approach of Usa Shrine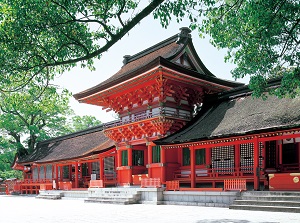 Minami-churoumon in front of Honden
Photo: Oita Prefectural Tourism Association
Usa Shrine is a Shinto shrine in Usa city located in the north part of Oita Prefecture.
It is called "Usa Jingû" in Japanese. (Of course, the pronunciation of "Usa" is not "U.S.A." [the United States of America])
The shrine is located about 4 km west of JR Usa station.
In Japan, there are over 40,000 Shinto shrines with the name of "Hachimangu" (八幡宮).
(It is said that the total number of Shinto shrine is about 110,000 in Japan.)
Usa Shrine is the head shrine of Hachimangu.
So this shrine is sometimes called "Usa Hachimangu".
"Hachiman" means the gods enshrined in Hachimangu shrine.
They are Emperor Oujin (201-310), Empress Jinguu (170-269), and Himegami which are goddesses of Shinto.
The emperor and empress are the ancestors of current Emperor Family, but they appeared in ancient history books and it is unknown when they were born and died.
It is said that the shrine was founded in the late 6th century.
The first shrine pavilion enshrining Emperor Oujin were built in 725.
Then, the second pavilion enshrining Himegami was built in 729, and the third pavilion enshrining Empress Jinguu was built in 823.
After that, this shrine developed as the second important shrine for Emperor Family after Ise Shrine.
The current three shrine pavilions were rebuilt from 1855 to 1861, and all of them are designated as national treasures.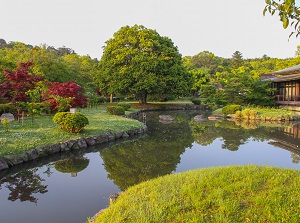 Hishigata-ike in Usa Shrine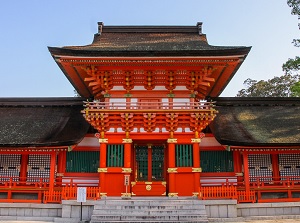 Minami-churoumon in Usa Shrine
The precinct is about 500 meters from north to south and about 450 meters from east to west.
The entrance is on the north side, and the worshippers enter the precinct after crossing the bridges over Yorimo River.
The main shrine is located in the southeast part of the precinct, and the worshippers walk on the approach about 500 meters long.
There is Hishigata-ike pond (菱形池) in the center of the precinct.
In legend, Emperor Oujin descended at this pond around 571.
So some small shrines and bridges are set up around the pond.
The main shrine is called Jôgû (上宮) or Honden (本殿), and it is on a hill.
The three shrine pavilions designated as national treasures are surrounded by a corridor.
There is Minami-chûroumon gate (南中楼門) on the south side of the corridor.
The worshippers must worship in front of the gate, and can't enter the inside of the corridor.
Because there are three pavilions, the worshippers worship at the three places in front of each pavilion.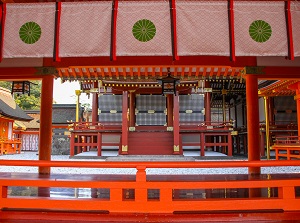 Honden behind of corridor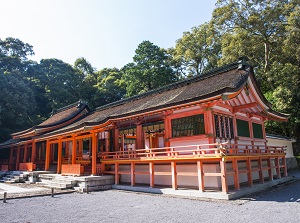 Mikemiya in Usa Shrine
Photo: Oita Prefectural Tourism Association
Usually, the style of worship at Shinto shrine is "two bows, two claps, and one bow".
But, in Usa Shrine, the style of "two bows, four claps, and one bow" is recommended.
There is Gegû (下宮) or Mikemiya (御炊宮) at the foot of the hill.
Worshipping this shrine is also recommended.
How to get here
By JR limited express, to Usa, about 55 minutes from Kokura, about 1 hours and 45 minutes from Hakata, about 40 minutes from Oita.
Then, by route bus, about 7 minutes from Usa station.
Other Tourist Attractions in Oita Prefecture