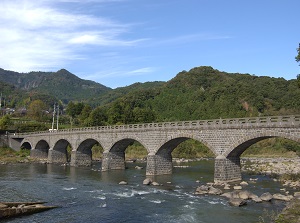 Yabakeibashi
Photo: Oita Prefectural Tourism Association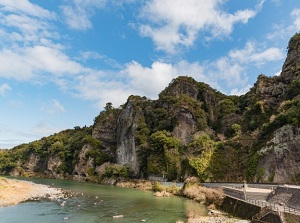 Cliff of Ao-no-Domon
Yabakei is a gorge formed by Yamakuni River.
It is located about 15 to 25 km south of Nakatsu city on the northern coast of Oita Prefecture.
This gorge was formed by eroding the tuff and lave for 2.5 million years.
The rocks are not so hard, so complex topography has been formed.
We can see many rocky cliffs and caves along the river.
At the entrance of the gorge, there is Yabakeibashi bridge (耶馬渓橋) across Yamakuni River.
It is 116 meters long and is the Japan's longest arch bridge.
The bridge was built in 1923 and has eight arches.
It is designated as a prefectural cultural property.
About 0.4 km above, there is Ao-no-Dômon (青の洞門).
meaning "Blue Tunnel".
It is a route about 342 meters long through steep rocky cliff along the river.
The section of the tunnel is 144 meters long.
It is the most popular spot in Yabakei.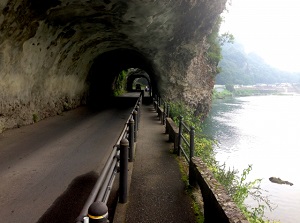 Original route of Ao-no-Domon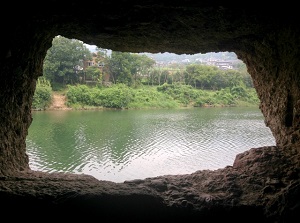 Window of rock in Ao-no-Domon
In this section, the travelers had been forced to pass on the dangerous rocky cliff.
So many travelers had fallen into the river and lost their lives.
In 1730, when priest Zenkai (1691-1774) passed this section to visit Rakanji temple about 3 km south of this place, he determined to construct a route for travelers.
He accumulated a fund by religious mendicancy.
He hired many masons, and the construction started from 1735.
He and the masons dug the large rock with only chisel and hammer and constructed a road and a tunnel.
In 1750, a part of the route was completed.
Zenkai collected a toll from the travelers passing through the route as the fund of the following construction.
It is said that Ao-no-Dômon was the Japan's first toll road.
At last, all sections were completed in 1763.
Over 30 years had passed since his first determination.
The route of Ao-no-Dômon is still used as a main road.
So the repair work has sometimes been carried out for safe traffic.
But the traces of the works by Zenkai and the masons remain at some places.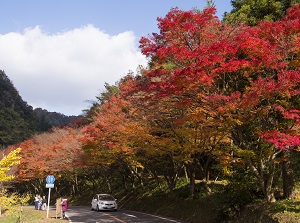 Shin-Yabakei in autumn
Photo: Oita Prefectural Tourism Association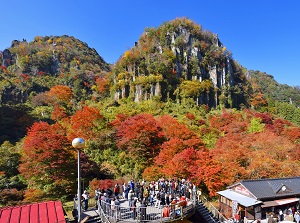 Hitome-Hakkei in Shin-Yabakei
Photo: Oita Prefectural Tourism Association
There is the main gorge of Yabakei to the south of Ao-no-Dômon.
In general, Yabakei gorge has 66 good scenic views including above spots.
They are mountains, rocks, caves, gorges, small temples.
These are seen along Yamakuni River and its tributaries, and the area is about 10 to 25 km from Ao-no-Dômon.
Especially, the area called as Shin-Yabakei (深耶馬渓) is popular.
It is at the most deepest part in Yabakei and is located about 22 km south of Ao-no-Dômon.
Hitome-Hakkei (一目八景) is a popular view in the area.
We can get a view of eight mountains and big rocks of 66 good scenic views.
How to get here
By JR limited express, to Usa, about 40 minutes from Kokura, about 1 hours and 30 minutes from Hakata, about 45 minutes from Oita.
Then, by route bus, 25 minutes to Ao-no-Domon from Nakatsu station.
To Hitome-Hakkei, the nearest bus stop is Shin-Yanakei-Onsen.
From Nakatsu station, by route bus for Hita or Yabakei, 40 minutes to Kakisaka stop.
Change to the bus for Bungo-Mori, 25 minutes to Shin-Yanakei-Onsen.
(From Nakatsu station, the bus for Bungo-Mori is operated once a day.)
From Beppu and Nakatsu stations, the regular tour bus is operated.
It is convenient to tour around the wide area.
Other Tourist Attractions in Oita Prefecture