Usuki Stone Buddhas [
臼杵石仏

]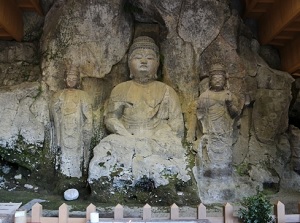 Hoki Sekibutsu No.2 group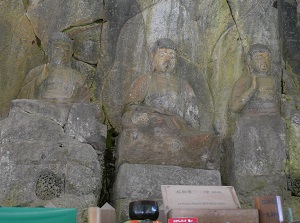 Hoki Sekibutsu No.1 group
Photo: Oita Prefectural Tourism Association
Usuki Stone Buddhas are the Japan's greatest Stone Buddhas.
In Japanese, they are called as Usuki Sekibutsu (臼杵石仏) or Usuki Magaibutsu (臼杵磨崖仏).
The site is located about 6 km southwest of central Usuki city.
There are 61 stone Buddha statues along the rocky cliff in a valley.
These are in four parts of the valley.
All of the statues are designated as national treasures.
It is said that the statues were created from the 10th to the 14th centuries.
After the decline of mountain worship, this statues had abandoned.
And they had been exposed to wind and rain for a long time.
Additionally, because the rocks consisting of tuff are not hard, many of them had been damaged.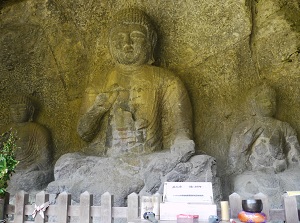 Sannosan Sekibutsu group
Photo: Oita Prefectural Tourism Association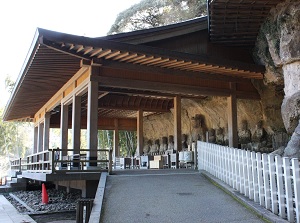 Furuzono Sekibutsu group
Photo: Kyushu Tourism Promotion Organization
The recent restoration was completed in 1994.
Each of the four groups is protected with a building with roof.
A path is set up and the visitors can see the all statues along the path.
How to get here
By route bus, about 17 minutes from JR Usuki station.
Hotels around Usuki Stone Buddhas
Other Tourist Attractions in Oita Prefecture