Takasakiyama Monkey Park [
高崎山自然動物園

]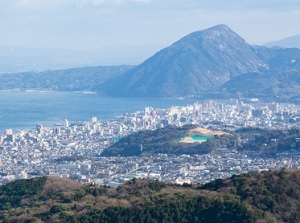 View of Takasakiyama from Beppu city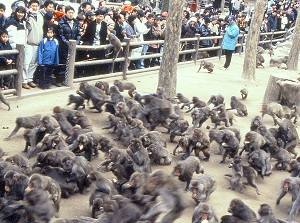 Monkeys in Takasakiyama
Photo: Oita Prefectural Tourism Association
Takasakiyama (Mount Takasaki) is a mountain 628 meters above sea level.
It lies midway between Oita city and Beppu city and is by Beppu Bay.
It is Located about 4 km from the center of Beppu and about 8 km from the center of Oita city.
Takasakiyama Monkey Park is formally called as Takasakiyama Natural Zoological Garden.
It is at the foot of Takasakiyama.
It isn't a common zoo.
Wild Japanese monkeys gather there by artificial feeding.
Of course, they are living in Mount Takasaki near this park.
In the early 20th century, the monkeys had often invaded the farms around the mountain, eaten and harmed the crops.
The farmers had been trying to drive the monkeys away, but all methods had no effect.
The mayor of Oita city devised a plan to hear that.
He tried to feed them and use them as a resource of the sightseeing in 1952.
There is a Buddhist temple at the foot of Takasakiyama.
He constructed the place to feed the monkeys near the temple in collaboration with the chief priest in 1953.
First, about 250 monkeys came here, and the number had been increasing every year.
Now, there are two groups of the monkeys and the total number of the monkeys is about 1,200.
This park was incorporated in a national park, and the monkeys are also designated as the national natural treasures.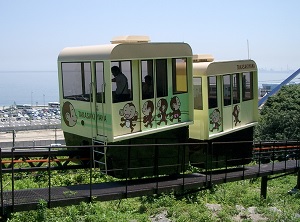 Slope car in Takasakiyama
Photo: Oita Prefectural Tourism Association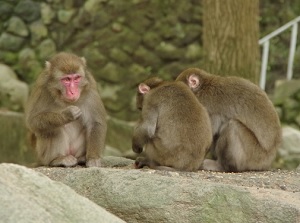 Monkeys in Takasakiyama
The feeding place is on the mountain side, and we can reach there through some walking trails or a slope car (mini monorail).
The monkeys are wild, so we must observe the followings.
Don't show them any food. (Even plastic bag or paper bag is aimed by them.)
Don't touch or tease them.
Don't look at their eyes.
How to get here
By route bus, about 15 minutes from JR Beppu station, about 25 minutes from JR Oita station.
Hotels around Takasakiyama Monkey Park
Other Tourist Attractions in Oita Prefecture